City of Austin
FOR IMMEDIATE RELEASE
Release Date:
Contact: Public Affairs Office, City of Austin Public Works 512-974-7111 Email
---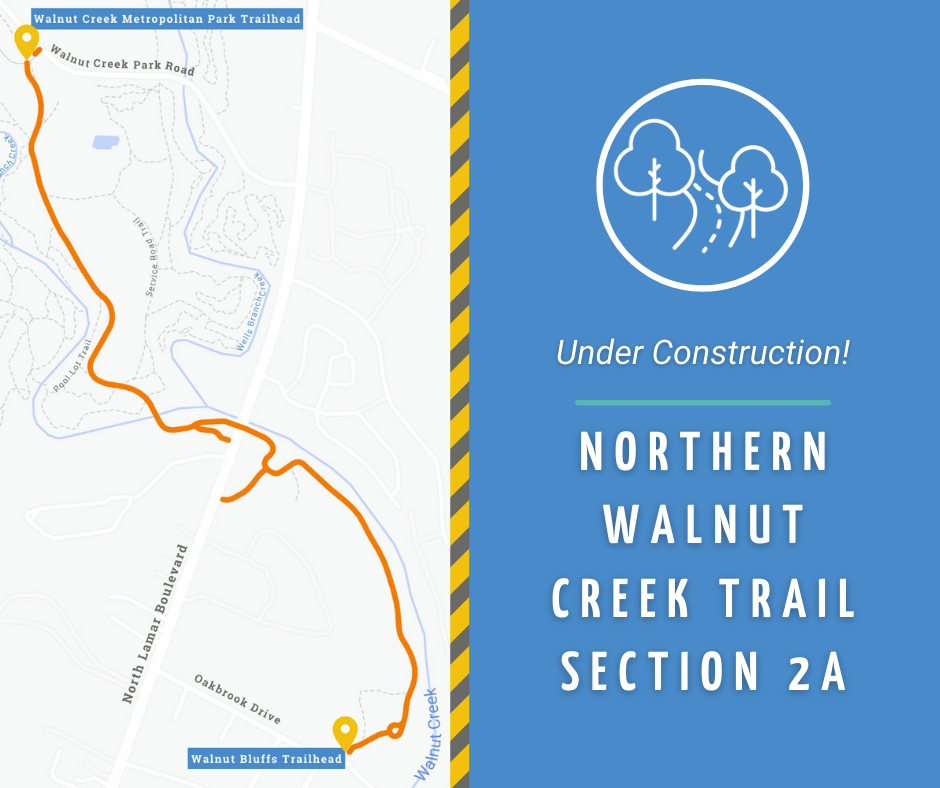 The Northern Walnut Creek Trail will gain one mile in length by the end of 2022. In partnership with the Austin Parks and Recreation Department, Austin Public Works' Urban Trails Program will begin construction on Northern Walnut Creek Trail Section 2A later this month. Section 2A will extend the Northern Walnut Creek Trail from Walnut Creek Metropolitan Park to the Walnut Bluffs trailhead, just east of North Lamar Boulevard. With funds from the 2016 Mobility Bond, the 1.3-mile long, 12-foot-wide trail includes the construction of two bridges and four boardwalks. Section 2A will provide a safe east-west route for people walking and biking with the construction of a pedestrian path beneath North Lamar Boulevard. Construction of the urban trail is expected to last 12 months.
 
"I'm excited to see this trail extension improve connectivity and increase access to our parks for residents in north Austin," said Leslie Pool, City of Austin Council Member for District 7, "and I applaud our dedicated City staff for moving these much-needed improvements forward, fulfilling Council's commitment through our Contract With Voters to complete our Mobility Bond projects on an ambitious timeline."
 
Before any concrete is placed, the project contractor will prepare the project site for construction. In the coming months, park visitors can expect to see crews installing tree protection near North Lamar Boulevard, conducting clearing, grubbing, and erosion control along the trail route, and placing foundations for boardwalks and bridges. The "Pool Lot Trail" in Walnut Creek Metropolitan Park will be closed intermittently during construction, but trails that cross the Pool Lot Trail will remain open with designated crossings.
"The City examines many factors before building an urban trail." Remarked Assistant City Manager Gina Fiandaca, who oversees the Mobility Outcome. "But the most important consideration is that of community support – without this support, these projects would not move forward."
 
Urban trails are concrete pathways made for transportation and recreation. They are designed to provide safe and active travel options for people of all ages and abilities. The Northern Walnut Creek Trail Section 2A is a part of the longer, planned Walnut Creek Urban Trail network. Once complete, the Walnut Creek Trail system will be 19 miles long and connect the Govalle Neighborhood Park in East Austin to Balcones District Park in north Austin, along with many other parks, neighborhoods, and landmarks. Learn more at AustinTexas.gov/UrbanTrails