City of Austin
FOR IMMEDIATE RELEASE
Release Date:
Contact: Communications and Public Information Office Email
---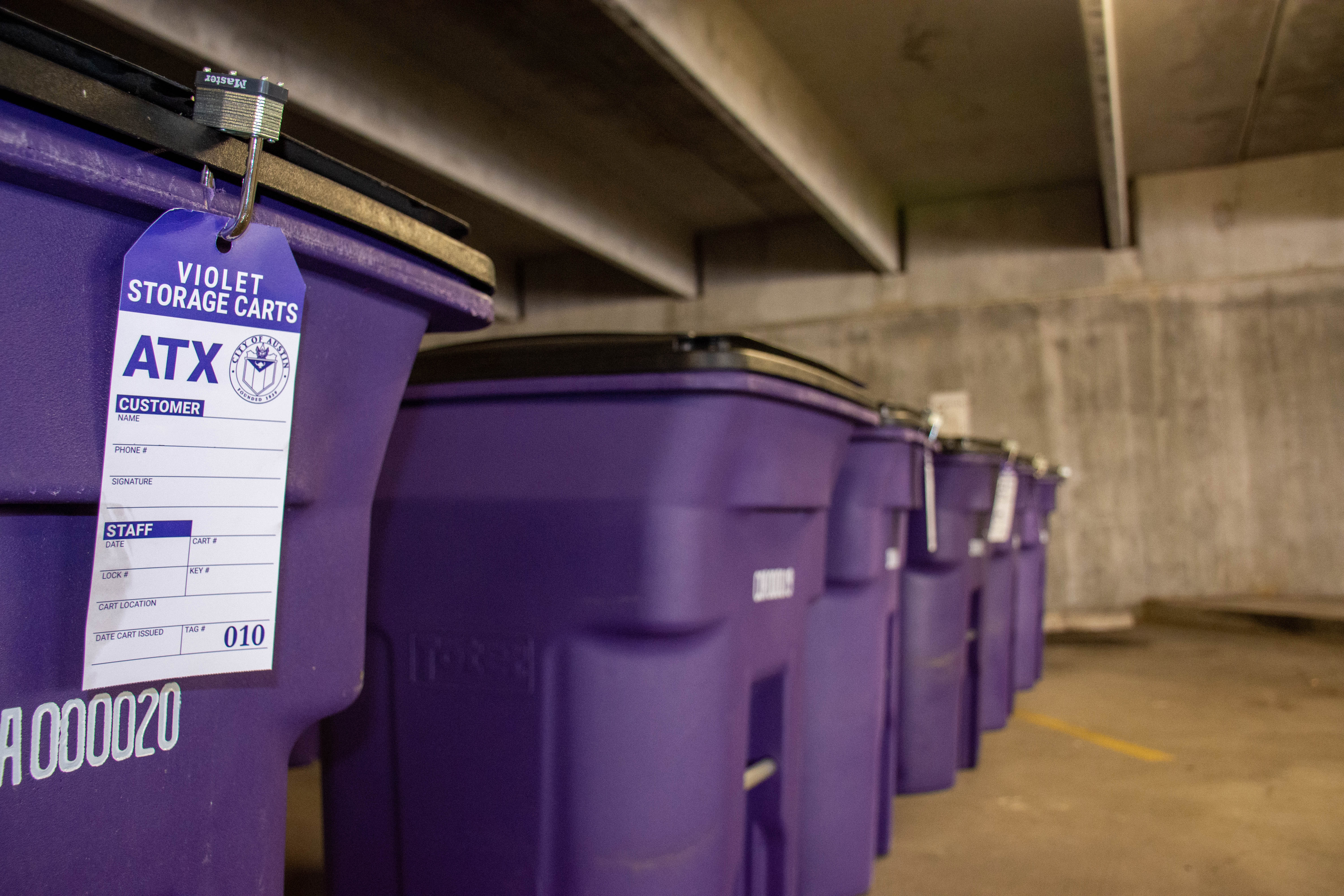 A City-run storage service that helps people experiencing homelessness keep their possessions safe while navigating their way around the community and out of homelessness is being expanded.
Effective July 11, 2021, Downtown Austin Community Court (DACC) is increasing the operational hours and days of the Violet KeepSafe Storage (VKS) program to seven days a week from 7:00am - 7:00pm to improve access for program participants. The program currently provides more than 170 individuals experiencing homelessness a safe and secure place to store their belongings. Prior to the expansion, the service was available Monday through Friday, 7:00am - 10:00am and 3:00pm- 7:00pm.
Violet KeepSafe Storage (VKS) was developed by the City's Office of Design and Delivery, in collaboration with the Austin Homelessness Advisory Council and members of the Austin design community. Austin Resource Recovery implemented the program in 2020, and DACC took over operation of the program in 2021. VKS is centrally located and enables individuals to store vital documents, family memories, clothing, bedding, and more. Any individual experiencing homelessness may access storage through VKS at no cost to the program participants. 
As part of the City's phased approach to enforcement of the ordinances included in Proposition B and implementation of the Housing-Focused Encampment Assistance Link (HEAL) Initiative, efforts are being made to connect individuals to essential resources and services.  VKS staff delivers bins to provide individuals a convenient and safe way to store their belongings, and to help ease the transition for individuals that are relocating.  After individuals have filled their bin, VKS staff transfers the bin to the VKS program location, and individuals can access their belongings during open program hours. The timeline for expanded access to VKS aligns with the beginning of Phase 3 of Proposition B enforcement.
"We know from working with the Austin Homelessness Advisory Council and other individuals with lived experience with homelessness that access to storage is a basic need," said Robert Kingham, Court Operations Manager for DACC. "Storage is necessary for individuals to be able to pursue job interviews and medical appointments, maintain secure access to identification documents and important belongings, and is a matter of human dignity. DACC is committed to providing compassionate and person-centered services to our community members experiencing homelessness, and we know that the Violet KeepSafe Storage Program meets a critical need for individuals in their journey toward obtaining stable housing and improving their quality of life."
The Violet KeepSafe Storage program also employs individuals with lived experience with homelessness, providing valuable workforce development opportunities in the community. With the expanded program hours, VKS has increased from two to five employees with lived experience. This staffing structure also aligns with the City's equity values by ensuring that individuals providing services reflect the community they serve.
The VKS program currently has 174 program participants, and has a capacity of 350 program participants. Individuals interested in accessing VKS services can call 512-974-4879, or may bring the items they want to store to VKS and sign up in person. The VKS program is in the former Health South Parking Garage, located at 612 E. 12th Street.
DACC is also available for assistance with other basic need resources Monday - Friday, 8:00am - 5:00pm, including walk-in triage case management services.