City of Austin
FOR IMMEDIATE RELEASE
Release Date:
Contact: Austin Code Department Public Information Office Email
---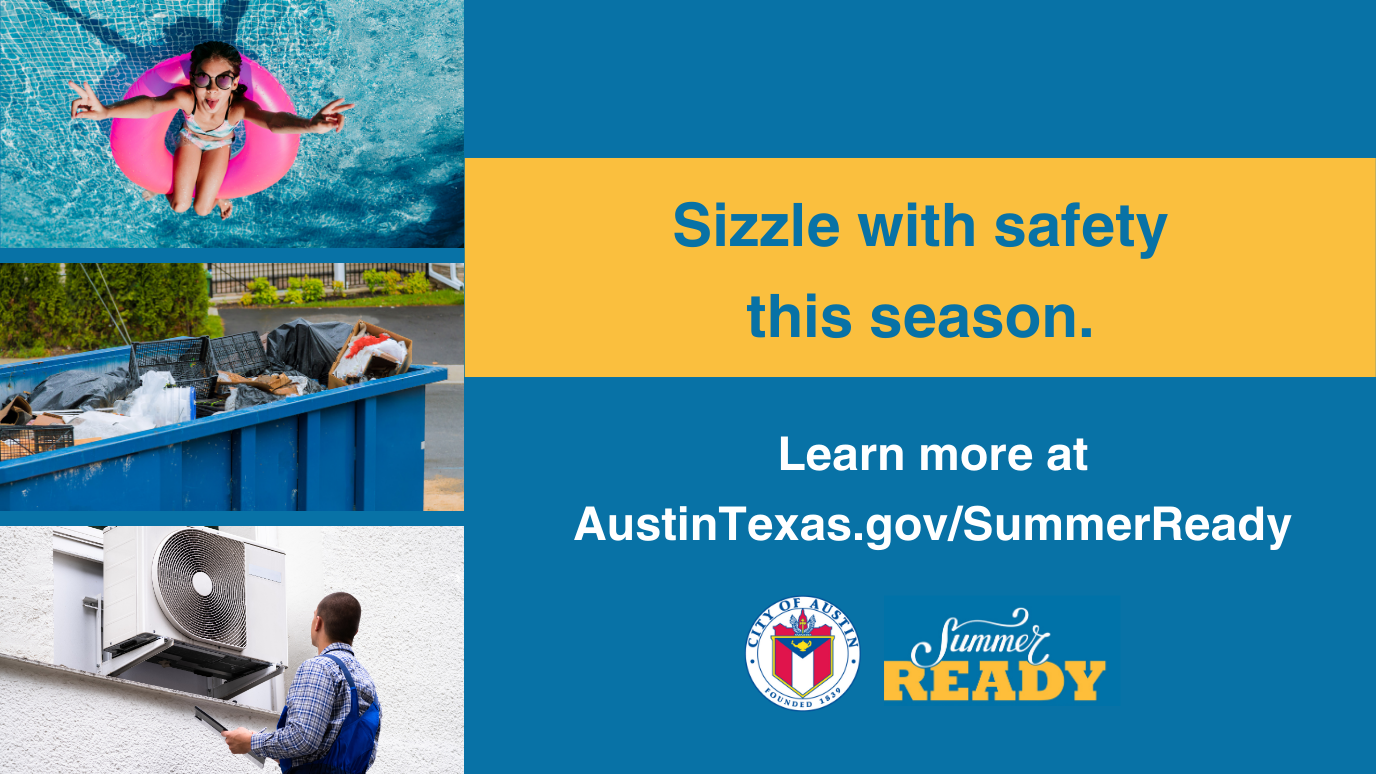 Austin, Texas - The first official day of summer is still a few weeks off, but that's not the story the weather forecast is telling. Summer should be about running barefoot in the lawn, barbecues and cooling off from the heat, not about infestation, dangerous environments and common code violations. Avoid these summer bummers with this Summer Ready guidance.
City Code requires grass and weeds to be kept shorter than 12 inches. A well-maintained outdoor space minimizes stagnant water and risk of infestation. Grass over four feet tall is considered an imminent danger. Spiders, snakes, scorpions and other critters like to hide in high vegetation, creating a potentially dangerous situation for people and animals.
The Watershed Protection Department offers grants, rates and freebies to promote sustainable landscaping practices through the Grow Green initiative. The Austin Parks & Recreation Department provides guidance on the creation of City-certified wildlife habitat and community gardens.
Disposing of garbage or unwanted items outside formal collection or donation processes is considered illegal dumping. Keeping our city clean is a shared responsibility. Dispose of trash and unwanted property appropriately – through curbside trash, recycling and composting services – or at a legitimate disposal site.
Austin Resource Recovery's residential customers (in single-family homes up to fourplexes) receive regular curbside trash, recycling and composting collection and on-call clothing and houseware collection. Austin/Travis County residents can drop off many items to be recycled, reused or safely discarded at the Recycle & Reuse Drop-off Center. Residents can also access a list of battery drop-off locations or search the 'What Do I Do With…'  tool to find out how to dispose of an item.
Cleaning up a dump site is ultimately the responsibility of the property owner, even if they are not the offender.
For other Summer Ready resources that can help you sizzle with safety this season, visit AustinTexas.gov/SummerReady.
Austin
, Texas
 - Aunque el clima no lo aparenta, todavía faltan algunas semanas para el verano. El verano consiste en correr descalzo en el césped, parrilladas y refrescarse del calor. No consiste en infestaciones, ambientes peligrosos o 

infracciones comunes del código

. Evite los fastidios del verano con estos consejos.

El Código de la ciudad requiere que las hierbas y las malezas se mantengan a menos de 12 pulgadas de alto. El césped de más de cuatro pies de altura se considera un peligro inminente. A las arañas, serpientes, escorpiones y otras criaturas les gusta esconderse en la vegetación alta, creando una situación potencialmente peligrosa para las personas y los animales.

El Departamento de Protección de Cuencas Hidrográficas (Watershed Protection Department) ofrece ayuda monetaria, tarifas reducidas y obsequios para promover prácticas sostenibles de paisajismo a través de la iniciativa Grow Green. El Departamento de Parques y Recreación de Austin brinda orientación sobre la creación de hábitats de vida silvestre y jardines comunitarios certificados por la ciudad.

El tirar basura o artículos no deseados fuera de los procesos formales de recolección o donación se considera ilegal. Mantener nuestra ciudad limpia es una responsabilidad compartida. Deseche la basura y la propiedad no deseada a través de la recolección de basura en la acera, los servicios de reciclaje y compostaje o en un sitio de eliminación legítimo.

Los clientes residenciales del Departamento de Recuperación de Recursos de Austin (Austin Resource Recovery) (en casas unifamiliares hasta cuádruples) reciben recolección regular de basura, reciclaje y compostaje en la acera y recolección de ropa y artículos del hogar conforme se necesite. Los residentes de Austin/Condado de Travis pueden dejar muchos artículos para reciclarlos, reutilizarlos o desecharlos de manera segura en el Centro de entrega de reciclaje y reutilización (Recycle & Reuse Drop-off Center). Los residentes también pueden acceder a una lista de ubicaciones de entrega de baterías o buscar en la página de internet "¿Qué hago con…?" para saber cómo desechar un artículo.

Limpiar basura tirada ilegalmente es ultimadamente responsabilidad del dueño de la propiedad, sea o no el que tiró la basura.

Para más recursos sobre como estar listo para un verano sano y seguro, visite la página de internet Listo para el verano (Summer Ready).