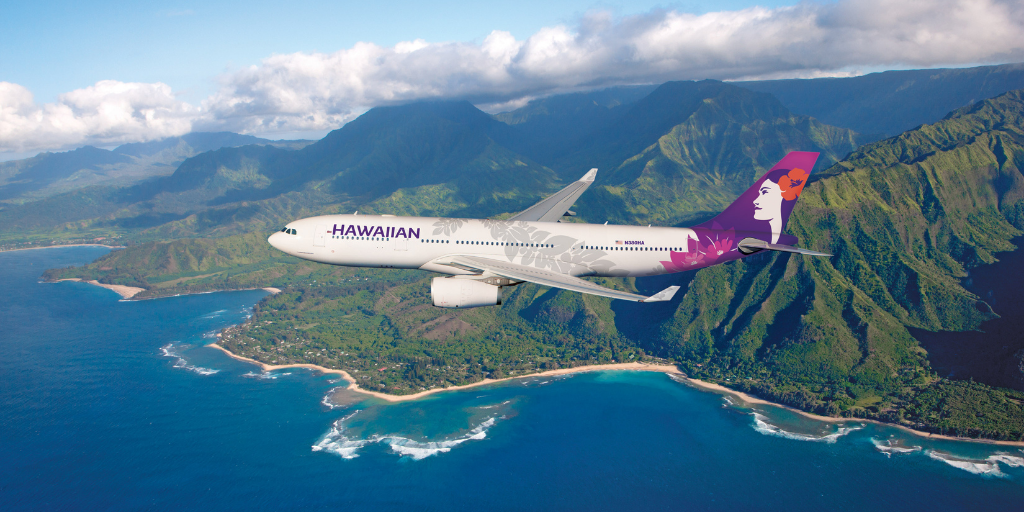 AUSTIN, Texas – Hawaiian Airlines has announced new nonstop service between Austin-Bergstrom International Airport (AUS) and Honolulu's Daniel K. Inouye International Airport (HNL) beginning in April 22, 2021.
"We are delighted to bring our superior value proposition to travelers visiting Hawai'i from Austin," said Peter Ingram, president and CEO of Hawaiian Airlines. "2021 is going to be a special time to experience Hawai'i, and we can't wait to welcome onboard our Austin guests and introduce them to our islands."
Flights will operate twice a week with the HNL to AUS flight arriving Wednesdays and Saturdays at 10:10 p.m. and departing Austin at 10:10 a.m. the following morning. The flight arrives in Honolulu at 1:30 p.m., giving travelers the afternoon to explore O'ahu or connect to Hawaiian's neighbor island destinations. Tickets are on sale now, with booking and more information available at HawaiianAirlines.com.
Guests will enjoy island-inspired complimentary meals and the roominess and superior comfort aboard Hawaiian's 278-seat Airbus A330 aircraft. It features 18 lie-flat First Class leather seats arranged in a 2-2-2 configuration tailored for couples, families and honeymooners, as well as business travelers. Hawaiian's A330s are equipped with 68 of its popular Extra Comfort premium economy seats with more legroom and enhanced amenities, in addition to 192 Main Cabin seats.
"We are excited to have met this long-held goal of connecting Austinites to beautiful Hawaii, for both business and pleasure," said Gina Fiandaca, Assistant City Manager over the SD23 Mobility Outcome. "This significant milestone helps us advance our goal of achieving our Strategic Direction 2023 outcomes that will benefit Austin residents and support our economy for years to come."
This new route will be the first nonstop air service to Hawaii for Central Texas travelers and the first Pacific route from AUS. This is Hawaiian Airlines' first connection into Texas.
"Austin-Bergstrom International Airport remains committed to providing the best service to our passengers despite a year with unprecedented impacts on the airline and airport industries," said Jacqueline Yaft, Chief Executive Officer. "We know that many Central Texans will be eager to travel and we are excited to offer an easy and convenient way to explore a new destination."
Click here for remarks about this new service from:
Peter Ingram, Chief Executive Officer, Hawaiian Airlines
Jacqueline Yaft, Chief Executive Officer, Austin-Bergstrom International Airport
Gina Fiandaca, Assistant City Manager - Mobility, City of Austin
Doug Driskill, Austin Chamber of Commerce Air Service Task Force
Tom Noonan, President & Chief Executive Officer, Visit Austin
About Hawaiian Airlines
Hawaiian® has led all U.S. carriers in on-time performance for each of the past 16 years (2004-2019) as reported by the U.S. Department of Transportation. Consumer surveys by Condé Nast Traveler, Travel + Leisure and TripAdvisor have placed Hawaiian among the top of all domestic airlines serving Hawai'i.
Now in its 92nd year of continuous service, Hawaiian is Hawai'i's biggest and longest-serving airline. In 2019, Hawaiian offered nonstop flights between Hawai'i and more U.S. gateway cities (13) than any other airline, along with service connecting the islands with Japan, South Korea, Australia, New Zealand, American Samoa and Tahiti. As a result of the COVID-19 pandemic, Hawaiian is offering an adjusted schedule of daily flights within the Hawaiian Islands, and between Hawai'i and the U.S. mainland as well as Japan.
The airline is committed to the health and safety of its guests and employees and has reinforced enhanced cleaning procedures across its business. While the experience may be a little different, the authentic Hawaiian hospitality remains unchanged. Additional details on how Hawaiian is keeping guests and employees safe can be found at HawaiianAirlines.com/KeepingYouSafe.
Hawaiian Airlines, Inc. is a subsidiary of Hawaiian Holdings, Inc. (NASDAQ: HA).
About Austin-Bergstrom International Airport
Owned and operated by the City of Austin, Austin-Bergstrom International Airport is an economic engine in Central Texas, supplying over 74,000 direct and indirect jobs in the Central Texas region. Its reflection of local food, music, art, and customer service has earned Austin-Bergstrom recognition—including Runner-Up for Best U.S. Airport in Fodor's 2019 Travel Awards.
For the latest news, real-time flight information, parking availability and details on the many services provided at Austin-Bergstrom International Airport, visit AustinTexas.gov/Airport. You can also follow Austin-Bergstrom on Facebook, Twitter, and Instagram.
# # #