You are here
City of Austin
---
FOR IMMEDIATE RELEASE
Release Date:
Aug. 04, 2017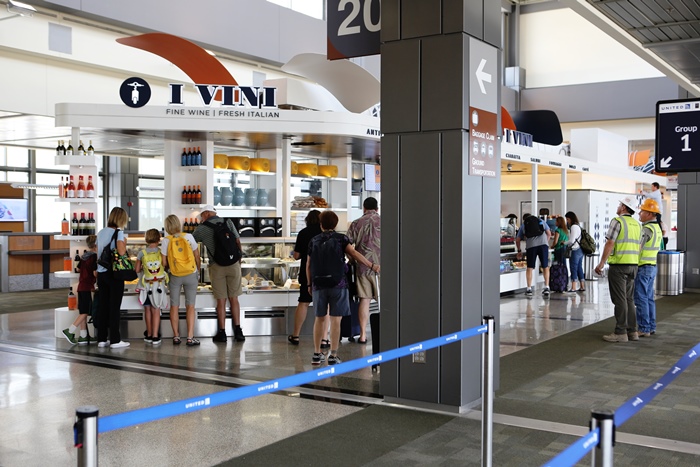 I VINI brings modern Italian market to Austin airport.
AUSTIN, Texas – I VINI, the sleek new Italian market near Gates 20-23 at Austin's airport has opened. The Italian, espresso café and wine bar concept is founded by local Annie's Café & Bar owner Love Nance and concept development company Paseo Brands.
Spanning 124 feet, I VINI is a Italian market featuring a curved wine bar, espresso area, a walk-up takeaway bar for beer and wine, a 30-foot prepared foods section and a seated table service area. Much of I VINI's food preparation will be done out in the open, including fresh salami platters prepared "while you watch" on a hand-cranked charcuterie slicer. Bruschetta boxes (designed for travelers to eat on an airplane), salads, pizzas, and Italian coffees and pastries will also be among the offerings. Additionally, I VINI will boast a wine list curated by Jeremy Cohen, who is a past recipient of the Best Wine List in America award.
"I VINI will provide a new sit-down dining option for our Central Texas customers, and on the west end of the Barbara Jordan Terminal," said Jim Smith, Executive Director, Austin-Bergstrom International Airport.
"The recipes have all been simmering on the back of my stove for years," said Nance, who also heads Paseo Brands, which created Farm Aire and the Annies Café & Bar at ABIA in partnership with Delaware North in 2013. "The menu is based on the fresh Italian street food from my many trips to Italy visiting my goddaughter. We were among the first to bring truly fresh food to an airport so we're extending that approach to Italian."
I VINI's contemporary space was designed by Austin-area architects Dick Clark + Associates, who created the floating island configuration of the concept. The visual aesthetic was complemented by local designer Brett Stiles, who created the free-form, Calder-esque sculpture painted in abstract, vineyard-inspired motifs specifically for the I VINI brand.
"We jumped at the chance to collaborate again with Love," said Kevin Kelly, president of Delaware North's travel division. "Annies and Farm Aire have been a tremendous success at ABIA and it's a testament to her passion for quality food and fresh dining concepts. We know that travelers are going to love I VINI the same way they embraced the first-rate culinary experience at Annies."
The airport of choice for Central Texas is Austin-Bergstrom International Airport (AUS). Fly Austin on new nonstop international destinations including Amsterdam, Netherlands (AMS) during SXSW 2018, www.delta.com, London Gatwick, United Kingdom (LGW) on Norwegian Air, www.norwegian.com/us, Punta Cana, Dominican Republic (PUJ) via Vacation Express, www.vacationexpress.com, Guadalajara, Mexico (GDL) on Volaris, www.volaris.com, and Mexico City, Mexico (MEX) on AeroMexico, www.aeromexico.com.  Welcome to Sun Country, a new carrier to Minneapolis – St. Paul International Airport (MSP) at www.suncountry.com. New domestic nonstop destinations include Steamboat Springs (HDN) from ViaAir, www.flyviaair.com, Columbus (CMH) and Ontario (ONT), announced by Frontier, www.flyfrontier.com, Kansas City (MCI) and Panama City (ECP) on Southwest, www.southwest.com, Raleigh-Durham (RDU) on Delta, www.delta.com, and Indianapolis (IND), Pittsburgh (PIT), St. Petersburg (PIE), Destin-Fort Walton Beach (VPS), and Cleveland (CLE) on Allegiant, www.allegiantair.com. Find all nonstop routes with the free interactive flight guide on www.abia.org. Connect with us on Twitter, @AUStinAirport, Facebook, www.facebook.com/abia and on Instagram, @AUSairport.
About Delaware North
Delaware North is one of the largest privately-held hospitality and food service companies in the world. Founded in 1915, Delaware North has global operations at high-profile places such as sports and entertainment venues, national and state parks, destination resorts and restaurants, airports, and regional casinos. Delaware North has annual revenue of $3 billion in the sports, travel hospitality, restaurants and catering, parks, resorts, gaming, and specialty retail industries. Learn more about Delaware North, a global leader in hospitality and food service, at www.delawarenorth.com.
###
---