City of Austin
FOR IMMEDIATE RELEASE
Release Date:

---
View these artists' works before they are replaced with new exhibits in July.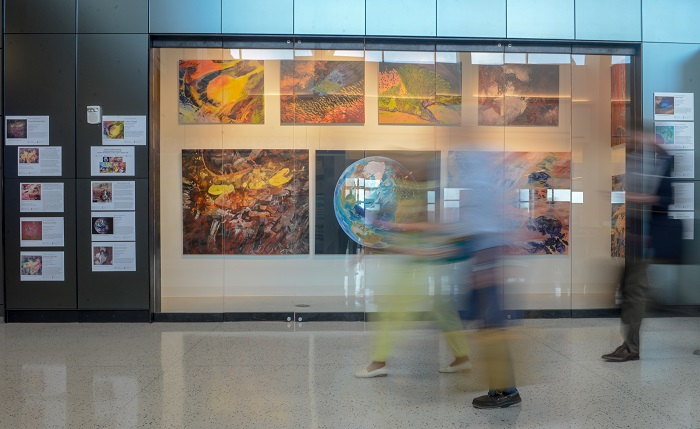 AUSTIN, Texas – Travelers only have a few weeks left to explore the featured local artists in Austin-Bergstrom International Airport's 9-Gate expansion.
From February to June 2019, the three art exhibits, "The Works of Brian "Bydeeman" Joseph," by Brian Joseph, "Featuring NJ Weaver," by NJ Weaver, and "Rubina Anjum: Planet Earth Series," by Rubina Anjum were highlighted throughout the concourse expansion. In July, these collections will be replaced by new art from other local Central Texas artists, as part of the airport's Changing Exhibits program.
The exhibits leaving at the end of June are from artists:
Brian Joseph – Known as "The Bydeeman", Brian Joseph, has been in the Austin art industry for almost 30 years as the owner of the Bydee Art Gallery. His colorful paintings of the Bydee people (BYDEE stands for Bringing You Delightful Entertaining Experiences) are a fictitious creation started in September 1986 to share his utopian philosophy of peace and multiculturalism. His work is located in the Colony Park Gallery across from Gate 10. https://www.bydee.com/
NJ Weaver –A member of the International Encaustic Artists/Texas Wax Austin and Women Printmakers of Austin, NJ Weaver uses color, texture, and mark-making as the foundation for her paintings, collages, and hand-pulled prints. Weaver's paintings are intuitive, spontaneous, and punctuated with action, movement, and gestural markings. Her work is located in the Clarksville Gallery across from Gate 10. www.njweaver.com
Rubina Anjum – A visual artist based in Austin, Rubina Anjum works extensively with oil paints and watercolors. The Planet Earth Series is inspired by images taken from the Landsat7 satellite of the US Geological Survey, and NASA.  The series aims to celebrate the beauty of the earth and demonstrate alternate ways to view and engage in the world. Her work is located in the Moore's Crossing Gallery across from Gate 12. https://rubinaart.com/
As one of the first artists to be displayed in the new 9-Gate exhibits, NJ Weaver said it has been enjoyable to have people contact her and show interest in her work, even to the point in reaching out to her to inquire more about her pieces.
"Showing art and artists in the airport is a great thing in general because it is a gateway to something people coming to Austin may be interested in," she said.
Due to the growing influence of social media and platforms such as Instagram, Weaver noticed that other artists coming through the airport were able to take pictures and showcase her work as well as express their interest in gaining exposure through the Austin airport's art exhibition program.
"It is an honor that my art was chosen to have a positive visual impact on passengers who are visiting, or bidding Austin farewell," said Brian Joseph. "Austin-Bergstrom's art exhibition program is an excellent opportunity to showcase local artists and I cherish the privilege of being one of the first in the new spaces."
As June draws to an end, Austin-Bergstrom suggests that travelers take a chance to view these artists' works before they are replaced with new exhibits starting the first week of July.
The airport of choice for Central Texas is Austin-Bergstrom International Airport (AUS). New nonstop international flights include Calgary, Canada (YYC) on WestJet www.westjet.com; Frankfurt, Germany (FRA) on Lufthansa www.lufthansa.com; London Gatwick, United Kingdom (LGW) on Norwegian Air, www.norwegian.com/us; and Mexico City, Mexico (MEX) on AeroMexico, www.aeromexico.com. Austin also welcomes new carrier Spirit Airlines,  www.spirit.com.  Find all nonstop routes with the free interactive flight guide on www.abia.org. Connect with us on Twitter @AUStinAirport, Facebook,  www.facebook.com/abia and on Instagram @AUSairport.
This release was written by Tanya Haden, PIO intern at AUS.