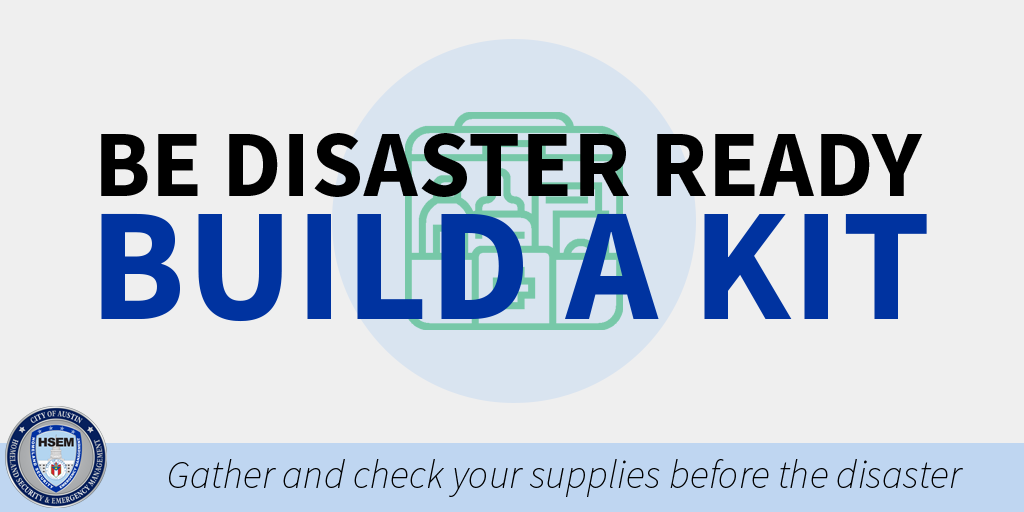 This week we are focusing on our second step to disaster preparedness, building a kit. A disaster supply kit is a collection of basic items your household may need in the event of an emergency. Being prepared means having your own food, water and other supplies to last for several days. Understanding the unique needs, you have and that your family has are important to ensuring you can be better prepared for whatever disaster comes ahead.
To assemble your kit store items in airtight plastic bags and put your entire disaster supplies kit in one or two easy-to-carry containers such as plastic bins or a duffel bag.
The City of Austin's Office of Homeland Security and Emergency Management has checklists that you can use to begin building your emergency kit for you and your family and for your pets. You can also consider adding the following items to your kit:
Masks (for everyone ages 2 and above), soap, hand sanitizer, disinfecting wipes to disinfect surfaces
Prescription medications
Non-prescription medications such as pain relievers, anti-diarrhea medication, antacids or laxatives
Prescription eyeglasses and contact lens solution
Cash or traveler's checks
Important family documents such as copies of insurance policies, identification and bank account records saved electronically or in a waterproof, portable container
Sleeping bag or warm blanket for each person
Complete change of clothing appropriate for your climate and sturdy shoes
Fire extinguisher
Matches in a waterproof container
Feminine supplies and personal hygiene items
Books, games, puzzles or other activities for children
Get started with building your kit by visiting AustinTexas.gov/hsem or Ready.gov.