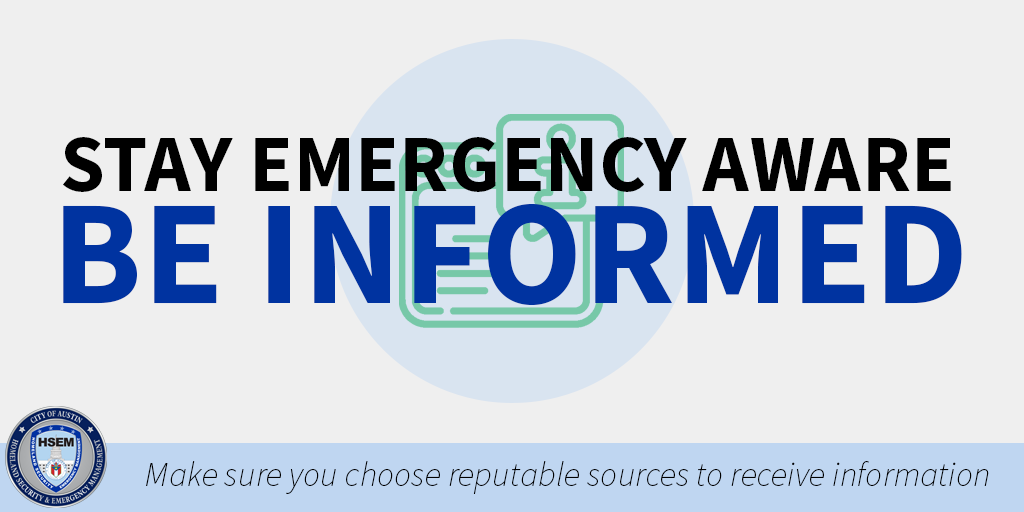 For the final week of National Preparedness Month, we are focusing on our final step to disaster readiness, staying informed. Knowing what is happening and what local authorities what you to do is critical to being safe during disasters.
There are many ways to stay informed about disasters.  It's important to use the methods familiar to you and don't rely on just one source of information. There are many places to turn when disaster strikes, but make sure you choose reputable sources to get information. The City of Austin shares information on our website, social media, via Warn Central Texas, and our preparedness app Ready Central Texas to name a few. 
WarnCentralTexas.org is public web portal for residents to register for local alerts from our Regional Notification System and to learn about other ways their local communities distribute information during emergencies. By registering at WarnCentralTexas.org residents of Bastrop, Blanco, Burnet, Caldwell, Fayette, Hays, Lee, Llano, Travis, and Williamson counties can receive local emergency alerts from their public safety officials.
Get a jump start on what to do before severe weather hits. Download the Ready Central Texas App today for more resources and get prepared today. Get the app at this link: Austintexas.gov/prepared.
Make sure you take this step and the other three to be better prepared for disasters.