City of Austin
FOR IMMEDIATE RELEASE
Release Date:

---
Norwegian has announced that they will be bringing nonstop service from Austin to Paris, France starting May 6, 2020.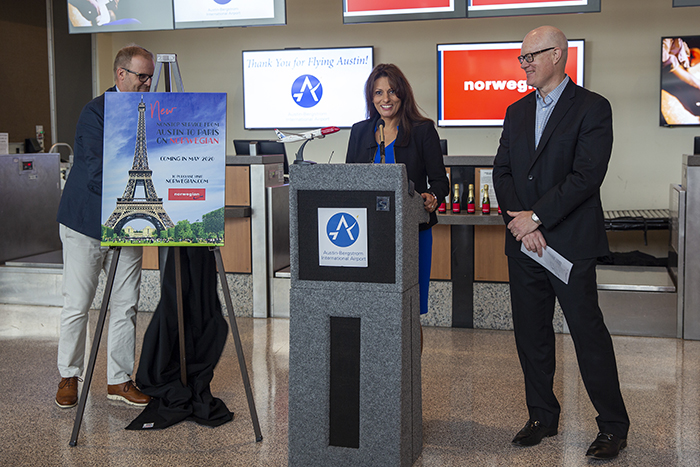 Norwegian SVP of Sales, Lars Sande, unveils the new nonstop route as Jacqueline Yaft and Tom Noonan address the media.
AUSTIN, Texas – Norwegian has announced that they will be bringing nonstop service from Austin to Paris, France starting May 6, 2020.
Flights will operate seasonally three times a week between Austin (AUS) and Paris-Charles-de-Gaulle Airport (CDG), and are available to book now on norwegian.com.
"Austin is a great example of our seasonal focus, serving increased demand during the popular summer months. After two successful seasons of our London service, the need to grow our presence in Austin was clear. Paris is one of our most popular European destinations from the U.S. and with great growth potential in this market," said SVP of Commercial at Norwegian, Matthew Wood. "Next summer, we have also increased the number of Austin to London flights to four weekly as our footprint expands."
The summer seasonal service will operate on Wednesdays, Fridays and Sundays between May 6 and September 20, 2020, and on Fridays and Sundays between September 25 and October 23, 2020.
"We're excited by today's news that next year, Central Texas travelers will have new nonstop service to Paris, one of the top tourist destinations in the world," said Jacqueline Yaft, Director of Austin-Bergstrom International Airport. "Combined with the announcement of increased service to London, we look forward to filling even more Norwegian flights with Austinites who are visiting Europe for work and for play." 
Norwegian recently announced that it will also be increasing the frequency of its seasonal summer service to London Gatwick Airport from three to four days a week, starting May 4, 2020. Service from Austin to London Gatwick will resume for the season on March 3 with three flights each week before increasing to four weekly on May 4.
"Today's announcement of the Norwegian route launch from Paris to Austin marks the fifth transatlantic flight to AUS in only five years," said Tom Noonan, President and CEO of Visit Austin. "This is a testament to how Austin continues to grow as a premier destination and we are thrilled that Norwegian has invested in not one but two nonstop routes into Austin, connecting London and Paris to Austin."
Assistant City Manager Gina Fiandaca agrees, saying, "This new service from Norwegian Air furthers the City's goal to connect Central Texas to the world. We look forward to partnering with Norwegian to take Austin travelers directly to one of the world's top destinations with this route."
For information on additional nonstop international routes from AUS, please visit AustinTexas.gov/Airport.