City of Austin
FOR IMMEDIATE RELEASE
Release Date:
Contact: Public Affairs Office, Austin Public Works 512-974-7111 Email
---
When the pandemic hit Austin and aspects of city life paused for many, Austin Public Works continued to provide essential services to its residents, as seen in its 2020 Annual Report. The online report showcases how the department not only found ways to safely build and maintain Austin's public infrastructure, including our roadways, sidewalks, bridges and more, but also assist with the City's efforts to keep residents healthy and safe. The 2020 Annual Report covers departmental highlights within the City's Fiscal Year 2020.
Along with infrastructure improvements, the report also focuses on how the department continued to keep capital improvement projects on schedule and on budget, and how the department partners with neighborhood groups on localized projects.
"This was certainly a challenging year for our community, but I'm proud of the work that the Public Works team has accomplished," said Gina Fiandaca, Assistant City Manager over Mobility. "I appreciate all of their efforts, their commitment to the Austin community, and look forward to what's to come in 2021."
The online report is organized in three major sections that show how Public Works helps create a community that is not only well-built and well-maintained, but provides well-being for all residents.
"Safety has always been the first priority for us when conducting our work," said Public Works Director Richard Mendoza. "I'm proud to say we prioritized keeping our teams safe while also delivering critical services to the community."
Highlights of the 2020 Report include:
Repaired 1,293 potholes, 97% of which were repaired within 72 hours of reporting
Maintained the City's 7,917 lane miles, 75% of which are in fair to excellent condition
Constructed and repaired 23 miles of ADA-compliant sidewalks
Managed $364 million worth of spending for capital projects
Created 48 virtual learning tools for PE teachers across Austin
Represented 8 Council Districts through Neighborhood Partnering Program projects
To view the Austin Public Works 2020 Annual Report, visit: atxpwreport2020.com.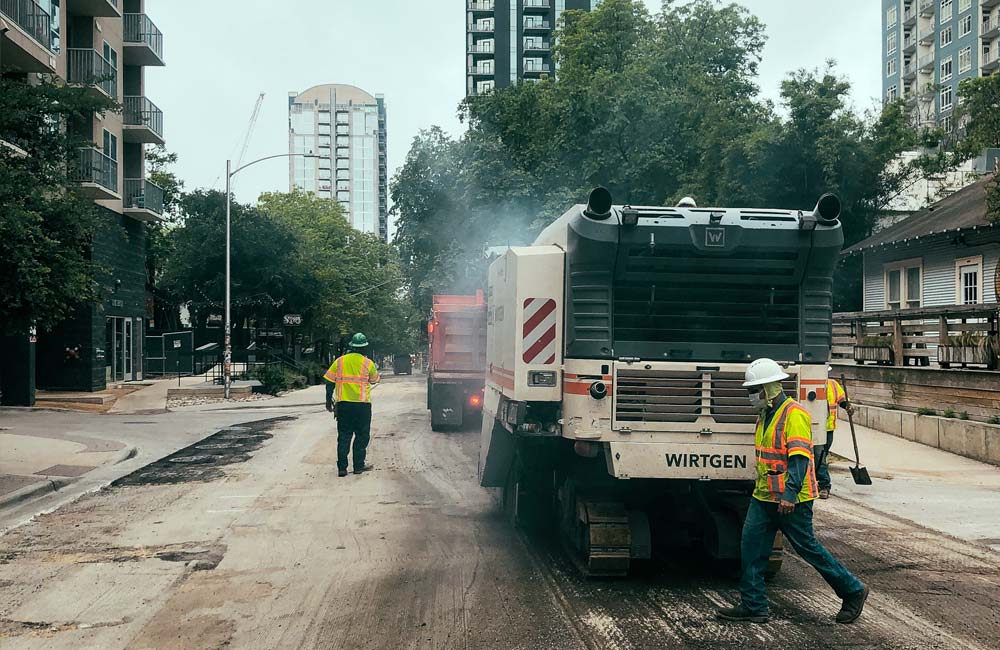 Austin Public Works' Overlay team repaves Rainey Street during the quiet start of the pandemic.
###
About Austin Public Works:
The City of Austin's Public Works Department designs, manages, and inspects major capital improvement projects; promotes bicycle, pedestrian, safe routes to school, and urban trail projects; and maintains the City's network of trails, roadways, and bridges once they are built. The Neighborhood Partnering Program provides opportunities for community and neighborhood organizations to affect public improvements by sharing in the costs of those efforts with the City of Austin government.