City of Austin
FOR IMMEDIATE RELEASE
Release Date:

---
Delaware North hosted the grand opening program that included a ribbon cutting ceremony and performances by Ray Benson, Heybale Band, and Love & Chaos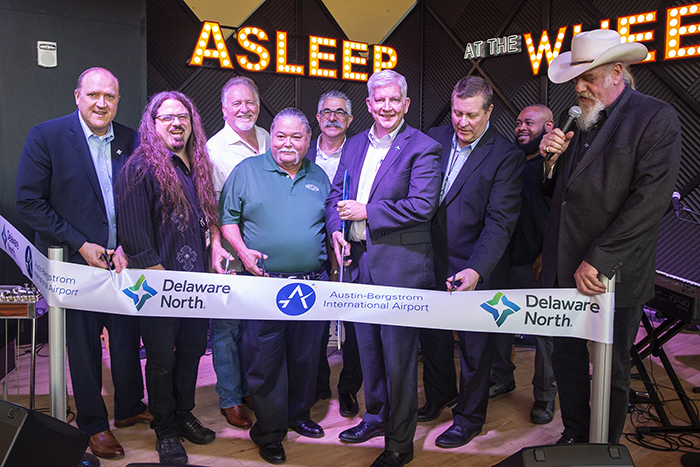 Steve Bass, COO Delaware North; Michael Pennock, Aviation Music Coordinator; Joe Ables, owner of the Saxon Pub; Scott Roberts, Salt Lick Barbeque; Jeff Fredman, Regional Director, Delaware North; Kevin Kelly, President, Delaware North Travel; Terry Mahlum, District Manager, Delaware North; Sherman Collins with the Earl Campbell group; and Ray Benson, legendary songwriter and performer. Photo by Sandy L. Stevens, Courtesy of COA Aviation.
AUSTIN, Texas – The Heart of Austin, Saxon Pub – Asleep at the Wheel Stage located in the center of the Barbara Jordan Terminal at the Austin-Bergstrom International Airport celebrated with a star-studded line up of performances, a ribbon cutting and grand opening speeches, on Friday, April 19.
Delaware North hosted the grand opening program that included a ribbon cutting ceremony and performances by Ray Benson, Heybale Band, and Love & Chaos. Also in attendance was legendary Texas Longhorn All-American, Heisman Trophy Winner, Earl Campbell, an NFL Hall of Famer who played with the Houston Oilers and New Orleans Saints. The program celebrated the opening of the Heart of Austin area that includes the Saxon Pub – Asleep at the Wheel Stage, the Saxon Pub Bar, Jo's Coffee, and the Earl Campbell Food Truck.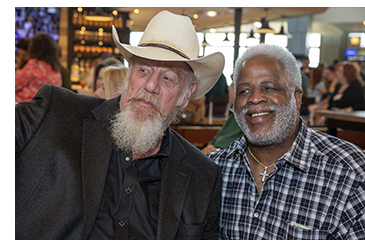 "Can't wait for everyone to see the new 'Asleep at the Wheel' stage and Saxon Pub in ABIA!" said Ray Benson, legendary songwriter, musical performer and voice actor. "From the beginning, it was extremely important to me to have music in our airport. We have continued to grow and make the music experience for all travelers, from all over the world and for us Austinites to have a top-notch experience. I think everyone will be thrilled with the new layout!"
Located near Gate 19, the 4,456 square feet Heart of Austin has a 9-foot neon lighted guitar spinning above the area and seating for 190 patrons. The live music performance stage is 317 square feet with state of the art sound system and equipment for musical and acoustic shows. The area includes bar and stadium seating, creating a comfortable backyard porch and patio vibe, along with the 876 square foot Saxon Pub bar.  
"The new Saxon Pub at ABIA is absolutely beautiful and quite a treat for travelers in and out of Austin. Sharing this incredible space with Ray Benson's Asleep at the Wheel stage and the Earl Campbell branded taco truck is quite an honor. Delaware North should be commended for their amazing commitment to supporting live music in Austin," said Saxon Pub owner Joe Ables.
The music program at the Austin airport has hosted over 12,270 live music performances since 1999. The Asleep at the Wheel stage is the largest of the five live music performance areas in the airport. Construction in the 9-gate terminal expansion will add another three live music performances spaces in the Barbara Jordan Terminal, which currently averages 25 live musical shows per week at the airport.
"Live music is in Austin's roots and culture, we work hard to make it part of the Austin passenger experience. I believe that we have one of the best airport music programs in the world and have now taken it to the next level," said Austin airport music coordinator, Michael Pennock.
More information about the Austin airport music program, live music performance schedules, the live streaming airport playlist and Spotify can be found at http://www.austintexas.gov/department/live-music-air-airport
The airport of choice for Central Texas is Austin-Bergstrom International Airport (AUS). New nonstop international flights include Calgary, Canada (YYC) on WestJet www.westjet.com; Frankfurt, Germany (FRA) on Lufthansa www.lufthansa.com; London Gatwick, United Kingdom (LGW) on Norwegian Air, www.norwegian.com/us; and Mexico City, Mexico (MEX) on AeroMexico, www.aeromexico.com. Austin also welcomes new carrier Spirit Airlines, www.spirit.com.  Find all nonstop routes with the free interactive flight guide on www.abia.org. Connect with us on Twitter, @AUStinAirport, Facebook, www.facebook.com/abia and on Instagram, @AUSairport.