City of Austin
FOR IMMEDIATE RELEASE
Release Date:

---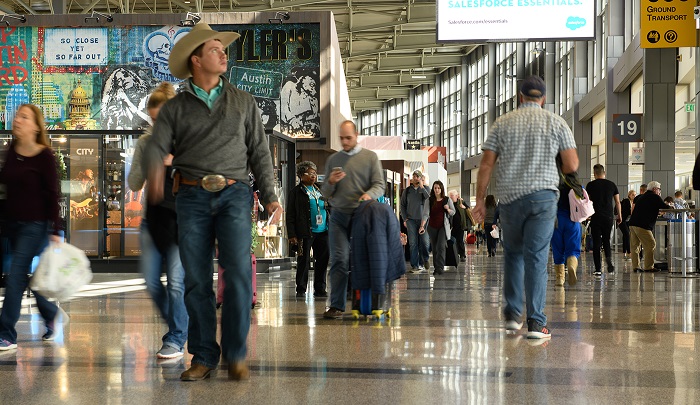 Photo by Austin Pro Photo
AUSTIN, Texas – The summer months of June, July and August are historically the busiest time of year at Austin-Bergstrom International Airport (AUS), and with new carriers and more flights, summer 2019 is expected to set passenger travel records.
To ensure their travel plans go smoothly, travelers should know what to expect during this busy summer season, and what may have changed since their last visit to the airport. Passengers should arrive in the terminal at least 2 hours before departures during the peak times of 5 – 8 a.m., 11 a.m. – 1 p.m. and 3:30 – 5:30 p.m. For all other times, travelers are advised to arrive 90 minutes before their departure time.
New airlines, routes just in time for summer!
With 17 major airlines now flying out of Austin to 64 nonstop destinations, there are more options than ever for the perfect summer getaway. Head to the heart of Europe on Lufthansa's new five-day-a-week nonstop service to Frankfurt, Germany. Beat the Texas heat with a trip to the Canadian Rockies on WestJet's new nonstop flight to Calgary, Alberta, Canada.
Celebrating its 100th anniversary and fifth anniversary in Austin, British Airways flies the iconic 747-400 all summer with daily nonstop service to London Heathrow.
Norwegian Air travelers fly seasonal service to the United Kingdom through London's Gatwick Airport, three times a week aboard a Boeing 787-9.
Vacation Express offers non-stop charter flights, vacation packages and all-inclusive packages from Austin to Punta Cana, Dominican Republic. Twice-weekly flights on Sun Country every Monday and Friday start July 19, connecting Austin to 26 miles of beautiful Gulf Coast beaches, golf and casinos, in Gulfport/Biloxi, Mississippi.
Southwest begins daily service to Raleigh-Durham on June 9, with Frontier adding service to San Francisco and Chicago. New to Austin, Spirit Airlines, has added its tenth route, daily nonstop service to Atlanta.
Allegiant, Frontier passengers go to the South Terminal
Passengers flying on Allegiant and Frontier need to go to the airport's South Terminal. The South Terminal, at 10000 Logistics Lane, is a separate facility with separate access from the rest of Austin-Bergstrom International Airport. Travelers should be aware that off-airport parking does not serve the South Terminal. Passengers are encouraged to park at the South Terminal which provides more than 1,000 parking spaces. The South Terminal is accessed from Burleson Road, between US 183 South and FM 973, for details on directions visit http://austinsouthterminal.com/getting-here-parking/.
Be prepared with these travel resources
Want to know if your flight is on time? Curious about where to park? These links can help:
New food and drink options – both in and outside the terminal
Whether you're waiting for your flight or in the cell phone lot to pick up a friend or loved one, a variety of new food and drink options are now available:
Heart of Austin: a newly remodeled area in the center of the terminal that includes the Saxon Pub – Asleep at the Wheel Stage, the Saxon Pub Bar, Jo's Coffee, and the Earl Campbell Food Truck
ABIA Food & Fuel is now open in the renovated cell phone lot. Located at 2901 Spirit of Texas Drive, it is available to the public, accessible from SH 71 and features a convenience store, Texaco gas station, sandwiches from Subway, tacos from TacoN' Mama, and several food and beverage options from Austin Java
FlyRite Chicken: craft chicken sandwiches and salads with an Austin twist
East Side Pies: thin-crust pizza made with fresh locally-sourced ingredients
Hat Creek Burgers: never-frozen beef served on fresh baked buns with homemade sauces
Amy's Ice Cream: just in time for summer, the local favorite returns to AUS in a newly remodeled location, but with the same amazing flavors
Haymaker: big and burly sandwiches and a neighborhood sports bar feel (Gate 24)
Hut's Hamburgers: an Austin favorite since 1939 (near Gate 14)
Pick-up location for taxis, ride apps now in Rental Car Facility
The pick-up location for taxis and ride app customers at the Austin's airport is located on the ground level of the Rental Car Facility. The relocation of the taxi and ride app pick-up area reduces roadway congestion along the curbside by approximately 3,700 cars per day. Walkways have been established to cross the garage and reach the new pick-up location. ADA-compliant mobility assistance vehicles are available from the garage to the Rental Car Facility.
Drivers - Click here to find out how to pick up your ride app & taxi passengers at the Austin-Bergstrom International Airport.
Flyers - Click here to find out how to meet your ride app or taxi driver.
Travelers heading to the airport can still be dropped off at curbside on the upper level of Presidential Blvd. in front of the terminal. For more information on the relocation, as well as directions visit: http://austintexas.gov/news/pick-location-taxis-ride-app-cars-moves-rental-car-facility
Security screening tips
Be prepared for security screening—dress and pack smart! By following these tips travelers can guarantee a smooth security screening process.
Firearms are prohibited at passenger screening checkpoints and possession of them will result in arrest
While packing, check luggage to ensure no prohibited items are in the bag or its pockets. For a comprehensive list of banned and permitted items in carry-on baggage, visit the TSA's website at www.tsa.gov
Carry-on luggage is restricted to one bag and one personal item such as a laptop, purse or backpack
Pour it out. Bottles containing liquids do not get recycled. Passengers can easily pour out the liquids from bottles at the "Pour It Out" receptacle at checkpoint entries, making the bottles ideal for recycling
Remember 3-1-1 for liquids, gels and aerosols in carry-on luggage. Three ounces per container, in a clear, one-quart bag, one per passenger and place this in a bin for X-ray
TSA's Pre-Check is available at Checkpoints 1 and 2. To enroll, visit www.tsa.gov
Coats, jackets, hats, other such outer garments and shoes must be put through X-ray screening
The first passenger-screening checkpoint opens at 3:30 a.m. and all gates in the Barbara Jordan Terminal are accessible via any of the three security checkpoints:

Checkpoint 1 is on the east end of ticketing, and enters the concourse at Gate 14
Checkpoint 2 is located in the center of the terminal, and enters the concourse at Gate 20
Checkpoint 3 is on the west end of ticketing, past the ticket counters and enters the concourse at Gate 24.
The airport of choice for Central Texas is Austin-Bergstrom International Airport (AUS). New nonstop international flights include Calgary, Canada (YYC) on WestJet www.westjet.com; Frankfurt, Germany (FRA) on Lufthansa www.lufthansa.com; London Gatwick, United Kingdom (LGW) on Norwegian Air, www.norwegian.com/us; and Mexico City, Mexico (MEX) on AeroMexico, www.aeromexico.com. Austin also welcomes new carrier Spirit Airlines, www.spirit.com. Find all nonstop routes with the free interactive flight guide on www.abia.org. Connect with us on Twitter, @AUStinAirport, Facebook, www.facebook.com/abia and on Instagram, @AUSairport.