City of Austin
FOR IMMEDIATE RELEASE
Release Date:
Contact: Austin Code Department, Public Information Office, media line 5129749222 Email
---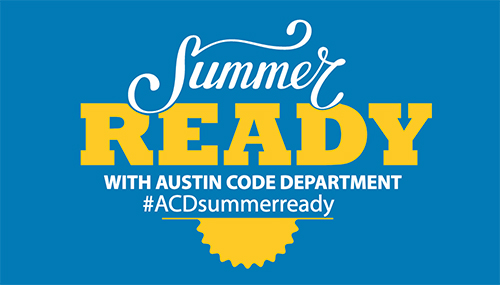 Austin Code Department Promotes Property Maintenance Safety Tips to Ensure We All Enjoy The Best Things of Summer.
Austin, TX - The Austin Code Department (ACD) continues to promote its 5th annual educational campaign, Summer Ready with Austin Code. The campaign aims to educate Austin residents about ways to enjoy the best things of summer by doing a few simple safety tasks around the space they call home. 
"Summer Ready with Austin Code" brings awareness on local public health and property maintenance codes to watch out for during the hot summer months
Tips and advice include:
Maintain lawns 12 inches or shorter

Not only does this keep rodents, snakes, and other critters off your lawn but it also prevents accidental wildfires from occurring due to hot summer temperatures.

Avoid stagnant water that may collect in pots or non-working pools

This helps keep mosquitos away and prevents creating mosquito breeding grounds.

Dispose of unwanted items properly and avoiding illegal dumping sites

Dumping sites are not only illegal but dangerous as people may dispose of flammable things that could start unattended fires.

Ensure proper property maintenance which includes weatherization and air conditioning maintenance

Air Conditioning units (HVAC) should be working properly otherwise they are considered a code violation and should be reported to the landlord to be addressed.
"We recognize the importance of raising awareness of how code violations could present possible dangers in home environments and communities. A healthy neighborhood creates a safe environment for all; we continue to lead with education to ensure that people become aware of maintaining their properties safe not only in the summer but year-round," said Assistant Director Elaine Garett. "Summer Ready highlights the importance of property maintenance codes that benefit us in the summer months. Addressing things like proper weatherization also ensures our homes will stay warm in the winter."
Background: The Austin Code Department invests in proactive educational campaigns that promote education and awareness on property maintenance codes to Austin residents. This effort aligns with the City of Austin's Strategic Plan 2023. Our goals are to strengthen community relations, awareness and understanding of local code requirements; ensure safe, healthy and legal uses of Austin lands and properties; deliver fair, equitable and transparent enforcement of City codes; and integrate innovative solutions to meet the dynamic needs of the community.  
To learn more about Austin Code, Summer Ready, and other educational campaigns, and resources, visit www.austintexas.gov/code.
¿Está Listo Su Hogar Para el Verano?
El Departamento de Códigos de Austin da consejos de mantenimiento de la propiedad para garantizar que todos disfrutemos de las mejores cosas del verano.
Austin, TX - El Departamento del Códigos de Austin (ACD) continúa promoviendo su campaña educativa anual, Summer Ready with Austin Code. La campaña tiene como objetivo educar a los residentes de Austin sobre maneras de disfrutar de las mejores cosas del verano haciendo algunas tareas de seguridad simples alrededor del espacio que llamamos hogar.
"Lístos Para el Verano Con Austin Code" crea conciencia sobre los códigos locales de salud pública y mantenimiento de la propiedad para tener en cuenta durante los calurosos meses de verano
Los consejos y sugerencias incluyen:
Mangenga el césped a menos de 30 pulgadas

No sólo mantiene roedores, serpientes y otros bichos fuera de su césped, sino que también evita incendios forestales accidentales debido a las temperaturas calurosas del verano.

Evite el agua estancada que pueda acumularse en cubetas, macetas o piscinas que no funcionen.

Esto ayuda a mantener alejados a los mosquitos y Evita la creación de zonas de mosquitos.

Deseche de artículos no deseados correctamente y evite crear lugares de descarga ilegales.

Los sitios de descarga no solo son ilegales, sino también peligrosos ya que las personas pueden tirar articulas flamables que crean incendios forestales.

Asegure un mantenimiento adecuado de la propiedad que incluya mantenimiento de climatización y aire acondicionado.

Las unidades de aire acondicionado (HVAC) deben funcionar correctamente, de lo contrario se consideran una violación de Código y deben ser reportadas al propetario para ser reparadas.
"Reconocemos la importancia de educar cómo las violaciones de códigos podrían presentar posibles peligros en las comunidades. Un vecindario saludable crea un ambiente seguro para todos; continuamos destacando nuestros esfuerzos con educación para asegurar que la gente tome conciencia de mantener sus propiedades seguras no sólo en el verano sino durante todo el año", dijo la Subdirectora Elaine Garett. "Lístos Para el Verano destaca la importancia de los códigos de mantenimiento de la propiedad que nos benefician en los meses de verano. Abordar cosas como la climatización adecuada también garantiza que nuestros hogares se mantengan calientes en el invierno".
Background: El Departamento de Códigos de Austin invierte en campañas educativas proactivas que promueven la educación y la concientización sobre los códigos de mantenimiento de la propiedad a los residentes de Austin. Este esfuerzo se alinea con el Plan Estratégico 2023 de la Ciudad de Austin. Nuestras metas son fortalecer las relaciones comunitarias, crear conciencia y la comprensión de los requisitos del código local; asegurar el uso seguro, saludable y legal de las tierras y propiedades de Austin; entregar la aplicación justa, equitativa y transparente de los códigos de la ciudad; e integrar soluciones innovadoras para satisfacer las necesidades dinámicas de la comunidad.
Para obtener más información sobre el Código de Austin, Listos Para El Verano y otras campañas educativas y recursos, visite www.austintexas.gov/code.