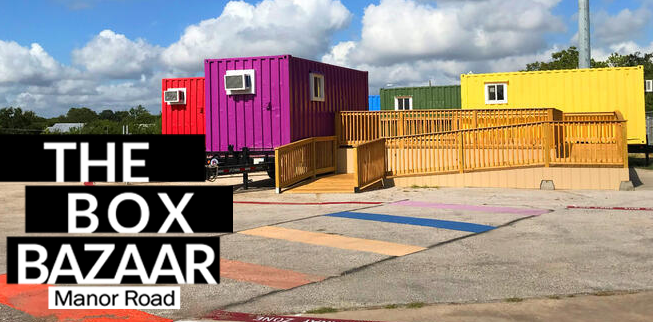 The Box Bazaar will be a temporary neighborhood installation that will activate a piece of city-owned land in East Austin by housing six business incubator spaces for small, minority, and local businesses in retrofitted shipping containers and by creating a vibrant neighborhood center with programming designed to benefit the surrounding community. This City of Austin pilot project aims to bring citywide goals for complete communities, economic opportunity, and equity to life in a yearlong demonstration project - the first of its kind in Austin.

 

Box Bazaar: Manor Road is anticipated to open in late 2020.

 
Meet the Entrepreneurs 

Get Involved

Sign up to the mailing list for news and information about the project

Visions and Goals

Temporarily activate city-owned land to further citywide goals for complete communities, economic opportunity, and equity by working closely with the community to build vibrant neighborhood centers and prioritize underserved communities' needs.

 

Activate vacant city-owned land for community benefit and create a vibrant neighborhood center

Imagine Austin points us toward becoming a city of Complete Communities throughout Austin. Such communities are defined by having amenities, transportation, services, and opportunities that fulfill all Austinites' diverse material, social, and economic needs.

 

Support entrepreneurship and small business development through coaching, technical assistance, and education

The City of Austin's Strategic Direction 2023 outlines six major outcomes to pursue over the next five years. One of those outcomes is Economic Opportunity and Affordability or having economic opportunities and resources that enable us to thrive in our community.

 

Provide low-barrier business incubator spaces for equitable economic development

Imagine Austin envisions a multi-pronged approach to creating economic opportunities so that Austin's prosperity can truly mean Prosperity for All. One of the eight priority programs of the plan seeks to increase job opportunities for Austin residents and increase small businesses while other programs focus on affordability, both household affordability as well as affordable arts and small business work spaces.

 

Work closely with the community to intentionally prioritize underserved communities' needs

The City of Austin defines Equity as the condition when every member of the community has a fair opportunity to live a long, healthy, and meaningful life. Austin's population is more diverse than at any time in history, and yet we know that this city has inherited many decades of inequality and must deal with the legacy of segregation and racism that is especially present east of Interstate 35. Embedding equity into the City of Austin's operations and provision of services means changing hearts and minds, eradicating disparities, and ensuring all Austin community members share in the benefits of progress.

Upcoming Events

 

The Housing & Planning Department is excited to announce The Box Bazaar's participation in the 2020 Austin Studio Tour from November 14 through 22! A free and self-guided art event, this year's Austin Studio Tour is a celebration of Austin artists and presents the public with new ways to safely experience art through virtual exhibitions and programs and visits to outdoor art spaces. The event is also inclusive of different art practices found around the city.  

In observance of COVID-19 safety procedures, the Box Bazaar will first serve as a working space for the business owners and will not be open to customers until further notice.

Participate in the Austin Studio Tour at austinstudiotour.org/artists/boxbazaar

 

Location

The first demonstration site for this project is located at 3511 Manor Road on a city parcel, though the project could be replicated in other spaces across the city in future iterations.

The Box Bazaar: Manor Road site is nestled within East Austin off of Airport Blvd and Manor Rd and just south of the Mueller Development. The project site is located within Council District 1 and near the MLK, MLK-183, and Pecan Springs-Springdale neighborhood planning areas and within the JJ Seabrook Neighborhood.

Project Details

Box Bazaar: Manor Road is anticipated to open in late 2020.

The Box Bazaar project is designed to be simple and adaptable so as to allow for it to be redeployed after each iteration. Following the closing of the Box Bazaar's pilot location on Manor Road, the project will be evaluated based on tenant feedback and community input and the possibility of replicating the project at another location will be evaluated at that time. The next steps for the Box Bazaar project will be greatly influenced by the success and community reception and feedback of the Manor Road demonstration.

 

Community Art

 

 

An interactive augmented-reality mural, featuring the late Richard Overton, will be featured at the Box Bazaar site. The mural was created by multimedia artist Ernesto Hernandez Ramirez, and presented by Six Square.  The mural was coordinated in part thanks to community organization Raaisin in the Sun.

Learn more about Mr. Richard Overton

Learn more about the artist, Ernesto Hernandez Ramirez

 
Questions and media requests can be directed to boxbazaar@austintexas.gov
Para obtener más información en español, envíenos un mensaje a boxbazaar@austintexas.gov
The Box Bazaar is a joint effort between many City of Austin departments including Planning and Zoning, Public Works, Development Services, Economic Development, Austin Transportation Department, Building Services, and the Office of Innovation. The Planning and Zoning department's Imagine Austin implementation team heads the project.