The former buyout areas near William Cannon Drive and South Pleasant Valley Road are deep within the floodplain of Onion Creek. Whole neighborhoods were at risk of flooding. To protect these families from flooding, Watershed Protection purchased 815 flood-prone properties between 1999 and 2021.
The area has been converted into open space for public use. Part of the land is now the Onion Creek Metropolitan Park at Yarrabee Bend, which features many covered picnic areas, trails, an off-leash dog area and a playground.
The rest is maintained by the Watershed Protection Department as open space. We conducted a survey in 2019 to get feedback from the community on what they would like to see in this space. Based on the results of this survey, our land management plan includes:
To close some of the streets that are no longer needed
Designate some areas as wildflower meadows (mowed twice a year)
Leave one area as a Grow Zone for water quality purposes (no mowing)
Set some areas aside for a possible community garden or sustainable farm
Mow areas near houses six times per year.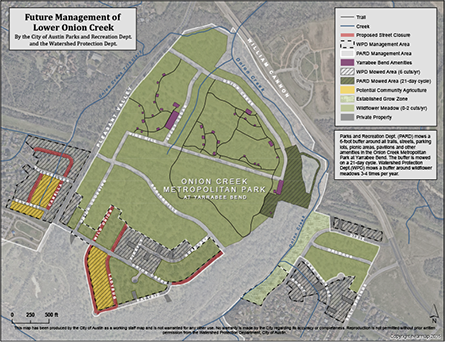 More Information
Leah Gibson, Watershed Protection Department, 512-974-9374
Charles Mabry, Parks and Recreation, 512-974-9481
For maintenance questions, please call 3-1-1
Report suspicious activity to 911. For non-emergency security concerns, call Leticia Campa, APD District Representative, at 512-974-5490.