Over-the-street banners reach thousands of people daily on high-visibility roadways. They offer an affordable way for nonprofits to raise awareness for their mission, get people out to events, and raise funds for charitable causes.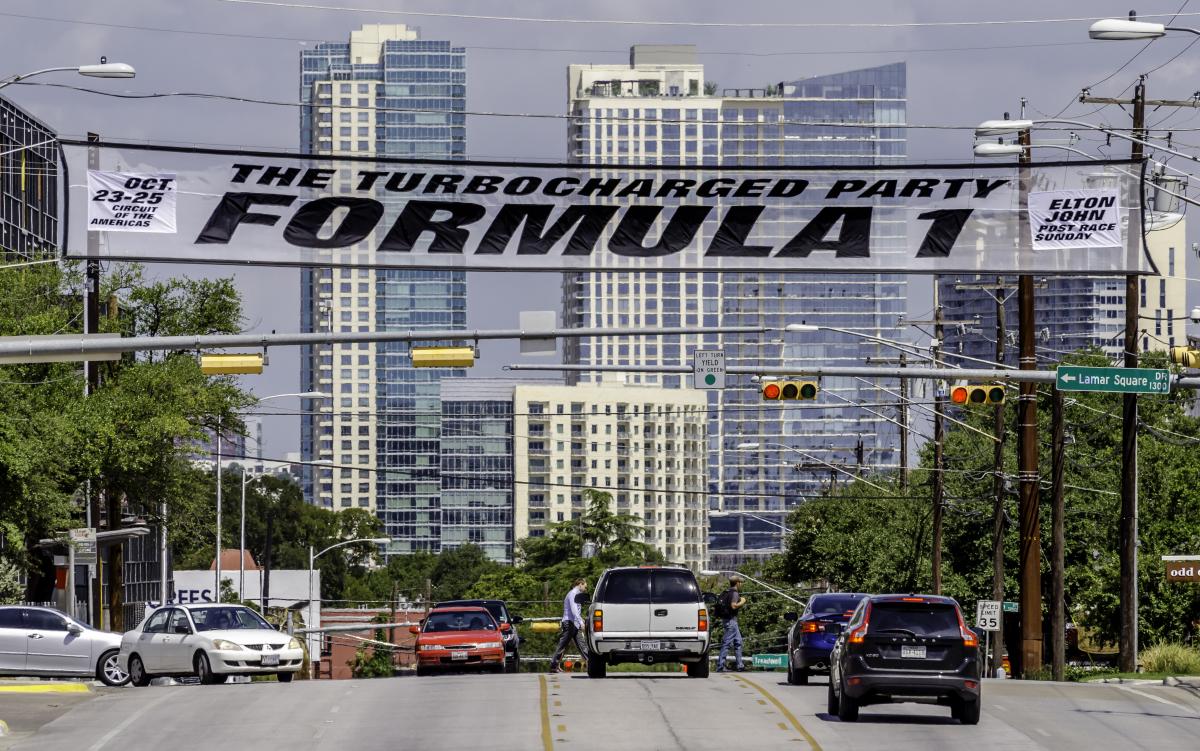 Installation Period: 2 weeks (over-the-street banners typically installed/removed on Mondays)
Fee: $600/banner for two-week period (max. 3 locations)
Locations
Over-the-Street banners are installed on wooden pre-approved Austin Energy poles. Locations are shown on our pdf map. Scroll down the page for interactive web map or click here.
Application includes:
Application Process
1. Read through the Application Materials.
2. Select your banner locations. Refer to Location Map.
3. Submit your application and payment a minimum of 30 days prior to installation. Applications may be emailed or mailed along with payment. Payment can be made online through the City's permitting page. Reservations are finalized upon submission of application and payment.
             DROP OFF PAYMENT                                            MAILING PAYMENT
             1501 Toomey Road                                              City of Austin, Transportation Department  
             Austin, TX 78704                                                   Attn: Street Banner Payment
             Hours of Operation: 8 am - 4 pm                       PO Box 1088
                                                                                               Austin, TX 78767
4. Design your banner and follow the design requirements before submiting for review and approval. All banner designs and content must be submitted for approval at least 30 days in advance of the installation date. Contact us for design approval.
You may reuse banners from previous years if they meet the current specifications and are in good condition. City staff inspects banners prior to installation; we have seen problems with moldy, decayed, and damaged banners.
5. Fabricate your banner. See Vendor List of local companies experienced in fabricating banners to City of Austin specification. Banners not meeting the required specifications will not be installed!
6. Drop off your banners no later than 7 business days prior to installation. Banners not dropped off within 7 business days will not be installed!
7. Pick up your banners within 7 days of take-down date. Banners not picked up within 10 business days will be recycled or donated to organizations who repurpose or "upcycle" banners into products for re-use and/or re-sale (e.g. bags, landscaping material, etc.).
             BANNER DROP OFF AND PICKUP LOCATION
             8900 Cameron Road, Suite 300
             Austin, TX 78710
             Hours of Operation: 8am - 3pm
LOCATION MAP
Pan around or zoom in and out to navigate the map of banner locations. Click on objects on the map to get more information.  Click on "Legend" (top left) to view the legend for the map. This map is for informational purposes only and is subject to change without warning.
The map displays over-the-street lamppost banner locations and banner poles.
Click here for a large map view that includes a location list