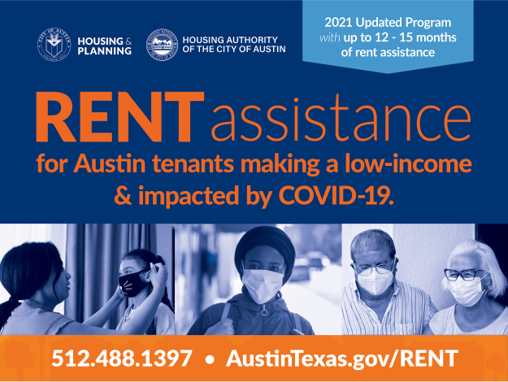 The Relief of Emergency Needs for Tenants (RENT) Assistance Program provides up to 18 months of full rent payment for income-eligible Austin renters who experienced a COVID-19-related income loss. Learn more at RENT
NEED RENT HELP?
Tenant-Based Rental Assistance (TBRA) Program assists low-income families to move from homelessness to self-sufficiency by providing rental subsidies and case management support services.  At this time, the Housing Authority of the City of Austin (HACA) is only accepting individuals that qualify through the Coordinated Assessment administered by the Ending Community Homelessness Coalition (ECHO), a centralized process designed to coordinate program participant intake, assessment, and provision of referrals.  For more information on the TBRA program, visit the HACA website or call at (512) 477-1314.
Travis County Family Support Services Division provides rental assistance, but limits that assistance to once every 12 months and requires the applicant to register for workforce development, education, or job training services. For more information, visit the Travis County Family Support Services website.
Advocacy Outreach administers state grant funding to help the homeless pay for moving expenses or security deposits. Other financial aid, loans, or grants may be issued for rent or energy bills. For more information visit any of the organizations listed below:
NEED HELP PAYING YOUR UTILITIES?
City of Austin Utilities—Austin Energy and Austin Water—provide Customer Assistance Programs to help customers facing temporary and long-term financial difficulties, as well as serious medical problems, who participate in certain state, federal, or local assistance programs.
Displaced families and individuals may be eligible for utility Customer Assistance Program Discounts that include waivers from electric and water customer charges, and discounts on electrical and water volume usage charges.  To inquire about eligibility, visit the Austin Utility CAP website or call the Customer Care Call Center at 512-494-9400.
In addition, City of Austin Utilities provides assistance to customers who are having financial difficulties and are unable to pay their utility bill due to unexpected emergencies. The Financial Support Plus 1 Program partners with  local churches and nonprofits to screen applicants, determine eligibility, and arrange for funding to be applied to the customer's utility account.  For more information about qualifying and through which community service agency you are eligible, go to the Financial Support Plus 1 website, or call Customer Care at 512-494-9400.
More housing resources, eviction information, help with paying utilities and related housing services are available on the Housing Resources webpage.