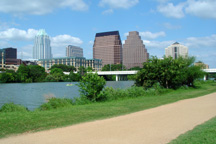 Report watering schedule violations and water waste that you see by calling 3-1-1.
Encourage your employer to promote water conservation in the workplace by calling 512-974-2199 for information about commercial and industrial water-saving programs and incentives.
Support projects that will lead to an increased use of reclaimed waste water for irrigation and other uses.
Learn about challenges facing area water supplies and get involved in local water management issues.  Attend public meetings to voice your questions and concerns about water policies.
Learn more about water conservation and share conservation tips with friends and neighbors.