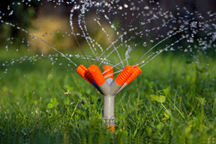 Be sure to check the watering schedule for the right time and day to water for your address.
Thoroughly check your system each spring when you first turn it on and repair any leaks as soon as possible.
Check your controller settings to avoid excessive watering.

Start with low times and add additional time if areas of stress appear in your yard.
Water during the early morning hours when temperatures and wind speed are lowest to reduce evaporation and waste.
Even in the hottest months, your lawn needs no more than one inch of water weekly. Don't forget to take rainfall into account.
Cooler temperatures in spring and fall let you water less often- once every two weeks compared to once a week in summer.
Don't forget to turn your system off for the winter.

Adjust sprinklers so that only your lawn is being watered.

Realign heads that spray too high in the air, onto pavement or structures, or into tall grass or shrubs.
After mowing, make sure sprinkler heads haven't been broken or knocked out of alignment.

Use drip irrigation for bedded plants, shrubs, and trees to apply water directly to the roots where it's needed.
Schedule a free irrigation system evaluation from Austin Water (for customers using 20,000 gallons in two consecutive months or 25,000 gallons in one month of the current irrigation season) or do a self-audit of your system.
Rebates may be available for improving your irrigation system's water-efficiency.