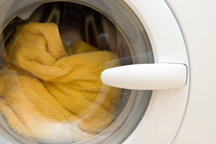 Replace your clothes washer with a water-saving model. When shopping for a washer, check the water requirements of various models and brands. Some use less water than others.
Only run full loads in your washing machine. If you must wash a partial load, set your machine to use the least amount of water required.
Consider hanging up and reusing your towels both at home and when travelling.
Pretreat stains to avoid rewashing.
Check washer hoses for cracks that could result in leaks.