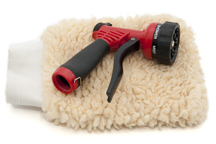 Clean your driveway or sidewalk with a broom, not a hose. 
Wash your car at a commercial car wash that recycles water. This saves hundreds of gallons of water when compared to washing your car at home. Remember that starting with Stage 1 Restrictions, vehicles may only be washed at a commercial car wash, not at home.
If you wash your car at home during Conservation Stage, park on the grass and use a hose with an automatic shut-off nozzle.
Consider using a waterless cleaning product to wash your car.