Austin Resource Recovery provides curbside recycling collection to single-family households and some small scale multifamily customers in Austin. With our curbside recycling program, you can mix recyclable paper, plastic, metal and glass in your blue recycling cart – no sorting required!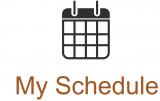 Collection Schedule
Use the My Schedule tool to get a personalized collection calendar for all residential curbside services, including recycling. You can add your schedule to Google, iCal or Outlook, or you can print it. You can also sign up for text, email or phone call reminders and alerts.
Recycle Right!
Place the following items in the blue recycling cart:
PAPER

Glossy and matte paper

Envelopes

Junk mail

Greeting cards

Catalogs

Newspapers

Coupons

Posters

Sticky notes

Paper bags

Wrapping paper (non-foil)

Magazines

Shredded paper (placed in a paper bag)

BOXBOARD AND CARDBOARD

Corrugated cardboard and boxboard boxes

Shoe boxes

Gift boxes

Soda/beverage boxes

Food boxes (cereal boxes, microwave meals, boxes of rice, etc.)

Paper towel rolls

METALS

Aluminum foil (clean, balled 2 inches or larger)

Aluminum foil baking pans, pie plates, tins, trays (clean)

Food cans and caps/lids

Soda cans and caps/lids

Steel and tin cans

 

GLASS

Jars and caps (labels can be left on containers)

Bottles and bottle caps (labels can be left on containers)

 

HARD PLASTICS 

Water and soda bottles

Milk jugs

Liquid containers

Jars and tubs (yogurt, butter tubs, etc.)

Detergent and all-purpose cleaner bottles

Soap and shampoo bottles

Buckets

Lawn furniture

Laundry baskets

Pet carriers

Milk crates

Toys

Totes and lids

Tubs

Flower pots and trays

Dish drainers

Trash cans

 
Plastics Recycling Guidelines:
Remove metal components from plastic items.
Empty and rinse items before recycling them.
Make sure all items fit inside the blue recycling cart with the lid closed.
Only hard plastics are accepted; plastic foam, plastic bags, and plastic wrap are not allowed.
Keep Out!
Keep the following items out of the blue recycling cart:
Garden Hoses
Plastic foam (cups, egg cartons, take-out containers)
Plastic bags, films and packaging
Fabric, clothing and textiles
Wire clothes hangers
Pizza boxes
Syringes
Trash (you may be charged for extra trash if you put trash in your recycling cart)
Electronics
Food
Yard trimmings/leaves (set out for yard trimmings pick up)
Helium tanks
Large metal items (such as frying pans and metal pipes)
Why We Can't Take These Items
The two local recycling processing facilities use automated systems to sort and bale the recyclables. Prohibited items will jam or damage automated machinery.
Collection Guidelines
Place recycling at the curb by 6:30 a.m.
Set your carts at least 5 feet apart and away from cars, mailboxes, trees and overhead wires. Learn why.
If you have clothing and housewares to recycle, put your green Simple Recycling bag next to the blue cart.
Extra Recyclables?
Extra recyclables will be collected at no extra charge
If you cannot fit all your recyclables in your cart, place additional items in a cardboard box or reusable container next to your cart. However, larger plastics must be broken down to fit inside your blue recycling cart with the lid closed or they will not be accepted. 
Cut or fold cardboard into 2 feet by 2 feet piles, and tie them into manageable bundles with string or twine. Place the bundles next to your recycling cart.
If you frequently run out of room in your recycling cart between pickups, you can request an extra blue cart free of charge by calling 512-494-9400.
Before You Recycle
Rinse food residue off all recyclables
Dry paper before placing it in your cart
Crush recyclables like cans, plastic jugs and bottles
Flatten boxboard and corrugated cardboard
Remove any metal components from plastic items