May 25, 2019
to
May 27, 2019
This PARD event takes place rain or shine. In the event of inclement weather, we will continue the program 30 minutes after the last sign of thunder or lightening
Join us for the oipening of the Woodland Faerie Trail Exhibit on Memorial Day weekend. We will be kicking off the exhibit with a special event: Forts, Farms & Faerie Peeps Maker Fair at Zilker Botanical Garden that is free (with garden entry) on Saturday, May 25th from 10:00 am - 2:00 pm. Click here for more infomation:
http://austintexas.gov/event/forts-farms-faerie-peeps-maker-fair-zilker-botanical-garden
Game of Village & Natural Neighborhoods will be hosting Forts, Farms & Faerie Peeps Maker Fair at the opening of Zilker Botanical Gardens Woodland Faerie Trail on May 25th. Come on down and make your own Faerie Peep, take it on an adventure down the Faerie Trail and see if YOU can find the secret Faerie Dancing Circle! Join us in traditional timber frame building skills: learn to mortise and tenon a plank chair and help the kids chisel the Children's Log Cabin. All ages are able to participate. Free with garden entry.
Parking: 2300 Stratford dr. Austin, TX 78746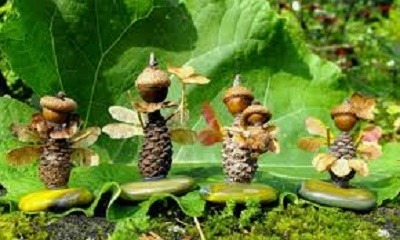 You can be a part of the exhibit- registration extended until June 1st!
Create a faerie house for the exhibit using whimsical design to highlight native materials & plants, such as local seeds, tree bark, twigs, stumps, grasses & shells.
The Faerie homes display will take place during the Woodland Faerie Trail Exhibit.
Staging of Faerie Homes will take place the week of May 18th - 25th during regular business hours of 9:00 am to 6:00 pm (last entry 5:30 pm). Participants will select spots based on map (up to 4' x 4') with option to decorate. 70 spaces available on a ­first come, fi­rst served basis.
Plenty of space available
Register Online:
https://austintexas.gov/parksonline
1. Create an account for your household, including your children, for this and future Parks and Recreation programming.
2. Select "Browse Activities" under Quick Links.
3. Select "Zilker Botanical Garden" under Locations for full event listings.
4. All Faerie Programs at Zilker Botanical Garden are available through online registration only.
5. Register for the Faerie Trail Exhibit to reserve a spot for your Faerie Home!
Review the Guidelines and Recommendations Document for more information