On March 2, 2017, Austin's City Council passed Resolution No. 20170302-034 [1] to initiate stakeholder consultation process and develop recommendations for revising the City's Economic Development Policy. This policy provides direction for staff to bring forward potential investment opportunities for the City of Austin to engage in public-private partnerships for economic development. The City of Austin's Economic Development Department invited over 400 individuals and organizations that provided strong information and feedback during community conversations held June 5 – June 8.  This community outreach and feedback received is used to inform and direct staff recommendations put forward for revision to the current Chapter 380 Economic Development Incentive policy.
Take Our Survey:
In June, the community shared what's important for a new Economic Development Policy (or revising the Chapter 380 Performance-Based Contracts Policy.)  We want to dive deeper into that feedback to craft some solutions.  Watch this 30-second video and fill out the survey.

[2]
Para español:

[3]
To request a hard copy of the survey, please call 512-974-1357
Community Conversations:
If you participated in the first phase of Economic Development Policy Community Conversations held the week of June 5 - June 8, thank you for your valuable insight, input and commitment to this process.  The week's meetings were an unprecedented example of community engagement on behalf of the city's Economic Development efforts, and your continued involvement is absolutely critical to the success of driving forward an impactful restructure of the City of Austin's Economic Development Policy.
If you missed the Kick-Off event with remarks from Mayor Steve Adler, TXP's Jon Hockenyos and introductions to the process from Economic Development Department staff, please view the video recording: https://youtu.be/Rmqlrd0MIVs [4]
The focus area sessions throughout the week were full-fledged work sessions geared toward specific target areas: Small Business, Business Expansion, Workforce, Real Estate, Business Recruitment, Creative Sector and Non-Profit/Social Enterprise.  To check out photos from the events, view the photo albums below:
Kick Off [5]: Attendees shared their vision for what a "prosperous Austin Economy" looks like to them before heading into the session with Mayor Steve Adler and TXP's Jon Hockenyos.
Business Expansion [6]:  Session participants discussed known and perceived barriers/challenges to local business expansion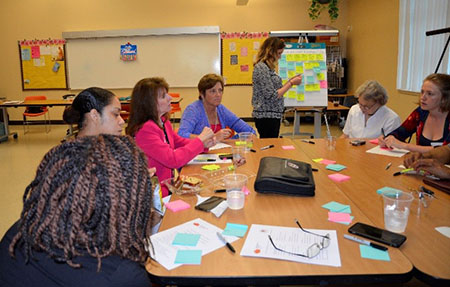 Small Business [7]: A packed room with a wide diversity of industry sectors decorated the conversation around how local business success is measured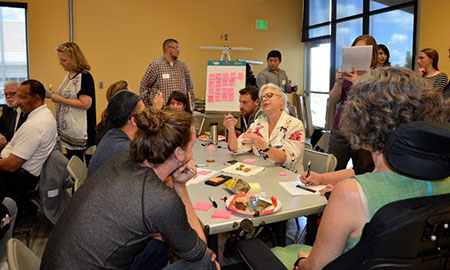 Real Estate [8]: Session participants offered up what might hold back the development of a real estate development program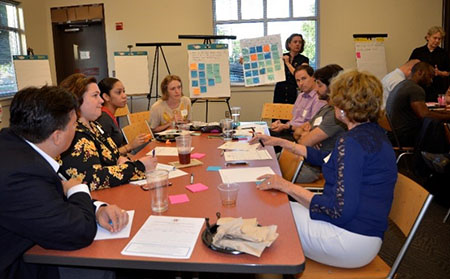 Workforce [9]: Session participants shared their vision for a socially responsible workforce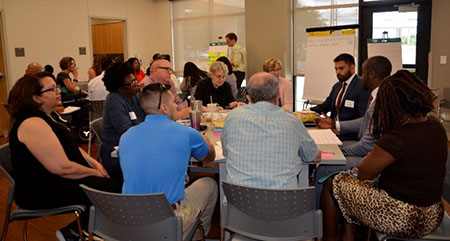 Business Recruitment [10]: Attendees engaged in a full-bodied conversation around what the community needs from a business recruitment program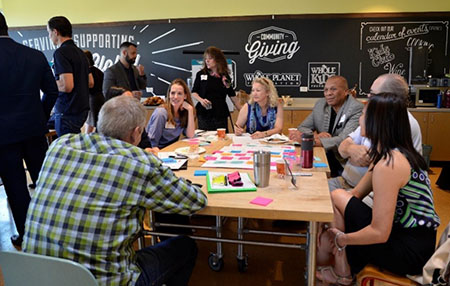 Creative Sector [11]: Session participants reached across disciplines over common needs uncovered during the conversation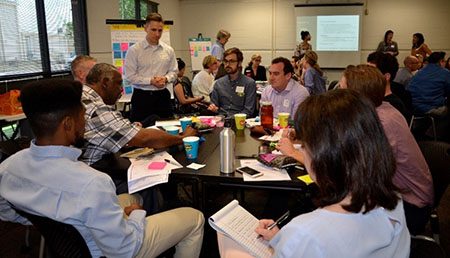 Non-Profit/Social Enterprise [12]:  Ideas flowed freely as session participants fleshed out their vision for a well-supported social enterprise community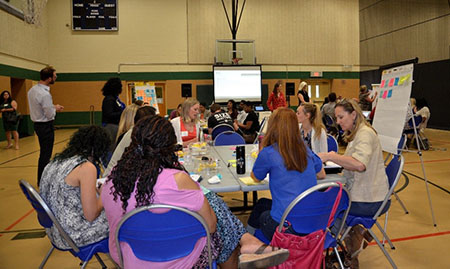 What We Heard:
During the June 5 – June 8 Community Conversations, the Economic Development Department received hundreds of useful comments, ideas and feedback on important community values.  
Click here to read the summaries of the Potential New Chapter 380 Programs [13] based on the feedback collected in the sessions.
Click here to read the summary of the Economic Development Policy Community Values [14] based on the feedback collected in the sessions.
Here are some take-aways we heard about what it means to you to live and work in a prosperous Austin economy:
Live:
Economic inequity continues to widen the gap of prosperity in Austin.
Decreasing affordability and the rising cost of living is an important risk factor for community members suffering from "sticker shock" and the inability to grow their businesses within the current cost climate.  Affordable commercial and creative space are among the leading concerns that have the potential to erode the success of business enterprises both new and established.
The role of local government can be defined as providing regulatory support, simplistic compliance structure, financial partnerships for programs that support the community and tools/programs that are accessible, well-publicized, and reflective of needs that may not necessarily include financial support.
Transportation affects every aspect of the lives of citizens, businesses and neighborhoods.  A comprehensive vision for the future of Austin's transportation and transit infrastructure is needed to ensure the workforce can physically access jobs, enjoy a wide variety of transit modes and better connect a sprawling city to neighborhood centers.
A new perspective is needed for commercial and mixed use developments to better unite where people work, play and live. Housing that is both affordable and plentiful is required to drive available supply up and push prices down to match income levels.
Work:
Economic diversity insulates Austin against future downturns by supporting a wide range of business sizes and industries to offer a balanced, diversified economic base.  Increased support is needed for small and local business in the form of city partnerships, access to funding, training, and fostering stronger collaboration.  This also points to the need for a wider range of wages and job types to include more middle-skill and middle-income roles to help close the equity gap.
Culture and the strength of the creative sector run deep within the Austin success story and should be a growing, not shrinking, part of the Austin economy as the market expands.  This includes the need for the public to access the creative community that is well weaved within the culture, economy and job base.
Talent and workforce investment programs that are accessible, attractive and meet both employer and community demands are necessary in narrowing the prosperity gap.
Cooperation and collaboration are needed on a macro-level (city) and micro-level (business/industry).  The city should focus on honing its strategic vision to unify the needs of citizens, businesses and neighborhoods.  Businesses and community members could benefit from an improved organized effort to collaborate, share ideas and pool resources.
PROCESS & TIMELINE:
June 5 – June 8, 2017: Economic Development Policy Community Conversations conducted
July 31, 2017 @ 12:00pm: Survey Opens