On March 2, 2017, Austin's City Council passed Resolution No. 20170302-034 [1] to initiate a stakeholder consultation process and develop recommendations for revising the City's Economic Development Policy. This policy provides direction for staff to bring forward potential investment opportunities for the City of Austin to engage in public-private partnerships for economic development.
Phase 1: Community Conversations
Goal of Session: Listen to the Community (Large-scale information collection exercise)
The week of June 5-8, 2017, 455 community members were invited to participate in 8 sessions that focused on specific areas of economic development: Business Recruitment, Business Expansion, Small Business, Workforce Development, Creative Sector, Real Estate, and Social Enterprise led off with a Kick-Off Welcome Session to set the stage for the week.  260 attendees participated (160 unique) resulting in ~2,500 pieces of feedback that staff summarized and analyzed to develop common themes and priorities.
 

[2]
[3]

[4]
Phase 2: Stakeholder/Public Survey
Goal of Survey: Engage with the Policy Language (E-survey focused on sorting specific requirements and values)
In July 2017, the Economic Development Department launched a survey requesting feedback from the community on two main topics: 1) which current policy requirements belong in which potential new program, and 2) which community exchange values should be prioritized for each new program.  82 survey respondents resulted in ~87% average completion rate from a diverse array of community members including subject matter experts, businesses, non profit and government entities, industry groups and individual community members.  Outreach included direct email to ~450 community members, Facebook outreach, promotional video on the website, CitySource promotion, CityView promotional spot, multiple city newsletters, press releases, and media articles in four local publications.  The survey was also translated and made available in Spanish both electronically and via hard copy by request.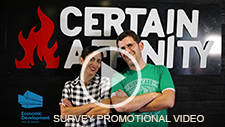 [8]
[9]          

[10]

Phase 3: Community Leaders Session
Goal of Session: Prioritize Policy Attributes and Values (Prioritize collected feedback and engage Economic Development experts)
On September 6, 2017, Economic Development staff conducted the next phase of stakeholder engagement in response to Resolution No. 20170302-034 [1].  Staff invited 50 economic development community leaders to learn about the feedback gathered in the first phase of outreach, determine the validity and applicability of that feedback, fill in any gaps, and then prioritize those results.  32 attendees participated with goals over the 6-hour session to clarify community priorities, develop a realistic and achievable new set of economic development values and test the concept of seven different forms of work.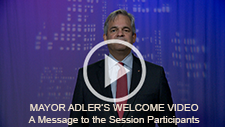 [11]

[12]
[13]    

[14]         
Link to List of Attendees [16]
Phase 4: Stakeholder Briefings
Goal of Presentations: Validate (Present findings and gauge validity, fill gaps)
The final phase of stakeholder engagement in response to Resolution No. 20170302-034 [1] invited 23 Boards and Commissions, 5 current Chapter 380 contract holders, 12 real estate entities/groups, 23 financial institution representatives, 21 incubator/accelerator representatives and 39 other community stakeholders.  Each one-on-one presentation took the form of a 15-30 minute overview of the current policy, comparing economic conditions during the origination of the policy in the early 2000s against today's environment, the focus on equity and affordability and the Chapter 380 authority.   Following this overview, commissioners and participants were asked to review the community feedback received so far in order to fill in missing gaps, express concerns, agreement, ask clarifying questions and provide other feedback on the direction of the new policy.  The goal of these conversations was to give the stakeholders the opportunity to leave their mark on the feedback and recommend additional community members/stakeholders staff should be engaging with.
Boards & Commissions and Other Stakeholders Invited [17]
Other Information: Best Practices / Peer Review
Goal of Best Practices / Peer Review: Discover and compare competitive economic development incentive policies within Texas, in other US cities and across disciplines.
Alongside stakeholder and community outreach requested in Resolution [1]No. [1]20170302-034 [1], the Economic Development Department examined the broad approaches and specific programs in use by peer cities in Texas, the US and abroad.  Looking toward the possibility of implementing successful models here in Austin, the analysis concentrated on areas of particular relevance to that city. These areas are:
•Business Recruitment, Retention and Expansion;
•Workforce Development;
•Real Estate;
•Creative and Artistic Development;
•Social Enterprise;
•Small Business; and
•Healthy Outcomes.
The study has identified the major programs, if any, that comparison cities have implemented in each of these categories.

[24]
Phase 5: City Leadership Work Session
Goal of Presentation: Brief Council on stakeholder engagement (Present findings and gauge palatability of recommendations for policy changes)
Economic Development staff alongside third party consultant, TXP, presented a briefing to Austin's City Council on Tuesday, December 5th during the regularly scheduled Work Session.  The briefing began with a broad view of Austin's Economic Development strategy, a history of Austin's economic conditions and an overview of the "Chapter 380" enabling legislation that governs Austin's incentive policy.  Following this overview, a detailed review of the four phases of the community outreach and research effort was presented alongside findings.  The briefing closed with initial considerations that staff and the consultant offer to council to revise the current policy.  Council followed the briefing with questions, feedback and follow-up requests.  See below for full Work Session presentation video and slide deck.
Council Briefing Video (select Item B.1 - Chapter 380 re-write update):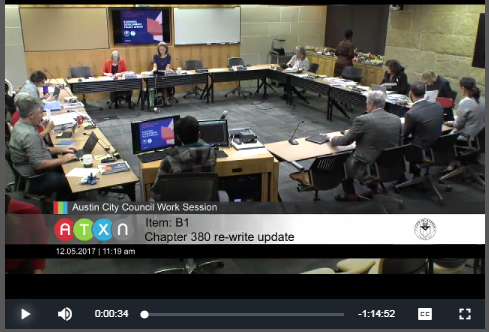 [25]
Council Briefing Slide Deck: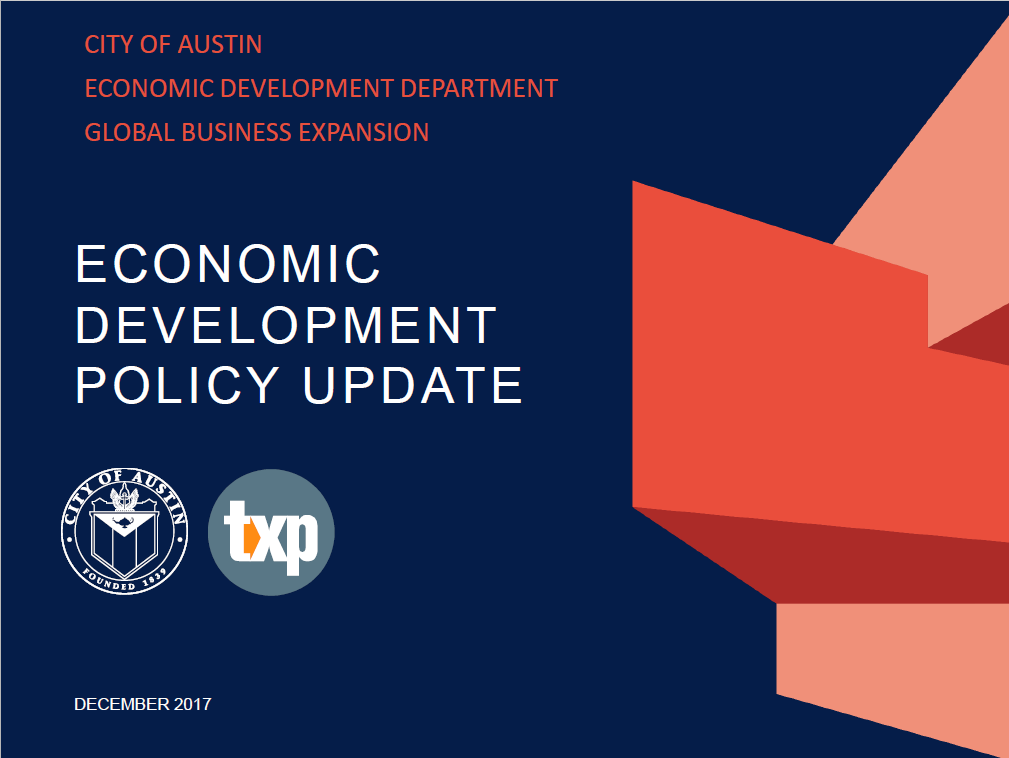 [26]
Council Briefing Notes Report: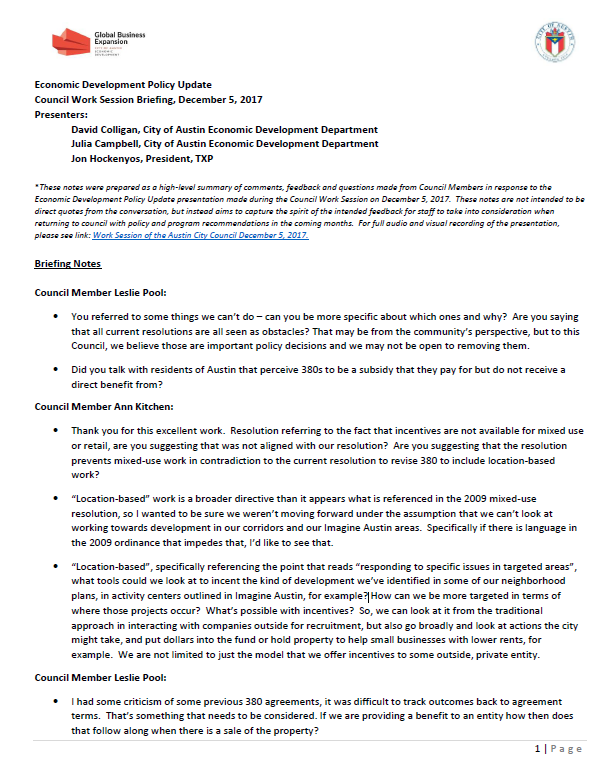 [27]