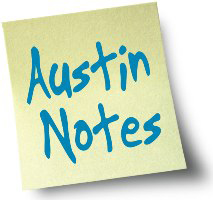 Welcome to Austin Notes, the easy way to keep up with news and information from the City of Austin, Texas.
On this page you can sign up to receive regular emails on a number of topics. Next to each topic is a description of how often you can expect to receive emails on the topic. (Note that you may receive emails more or less often than listed below.)
If you were an Austin Notes subscriber prior to 2012, you don't have to do anything. You will continue to receive emails from the lists you had at that time.
If you are a new subscriber, or want to receive more newsletters, just click on the topic below. A short form will appear and you can add your email to it. Hit submit, and that email account will receive an opt-in email. Once you confirm, you will receive a final confirmation that you have been added to the list. Repeat this process for each topic you want to know about.
If you don't want to receive the emails anymore, wait until you receive one and then click the unsubscribe link. Follow the instructions on that page, and you will stop receiving emails from that list.
Questions or feedback? Please send us an email.