As a public safety measure, the Watershed Protection Department is buying out flood-prone homes near William Cannon Drive and South Pleasant Valley Road.
This area experienced serious flooding in 1998, 2001, 2013 and 2015. The neighborhoods were built in the 1970s, when most of the area was not thought to be in a floodplain. Since the houses were built, the floodplain maps have been revised to show the potential for dangerous flooding.
The City is buying out homes as the surest way to protect the public and first responders from flooding. Buyouts were recommended after a study by the U.S. Army Corps of Engineers revealed that other solutions would not be sufficient to protect the area from major floods.
Status
As of November 7, 2017, we have purchased 806 properties in the lower Onion Creek area with 17 properties remaining in the project areas.
Buyout Video
Buyouts
The Corps Project

[1]

is a partnership between the City of Austin and the Corps of Engineers. The buyouts in this area are complete. The Corps Project Area is indicated in pink on the map below.
In June 2014, the City began buyouts in the 25-Year Project Area (green on the map), and on March 5, 2015, the City Council authorized buyouts for 203 houses in the 100-Year Project Area (yellow on the map below.) Click here for updates on the 25- and 100-Year Project Areas

[2]

.
In March 2017, 32 properties were removed from the 100 and 25-year project areas due to reduced flood risk revealed by updates to the floodplain maps. The numbers above have been altered to reflect the revised numbers.
Map of Buyout Areas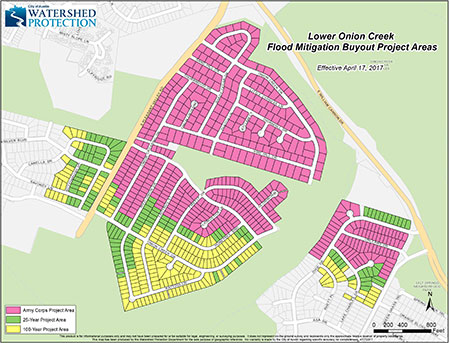 [4]
Click on the map for a larger version or you can use our interactive viewer [5].
Substantial Damage
Hundreds of homes sustained "substantial damage" during the Halloween Flood of 2013. This designation means homeowners must either comply with current floodplain regulations [6] when repairing their homes, accept a buyout offer if available or request a variance from the Austin City Council.
Flood Safety
Another flood will occur in this area. To prepare, we encourage residents of this area to take the following steps:
Consider purchasing flood insurance

[9]

for both the structure and the contents. Renters can purchase policies too. Contact your insurance agent.
Stay informed by signing up for Warn Central Texas

[10]

.
Have an emergency plan

[11]

. Please keep in mind that you may be safer staying at your home, on your roof, if necessary, than trying to escape a flood in your vehicle. Most fatalities during floods happen in vehicles.
Make an emergency kit

[12]

.
Get to know your neighbors. They are often the ones who can respond first in an emergency.