ABOUT TEMPO
An initiative of the Art in Public Places Program, TEMPO brings temporary public artwork to sites throughout Austin to enrich civic dialogue,cultivate tourism, and activate public spaces in unexpected ways.The annual program commissions artists to create installations in a range of media that explore themes suitable for the outdoor environment.
For the 2018 cycle, ten artists were selected to create installations for each of the City's council districts. A collective exhibition of all the works, TEMPO Convergence, will be hosted at Edward Rendon Sr. Park as part of the East Austin Studio Tour, November 10-18, 2018.
See map below for locations of each work. Click here for project descriptions and locations.
TEMPO 2018 awarded artists:
Adrian Aguilera and Betelhem Makonnen
Clare van Montfrans and Elizabeth Farrell
Lawrence Jolly
Allyson Lipkin
Nathan Nordstrom and Peter Krsko
Adam Owens
Rebekah Rauser
Agustina Rodriguez
Nick Schnitzer
Jamie Spinello

TEMPO 2D
This year, TEMPO has expanded to include murals. Through the TEMPO 2D program, twelve local artists were selected to create hand-painted murals, vinyl adhesive artwork, or wall-based fiber art at locations across Austin including public parks, the Austin Bergstrom International Airport, and other high-profile locales.
Click here for project descriptions and locations.
TEMPO 2D 2018 awarded artists:
Matthew Briar Bonifacio (TBD)
Lance Bradley (Mabel Davis Skate Park and Pool)
Show Goat Mural Works (Eiland/Moss BMX/Skate Park)
Kel Brown (Rosewood Neighborhood Park)
Veronica Ceci aka Flash Collective (30th and N. Lamar)
Rebecca Harrell (Jamie Odom Gazebo)
Jonathan 'Chaka' Mahone (Austin Public)
Jesse Melanson (Austin Nature and Science Center)
Christine Angelone and Alexander Bingham (Wood Hollow Drive)
Luis Angulo (Barton Springs Road)
Adreon Henry (Bartholomew Pool)
Rakhee Jain (Austin Bergstrom International Airport)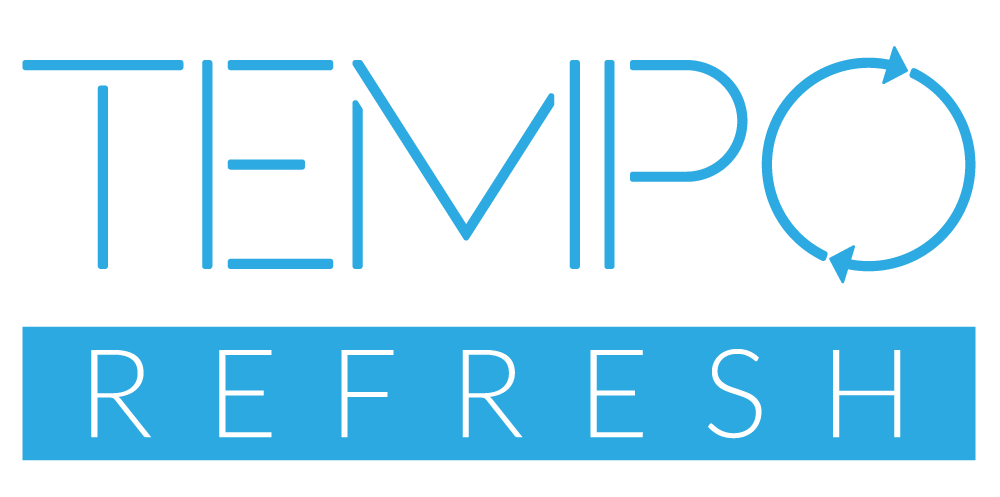 TEMPO Refresh
Another expansion of the TEMPO program this year is TEMPO Refresh, an initiative through which an artist is invited to re-imagine an existing work in the AIPP collection. For the inaugural year of this pilot program, artist Laurie Frick will create an installation on top of and around artist Carl Trominski's Moments--an artwork comprised of "blue signs" sited on the Lamar Bridge Underpass. The work was chosen to mark and  celebrate its 15th anniversary and because it is one of the most discussed artworks in the City's collection. Trominski has been supportive of the concept from the beginning, and generously stated, "I am totally open to a temporary artwork intervention for Moments. This project was a great opportunity for me at the time and I'm happy that it can continue to provide opportunity to others today."
Laurie is an artist who explores data through her artwork, revealing the people behind the numbers. Proposing to re-paint the walls of the Lamar Boulevard Underpass in vibrant color, her murals will highlight why visitors come to Austin and what they do when they get here. She will be finalizing her design this summer, and is expected to install the work at the end of September. Once installed, her artwork is planned to be up until late summer 2019. This opportunity was open to the Art in Public Places' 2018-2020 Local Pre-Qualified Artist Pool.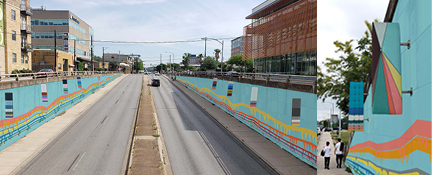 Artist rendering of 2018 TEMPO Refresh project
---
Public Programs
Guided and self-guided tours for TEMPO and TEMPO Convergence will be held at the times and locations listed below:
TEMPO Convergence Guided Tours
(Participants to meet at the Camacho Activity Center parking lot, 34 Robert T Martinez Jr St. Parking is free but limited.)
November 10 at 11 am - Saturday Strut Opening event
November 14 at 4 pm – TemPUPorary dog walk with Austin Animal Center
November18 at 4 pm - Sunday Stroll Closing Event
---
This is a child page of::