APH COVID-19 Vaccine Pre-Registration 
---
 Due to high demand, you may experience technical issues and your submission may not go through. If you receive an error message, please try re-submitting after some time. 
---
If your symptoms are very bad, immediately go to a clinic or hospital, or call 9-1-1. (Symptoms include chills, confusion or hallucinations, cough, diarrhea, fatigue, headache, muscle aches or pain, new loss of taste or smell, shortness of breath or trouble breathing, sore throat.) 

For a vaccination you must first pre-register and complete several questions to determine eligibility. Completing pre-registration does NOT guarantee that you will receive the vaccine or be guaranteed a scheduled appointment.

Please be patient. Supplies are very limited. There is not nearly enough vaccine to cover all of the people who meet the criteria for Phase 1A or 1B at this time. We hope supply will increase in the coming weeks.
Austin Public Health is currently focusing on providing the vaccine for vulnerable populations and communities.
---
Three steps to know to complete the pre-registration process: 
Step 1 - Register or Sign in
What you need to know before you register or sign in.

Register for an account or sign in to your existing account. 
You will need a separate email address for each person seeking a test or vaccine, including children, per Health Insurance Portability and Accountability Act (HIPAA) requirements.
If you already had an account to get tested, you do not need to create a new account for vaccine.
Step 2 - Pre-register for a vaccine
How to pre-register and what to expect

Pre-register for a COVID-19 Vaccine (at the link or button after Step 3). Choose the VACCINE, not the TESTING option.

You will answer a few questions about yourself, vaccine reaction, and insurance information. Information provided will determine your eligibility for vaccination. 

You will not be asked about your immigration status.

 
Step 3 - When eligible, schedule an appointment
What's Next? How and when do I schedule my appointment?

When eligible for an APH vaccine, you will be contacted to schedule an appointment. A link will be sent to the email provided that will allow you to schedule an appointment to receive the vaccine.

There will be a phased roll-out of the COVID-19 vaccine with a very limited supply at the beginning. Austin Public Health follows Texas Department of State Health Services guidelines to determine eligibility. 
Vaccine information will be sent to IMMTRAC Texas Immunization Registry, and then used to notify of you of your vaccine appointment availability, and for the required follow up appointment to receive the second record dosage of vaccine. 
Information you give during pre-registration is private and confidential by law and will be maintained with confidence. 

Vaccination is free. 

Please Note: The pre-registration does NOT guarantee a vaccine or an appointment. 
Please Note: The pre-registration does NOT guarantee a vaccine or an appointment. 
The City of Austin is committed to compliance with the Americans with Disabilities Act and Title VI of the Civil Rights Act. Reasonable modifications and equal access will be provided upon request. If you cannot access a location because of problems with transportation, internet, email, or computers please call 512-972-5560. Language Interpretation services will be provided at no cost to anyone in need of the service.

Pre-register for the COVID-19 Vaccine here
---
Español 
---
 Debido a la gran demanda, problemas técnicos pueden ocurrir, y es posible que falle la transmisión de su información. Si recibe un mensaje sobre un error, por favor espere un rato antes de intentar ingresar su información de nuevo. 
---
Si sus síntomas son muy malos, acuda ahora a una clínica u hospital o llame al 9-1-1
(Los síntomas incluyen escalofríos, confusión o alucinaciones, tos, diarrea, cansancio, dolor de cabeza, molestia o dolor muscular, pérdida reciente del sentido del gusto u olfato, falta de aire o dificultad para respirar, dolor de garganta)

 Austin Public Health se está actualmente enfocando en brindar la vacuna a poblaciones y comunidades vulnerables. Si puede recibir una vacuna a través de su proveedor de atención médica, una farmacia u otro proveedor, ayúdenos a ahorrar la asignación actualmente limitada para nuestros más vulnerables.

Para recibir la vacuna debe pre-registrarse primero y responder varias preguntas para determinar si califica. Llenar un pre-registro para la vacuna NO garantiza que recibirá la vacuna ni le garantizará una cita para ponerse la vacuna.
---
Cómo completar el proceso de pre-registro: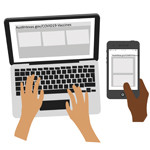 Paso 1
Regístrese ó ingrese a su cuenta
Para ayudar a mantener segura su información, cree una cuenta. De acuerdo con los requisitos de la Ley de Portabilidad y Responsabilidad de Seguros Médicos (HIPAA), necesitará una dirección de correo electrónico para cada persona que pida una prueba o vacuna, incluyendo los niños.
Si ya estableció una cuenta para hacerse la prueba, no es necesario que cree otra cuenta para la vacuna.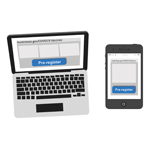 Paso 2
Preinscríbase para la vacuna contra el COVID -19.
Responderá varias preguntas sobre usted, si ha tenido alguna reacción a una vacuna e información sobre seguros. La información provista determinará si califica para recibir la vacuna.
No se le preguntará sobre su situación migratoria.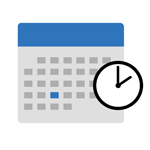 Paso 3
Cuando sea elegible para una vacuna de APH, se le contactará para programar una cita.
La vacuna contra el COVID-19 se distribuirá por fases con un suministro muy limitado al principio. Salud Pública de Austin se rige por las guías del Departamento de Salud del Estado de Texas para determinar si califica.
Se enviará la información sobre la vacuna a IMMTRAC, el Registro de Vacunas de Texas, y luego se usará para avisarle cuando haya citas disponibles para la vacuna y para la cita requerida de seguimiento para recibir la segunda dosis de la vacuna.
La información que usted provea durante el proceso de pre-registro es por ley privada y la mantendremos en confidencia.
La vacuna es gratis.
La Ciudad de Austin está comprometida a cumplir con la Ley para Estadounidenses con Discapacidades y el Título VI de la Ley de Derechos Civiles. Se proveerán modificaciones razonables y acceso igualitario a solicitud. Si no puede llegar al lugar debido a problemas de transporte, internet, correo electrónico o computadora, por favor llame al 512-972-5560. El servicio de interpretación de idiomas se proporcionará sin costo a cualquier persona que lo necesite.