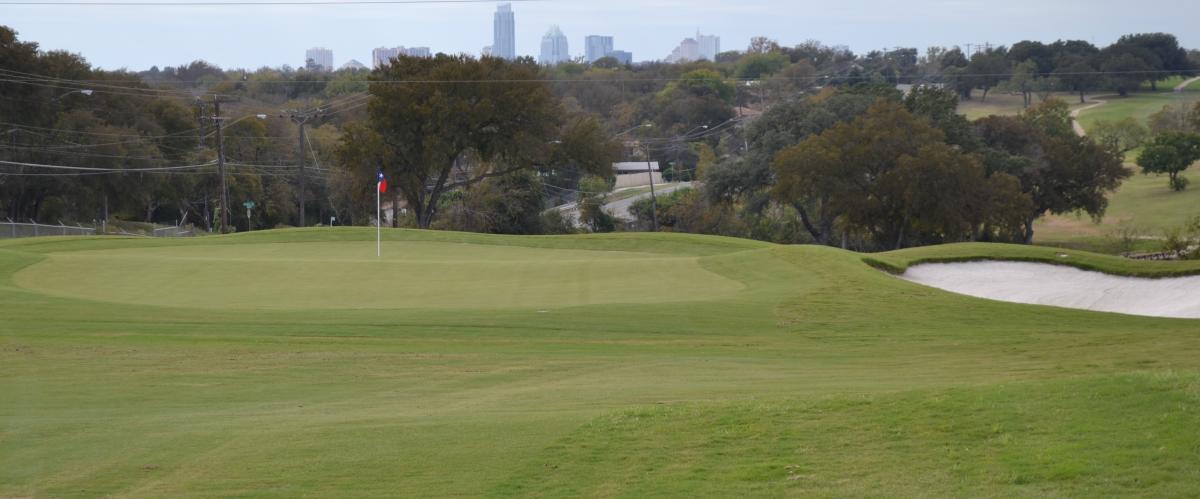 The Morris Williams Golf Course is located east of downtown Austin. Enjoy views of the Austin skyline as you play the recently renovated course or relax in a rocking chair on the porch overlooking the entire course.
Morris Williams opened in 1964 as Austin's 3rd public course. Designed by Leon Howard, one of the most prolific course architects of the time, the course features elevated, contoured greens and rolling terrain.
Named after Morris Williams Jr., one of the best golfers ever developed in Austin, Williams Jr. won every trophy in the area; from the Texas Jr. Championship to the National Air Force Trophy, now named in his honor. He lost his life as a young man during the Korean war in a jet plane crash. Golf ATX is proud to have his name in our history books and on our score cards.
The course once served as the home for the UT golf team under legendary coaches Harvey Penick and George Hannon. During this time, UT won 2 NCAA Championships with teams led by Tom Kite & Ben Crenshaw.
RESERVATIONS AND TEE TIMES
Reservations are taken at 7:00 am in person or by phone at (512) 974-8333. Tee times for weekdays are taken 7 days in advance; Saturday & Sunday times are taken on the Tuesday before the weekend. For additional information regarding reservations, please call the pro shop.
For course fees, CLICK HERE.
MAINTENANCE CALENDAR
Dates Closed for Maintenance: Closed every 2nd Monday of the month. Excluding holidays and major golf tournaments.
Dates Closed for Aerifying: April 11th, June 13th, Aug. 8th. Golf course will reopen the following day at 12 noon.
Dates Closed for Overseeding:  N/A
ADDITIONAL INFORMATION
Merchandise is available for all your golf needs, including apparel, shoes, headwear, bags, balls and clubs.
Payment accepted: Cash or credit cards are accepted
Practice facilities include a driving range and putting green
Range balls: $6 small bucket / $9 large bucket
Golf Cart rental fee: $15 per Golfer / Non-golfer: No fee for children 12 & under. $7.50 for persons 13 & up, including pets
Fairways Cantina Menu  512-974-8367
Directions to the course: 3851 Manor Road Austin, TX 78723
<a data-flickr-embed="true" href="https://www.flickr.com/photos/austintexasgov/albums/72157710141791351" title="Morris Williams"><img src="https://live.staticflickr.com/65535/48474617411_03d771e251.jpg" width="500" height="296" alt="Morris Williams"></a><script async src="//embedr.flickr.com/assets/client-code.js" charset="utf-8"></script>