You are here
Español | 中文 | Tiếng Việt
In the Spotlight
A new report card that measures performance of the 2nd Reading Draft is now available.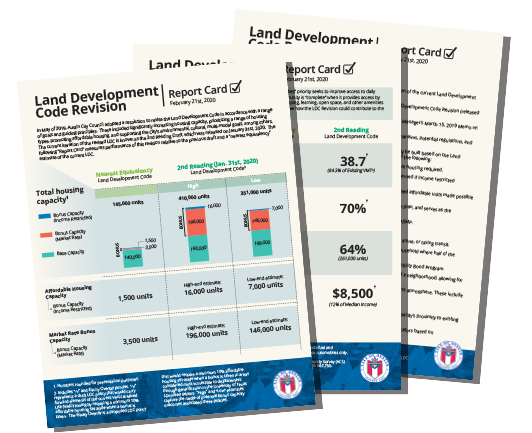 What's happening this week?
Week of 2/24/20 through 2/28/20
• Additional Architectural Drawings: Staff have released additional architectural drawings that illustrate how housing could be built under the Second Reading Draft of the land development code.
• Updates: On Thursday, Feb. 13, Austin City Council approved the second ordinance reading of the Land Development Code text and map. Council deliberated over 80 amendments that staff will address during third ordinance reading of the proposed Code. Date for third reading is TBA.
Over the next several weeks, staff will work to incorporate Council's additional direction and amendments. To see how the Land Development Code Revision has evolved based on community input and Council direction by viewing our process timeline or exploring our Past Events page.
---
Popular Post
What happens to existing single-family homes in a new transition area? (Posted Aug. 7, 2019)
---
• Questions?:  Read our FAQ. You may also Submit A Question if you don't see a similar question. 
View the revised Land Development Code text, map and staff report.
---