You are here
Countdown to Spring Festival 2019
Applications for special events during Spring Festival are no longer being accepted.
Click here to see the list of spring festival applications currently pending final approval.
The Spring Festival planning at a glance guide puts answers your finger tips. Click the box to check it out.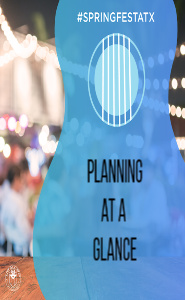 Current Application Deadlines
Park Events - 6 to 12 months in advance
Street/City right of way closure including parking spaces, alleys and sidewalks - 180 Days
Temporary Amplified Sound

Multi-day event permit applications - 30 days
24 hour event permit applications - 21 days

Temporary Change of Use (TCOU) - Temporary changes to Existing Structures/ Buildings - 21 days
Tents or Temporary Use Permits (TUP) - Parking Lots/ Empty Lots - 10 days
Things to know before you plan:
Getting Started
Review the Austin Center for Events Guidebook and submit your questions to SpecialEvents@austintexas.gov. An ACE representative will be in touch to discuss your event requirements.
Also, please be sure to incorporate the Green Events Guidebook into your event planning. The City of Austin is committed to creating a more sustainable environment for visitors, planners, and residents. This guide has information about general requirements and green event principles, as well as checklists for different types of events. Whether small or large, festivals and street closures, parks and businesses, you'll find a handy outline of the tasks and resources you'll need to host a green event.
Hosting an Art Tour? City of Austin Ordinance No. 20110922-087 establishes the requirements for residential tours and garages sales, as well as clarifies requirements for art production on residential properties. Under this ordinance, art tour organizers must provide the dates of their tour, as well as the addresses of all participating residential properties to the City of Austin Cultural Arts Division. Find out more at the Art Tour Registration page.
Please do not submit an application if the deadline has passed unless directed by someone in the ACE office.  Submitting an ACE application doesn't guarantee a permit - during busy times deadlines may change or capacity may be reached.
Many types of permits are issued on a first come, first serve basis. Any event promoters or ancillary operators that do not meet public safety and permitting approvals are at risk of being cited, arrested and/or having their events terminated.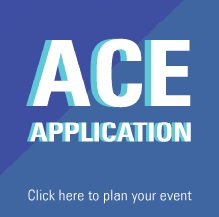 Site Plan Requirements
Detailed site plans are required as part of your application.
While site plans are not required to be professionally drawn, they must be:
legible
close to scale
provide sufficient detail to show use of the space and what your event will look like.
Minimum Requirements
Click here to view and download the list of minimum site plan requirements.
---