The Emma S. Barrientos Mexican American Cultural Center is currently closed to the public. Please check the City of Austin Closure page for updates.
Mission Statement: The Emma S. Barrientos Mexican American Cultural Center (ESB-MACC) is dedicated to the preservation, creation, presentation, and promotion of the cultural arts of Mexican Americans and Latino cultures. Read about the history of the ESB-MACC.
DIGITAL PROGRAMS
REMEMBRANCE FOR THOSE WE'VE LOST
Sunday, February 28, 2021
3:00 PM to 4:30 PM
Event Page
Microsoft Teams Link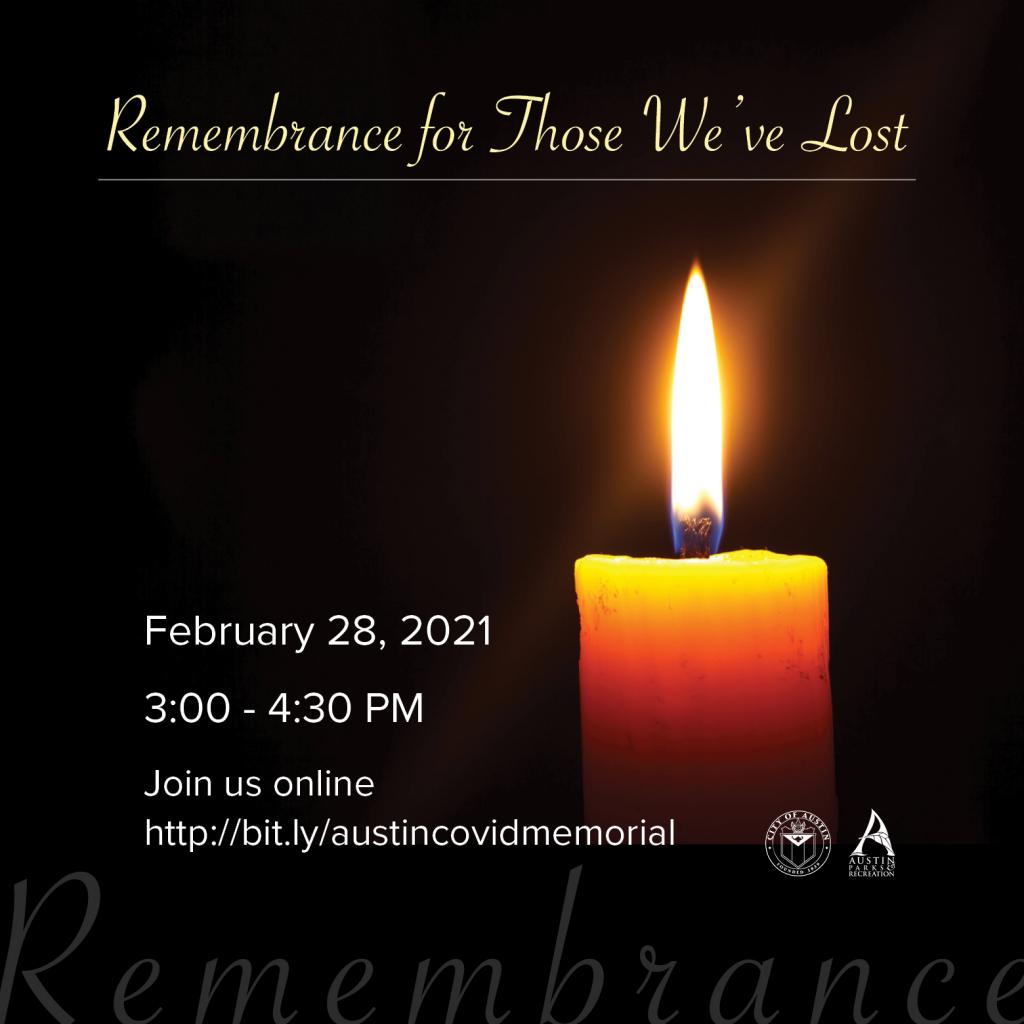 The COVID 19 pandemic has changed the world and our community. Over 400,000 people in the US have died due to COVID19 and in Travis County over 685 have died. The City of Austin will come together with Interfaith Action of Central Texas for a virtual memorial service to remember those who have died.  
"Remembrance for Those We've Lost" begins at 3 pm, Sunday, February 28, 2021 on YouTube Live, and Facebook page, and on Microsoft Teams.  The event is free and open to the public. This interfaith service of secular and non-secular memorials will honor and give thanks for the lives of the many people who have died and the families and loved ones affected.
The Emma S. Barrientos Mexican American Cultural Center is currently closed to the public, but the good news is, many of our programs have moved digital! Please use this page as a guide to our digital resources, which are free to use for anyone who wants to learn more about Mexican-American and Latinx art & culture.
You'll find lesson plans, performances, presentations, online art galleries, instructional videos, and more, and this page is updated every week. This includes our Signature Events, presented in Fall 2020: Viva Mexico and Day of the Dead!
CLICK HERE TO VIEW DIGITAL PROGRAMS! For even more access to MACC programming, remember to follow us on Facebook at @AustinESBMACC and Instagram at @ESBMACC. Questions? email maccevents@austintexas.gov. 
GIVE US YOUR FEEDBACK!
SpeakUpAustin is active and live to receive your feedback. (If it's your first time visiting that site, make an easy username and password.) The questions asked on SpeakUpAustin are:
•      What does the Emma S. Barrientos Mexican American Cultural Center mean to you today?
•      Has this changed since 2018?
•      What, if anything, do you find particularly central to your experiences at the ESB-MACC?
•      Based on your vision of the future ESB-MACC, how can this building better serve today's needs of the community?
Learn more about Phase 2, including the 2018 MasMACC Master Plan, on the Project Page!
The ESB-MACC Advisory Board advises Austin City Council about Emma S. Barrientos Mexican American Cultural Center operations. Cooperate with civic and volunteer groups involved in fostering, promoting and sponsoring activities at the ESB-MACC. (City Code Section 2-1-162)
Community Involvement: Community members are invited to attend ESB-MACC Advisory Board meetings to gain further understanding of its functions.
To speak remotely at the next meeting, which is a Regular Advisory Board meeting on March 3, 2021 of the Emma S. Barrientos Mexican American Cultural Center Advisory Board Meeting, members of the public must:
• Call or email the board liaison Michelle Rojas at 512-974-3771 or michelle.rojas@austintexas.gov no later than noon, Tuesday March 2, 2021. The following information is required: speaker name, item number(s) they wish to speak on, whether they are for/against/neutral, email address and telephone number (must be the same number that will be used to call into the meeting).
• Once a request to speak has been made to the board liaison, the information to call on the day of the scheduled meeting will be provided either by email or phone call.
• Speakers must call in at least 15 minutes prior to meeting start time in order to speak, late callers will not be accepted and will not be able to speak.
• Speakers will be placed in a queue until their time to speak.
• Handouts or other information may be emailed to Michelle Rojas michelle.rojas@austintexas.gov by noon the day before the scheduled meeting. This information will be provided to Board and Commission members in advance of the meeting.
MORE INFORMATION ABOUT ADVISORY BOARD:
City of Austin Boards and Commissions Information 

<h3>Fun is Year-Round at the MACC</h3><iframe width="560" height="315" src="https://www.youtube.com/embed/pygobnwaGHY?ecver=1" frameborder="0" allowfullscreen></iframe><p>Enjoy this peek inside the festival and interactive fun to be had at the Emma S. Barrientos Mexican American Cultural Center. We have a Zolcalo (plaza), gallery, and classes to help anyone explore Mexican, Latin, and South American cultures right here. There is also plenty of dancing, live shows, and experiences of all kinds to be enjoyed by the young and old. Come join us!</p>