The ESB-MACC is now open to the public. Check our Facebook (@ESBMACC) for the most up-to-date event details.
Masks are recommended in indoor spaces at the ESB MACC. You will find that many MACC programs and events are also currently taking place outdoors. For indoor programs and events, capacities and mask recommendations may be adjusted for your safety as COVID risk levels change.
* Please do not attend in-person programming if you are ill, have been diagnosed with COVID recently, or exposed to COVID.

Digital Programs
In addition to our in-person programs, the ESB MACC offers engaging digital programs and performances. These can be viewed for free on MaccDigital.net. 
* For family-friendly/ youth activities make sure to view our Education Digital Programs too!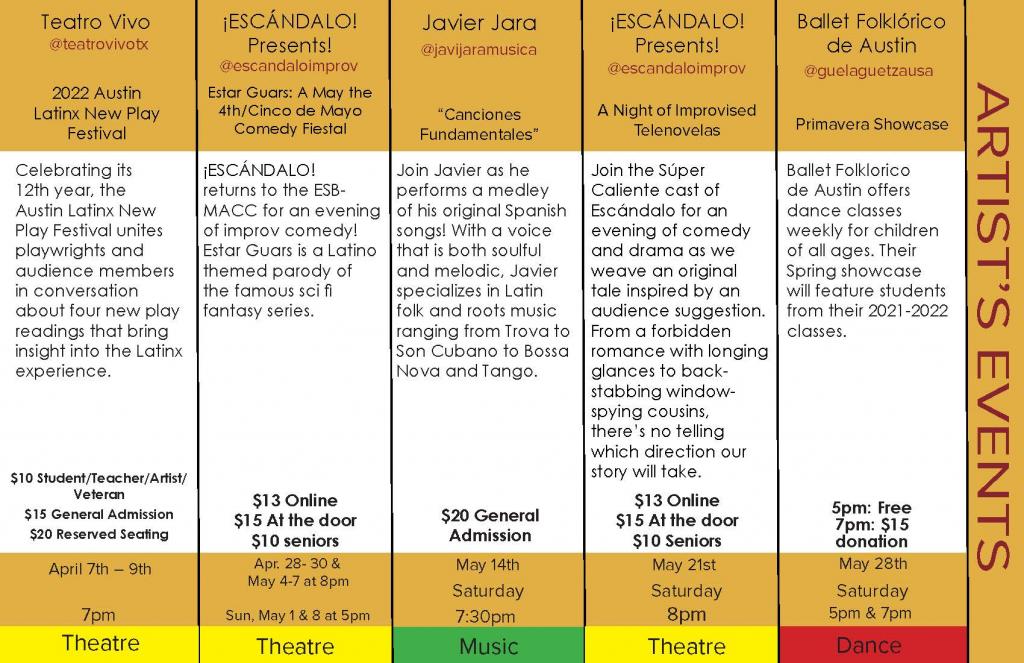 Latino Artist Residency (LAAP) Calendar: April 2022
To see the LAAP calendar in PDF form and share it with others, click here: April 2022 LAAP Calendar

¡Escándalo! — The Improvised Telenovela!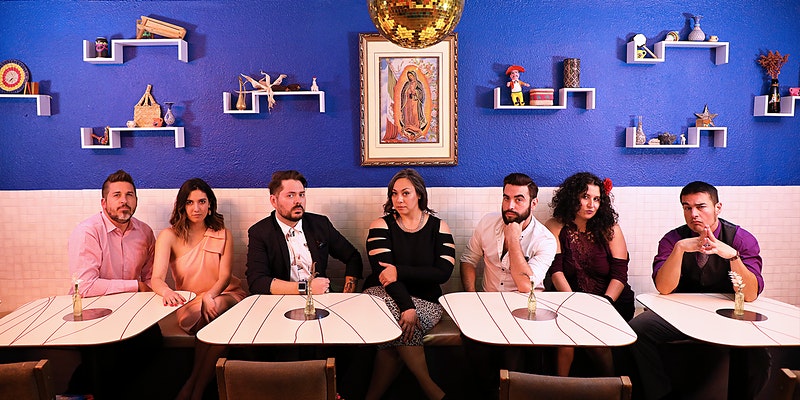 Join the cast of the B. Iden Payne Award-winning ¡Escándalo! for an evening of comedy and drama as they weave together a brand new, never-before-seen, never-to-be-seen-again passion-filled telenovela based on audience suggestions.
Romance, star-crossed love, shocking secrets, nail-biting intrigue, and dastardly villains will leave you wanting more...
No two shows are ever the same!
General Information:
Sat, May 14, 2022, 7:30 PM
Shows may contain adult themes, adult language, and prop weapons. The primary language will be English with some Spanish peppered throughout.
**Senior pricing available at Door
**Parking included with purchase of ticket

Javier Jara - "Tro Vamos Cantando"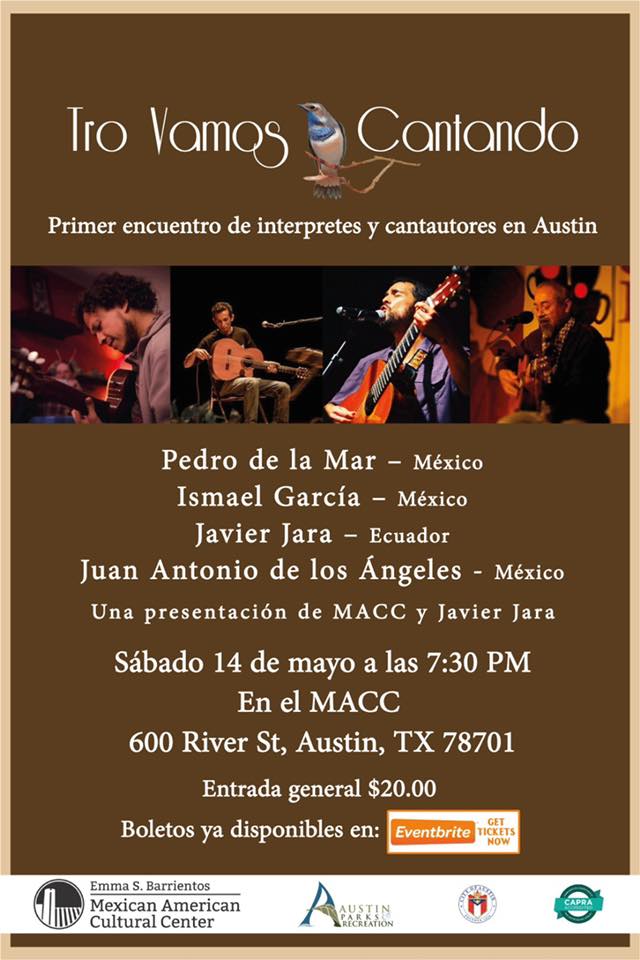 Javier joins esteemed musicians Pedro de la Mar, Ismael García and Juan Antonio de las Ángeles for a night of soulful musicianship.
Sat, May 14, 2022, 7:30 PM


La Mujer '22: A Celebration of Womxn!
Saturday, May 14th, 2022 from 1PM-7PM
In its 11th year, this festival was originally inspired by Sor Juana Ines de la Cruz, who is considered the first feminist of the Americas. In 2022, the Emma S. Barrientos Mexican American Cultural Center will highlight the accomplishments of mujeres, of womxn, who inspire us!
La Mujer is a multidisciplinary festival that will feature a stellar lineup of musicians, poets, visual artists, and womxn business owners participating in community building, networking, education, and entertainment. The event features a Womxn of Color artisan mercado curated by Frida Friday ATX. Food trucks and parking will be accessible on-site and there will be a shuttle service from Sanchez Elementary to the MACC for ease of parking.
The festival kicks off with panel discussions on Latinx activism and leadership in the arts that can delve into conversations about Indigeneity, Personal/Professional Development, Equal Pay, Reproductive Rights, and Gender Equality. How can artists imagine a different world where these issues are addressed? Together let's imagine the future of Women in Texas!


Yoga with Sana Yoga
Every Saturday 10:00am-11:00am
Dance Studio at the MACC
FREE Bilingual Yoga returns to the MACC on Saturday, March 26 at 10am! 

Sana Yoga provides a pathway for healing with equitable and accessible programming, while organizing to reduce systemic factors that negatively impact mental health, physical health and social well-being amongst our Latinx community and other marginalized communities.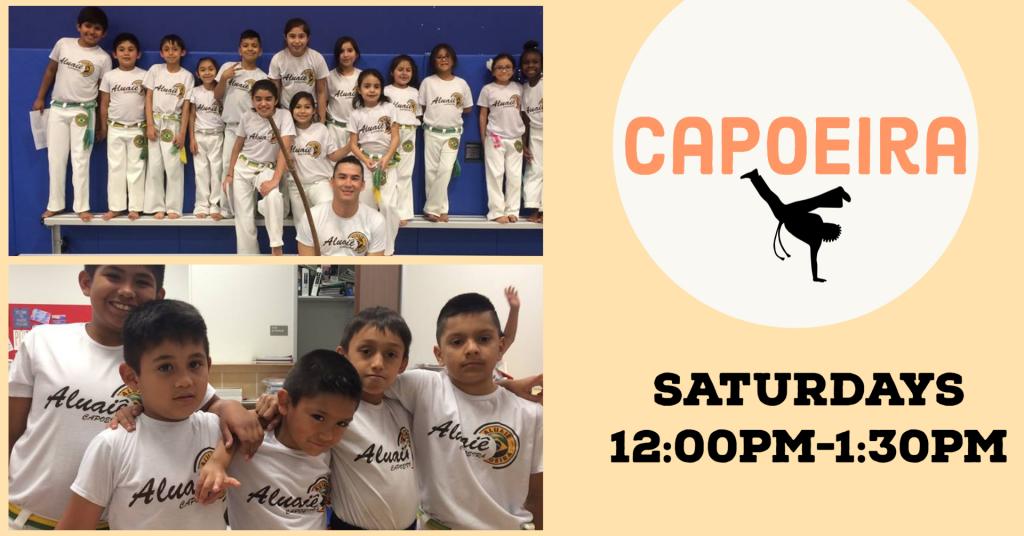 Capoeira
Every Saturday 12:00-1:30pm
Dance Studio at the MACC
Capoeira for All Ages meets every Saturday at the ESB-MACC. This class is held for all levels in the Dance Studio. Especially suited to children and families. Instructors are bilingual- English/Spanish. Join instructor Erick Salazar for free instruction in the Brazilian art of Capoeira. Masks required. Free parking at the MACC- get a parking pass from our front office.

Last Sunday of the Month, next session is April 24th, 2022 from 10AM - 12PM. Celebrate Earth Day with us!
Register on Givepulse!
At the ESB-MACC Healing Garden we grow fruits, herbs, and vegetables that can be used for everyday meals and health. If you are interested in gardening or sharing in our harvest, join us for one of our workdays. Contact us at maccgarden@austintexas.gov or call 512.974.3773. View the informational brochure in English or Spanish and our Garden webpage in English or Spanish!
Signature Event

ESB-MACC's Annual Signature Events
Learn more about our yearly events below!

 

A celebration of women inspired by the first feminist of the New World, Sor Juana Inés de la Cruz, with food, art, and performances by womxn.

 

Award Ceremony recognizing remarkable Latinx for the highest artistic excellence they bring to the cultural arts of Austin, TX. 

 

The day of Mexico's Independence from Spain is always remembered on the 16th of September. Our father of independence is Miguel Hidalgo y Costilla, who started the revolt on the eve of the 15th of September.

 

A day to remember our loved ones who have passed with ofrendas/offerings, music, food, and kids activities. Part of Mexican culture is learning from our ancestors and learning where they came from to guide our future.

COLLABORATE WITH US!
The Emma S. Barrientos Mexican American Cultural Center is a vibrant arts center with 100,000 annual visitors. Since 2007, we have been offering countless cultural events and art classes focusing on performing arts, music, literature, film screenings, and the Latino Arts Residency Program. A collaboration is a one-time presentation that is co-produced with the ESB-MACC.  It can be a panel discussion, music or theater presentation, film screenings or community engagement discussion. The ESB-MACC organizes year-round activities and also cooperates with a large number of partners who complete and strengthen programming through rentals and collaborations. For more information, download our collaboration request form.
Collaborators that we have worked with in the past are: AARP, ALMA (Austin Latino Music Association), Austin Community College Creative Writing, Austin History Center, Austin Museum Partnerships, The Austin Symphony, Ballet East, Bellas Artes Alliance, The Center for Mexican-American Cultural Arts (CMACA), Cine Las Americas, Conspire Theatre, Crossroads Events, Dan Guerrero, Daniel Llanes, El Corazón de Tejas, Flor de Nopal, Indigenous Cultures Institute San Marcos, KLRU-TV, Latinitas, LATINO Magazine & No Mas Hambre, Nuestro Grupo, PODER, Proyecto Teatro, Puerto Rican Folkloric Dance Company, Telemundo Austin, Texas Criminal Justice Coalition, Texas Folklife, Resistencia Bookstore, University of Texas at Austin CMAS, Univision.


Free parking is available to those attending our programs, galleries and special events. A temporary parking pass is available in the main office.