Home | Exhibits | Events | Education | Rentals | Get Involved | Advisory Board | Latino Artist Access Program (LAAP) | MACC Phase 2 | How to Apply | About Caminos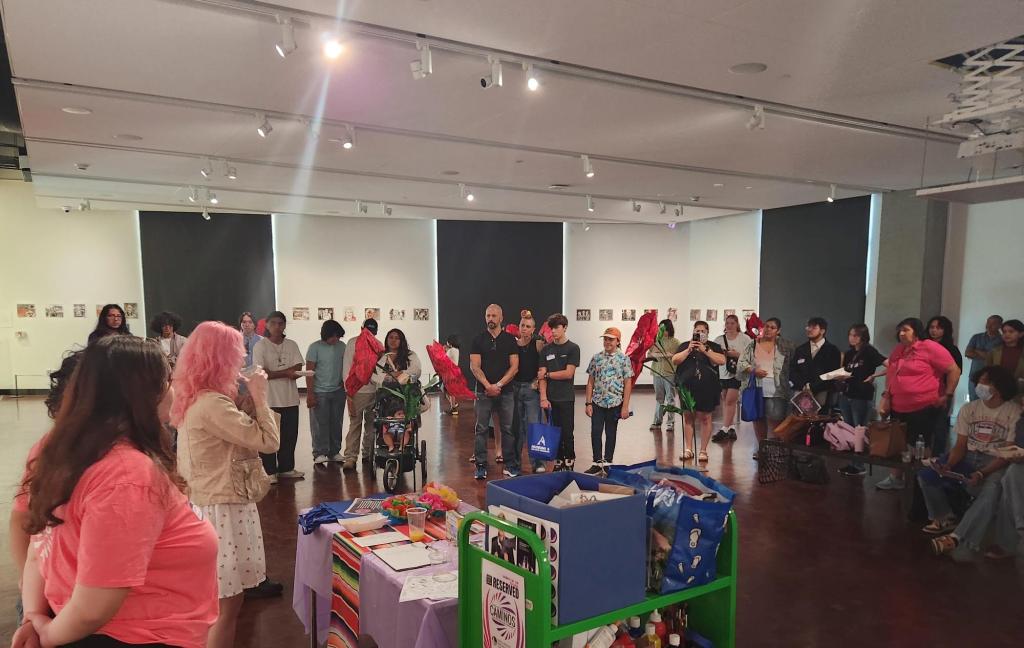 Caminos Class of 2024
We have hired our new class for Caminos 2024! Welcome, new Caminantes! The 14 new Caminantes are from high schools all across Austin.
The photograph above was taken on September 9th, when the new Caminos students and their parents met for the first time at Austin Central Library. This class has just started their internship with the MACC, and they will be completing their internship in Summer 2024. We are so happy to welcome this new class!
Look at our Caminos Instagram for upcoming events where young people can join! Keep an eye out for our Breaking Barriers Conference BY TEENS and FOR TEENS in Spring 2024! 
CAMINOS is an immersive; one year long paid internship empowering Austin-area Teens to carve their own path in the creative arts.They undergo a rigorous application process and represent a diverse spectrum of schools and geographic areas of Austin, Texas. They are high-schoolers passionate about pursuing a creative career that can make a palpable difference in their communities. They are also very curious about learning more about Latin American and Indigenous cultures in the Americas and sincerely want to serve other teens by creating content and events that are relevant and enriching. In so doing, they become Ambassadors of Latinx culture in Austin while receiving precious professional development and empowerment along the way.
Read on to discover some of the projects that are coming up for the new class of Caminos, as well as past projects by Caminos graduates from previous years! 

Caminos Class of 2024 Current Projects:
Onion Creek Flood Mural Project

 
The Onion Creek Mural Project was proposed by City Council in response to Resolution No. 20211014-048 – Flood Memorial and Community Engagement.
The lead muralist, Alonso Estrada, was hired by the City of Austin to coordinate with the community on the design and implementation of a mural located at Onion Creek Metropolitan Park in response to the Halloween Floods of 2013 and 2015. 
The Caminos class of 2024 is working on this mural project under the guidance of the artist Alonso Estrada. 
More information about the Onion Creek Mural Project and the City Council Resolution can be described here. 
On Saturday, October 28th, the mural will be unveiled to the public at 10:00am and this event is open to the public.

The

Caminos

Teens create public artworks and community workshops as some of their many projects throughout their one-year leadership program. These accomplishments are teen-led, with support from 

ESB-MACC

staff and local teaching artists who engage the students, mentor them in the arts, and help them complete their vision.
Some of our past projects have included:
Caminos Past Projects

"La Mujer" Mural by Caminos students, Unveiling & Presentation 
Saturday, April 29th, 2023 

In the summer of 2018, the teens from the Caminos Teen Leadership Program decided to embark upon a large scale mosaic mural arts project honoring the contributions of Latinas to our society, which was officially installed and unveiled in April 2023. J Muzacz is the artist mentor responsible for overseeing the project, and it was coordinated by Frederico Geib, former Caminos program director at the ESB-MACC. We spent the day hearing from community members, leaders, MACC staff and former Caminantes discussing the impact and legacy of the mural with heartfelt speeches. 

Bianca Olivares Reyes, former Caminante and current graphic designer at the ESB-MACC, produced a short documentary following the mural from start to finish. You can watch the full mural presentation on Facebook! 

Breaking Barriers: Youth Mental Wellness Conference
Annual Spring Event
Next Conference: Spring 2024- stay tuned for exact date!

ATX Caminos organized a mental wellness conference for teens in Austin. The day was filled with art making activities, screen-printed t-shirts, musical performances by Queen Deelah, ancestral healing with Jessica Zamparripa, and a painting workshop with Miguel Santana. So proud of Isabella, Nil, and the Caminos class of '23 for putting on such an amazing event and carving out a safe space for their fellow teens. 

Preservar

y

Promover

Cultura Mural
February 2020

In February 2020, the Caminos teens designed and painted a permanent art installation in the conference room at the ESB-MACC. The mural was designed by the teens with teaching artist Niz, who taught them a stencil making technique that was brand new for all of the teens. The mural depicts the teens' favorite memories at the ESB-MACC, including the performing artists who have inspired teens with their talent and expression of culture.

Javier Jara, one of the ESB-MACC's Latino Artist Access Program participants, along with a Catrina-dressed participant from the 2019 Day of the Dead celebration, and Sonia Lopez, a dancer and teacher with the Ballet Folklorico of Austin group at the ESB-MACC, are some of the figures that the teens depicted in the mural. Over a series of working sessions, mostly on Saturdays, the teens worked with Niz to add layers of spray paint to the mural and resulted in a multi-dimensional, multi-colored, collective masterpiece to be enjoyed at the ESB-MACC for years to come. On February 29, 2020, the Caminos Teens inaugurated the mural with their friends, family, and supporters as they completed their leadership program and celebrated their graduation. We look forward to future mural projects from the 2020 Caminos class and beyond!