Home | Exhibits | Events | Education | Rentals | Get Involved | Advisory Board | Latino Artist Access Program (LAAP) | MACC Phase 2 | How to Apply | About Caminos
Check out the new CAMINOS INTERNSHIP PROGRAM BLOG where we will post monthly content that the Caminantes & Caminos Team curate! Including text posts, images, links to personal work, & monthly updates on the team's accomplishments & projects for the month. 


ATX Caminos at SXSW 2022: 
Leveraging Art in Youth Driven Programs
Listen to the full panel on SXSWEDU.COM

Caminos

Past Events:
Breaking Barriers Latinx Youth Conference
Saturday, April 2, 2022
RSVP on Eventbrite - Latinx!
On April 2, 2022, the Caminos teens will present their Breaking Barriers conference from 11:00am-6:00pm. Follow the Caminos Instagram for more updates!
This is a cool opportunity to meet teens your age and share ideas about how best to take care of yourself and your community, access your mental wellness, and celebrate cultural identity.
We invite you to help us unlock the question: what is mental health/wellness?  In this event you can expect activities packed with fun and powerful connections. You can see the power you have and how to help others through activities of wellness, conversation, expression with no judgment from teens like you so definitely join us and break those barriers with us!
Any teen can benefit from this event, especially Latinx teens and young people of color. If you have felt small, come here and feel strong! Remember, we're not minorities, we're just minoritized! While our event does center and surround the Latinx experience of well-being and mental health struggles, we welcome everyone and think all people could benefit from some time to check in with themselves, their bodies, and focus on their mental health. This event is free and open to any youth.

SXSW EDU
Panel
Monday, March 7, 2022
Austin Convention Center (Official SXSW EDU Event)
On Monday 03/07 at 12.30PM, past and present 'caminantes' from our Caminos Teen Program will be representing us at the prestigious SXSW EDU conference. With the support of our own staff Cassie Smith and Frederico Geib, our teens will take to the stage to share how our award winning teen program continues to "Leverage Art in Youth Driven Programs'.  
Join us in celebrating our youth who work hard to embody our mission. Later in April we will be hosting a 5-year Caminos birthday party and exhibit at the MACC so stay tuned.  Congratulations to all our past and present caminantes and their families, as their work continues to grow and reach more teens and young adults in our city 9and now the world!). Carve your path!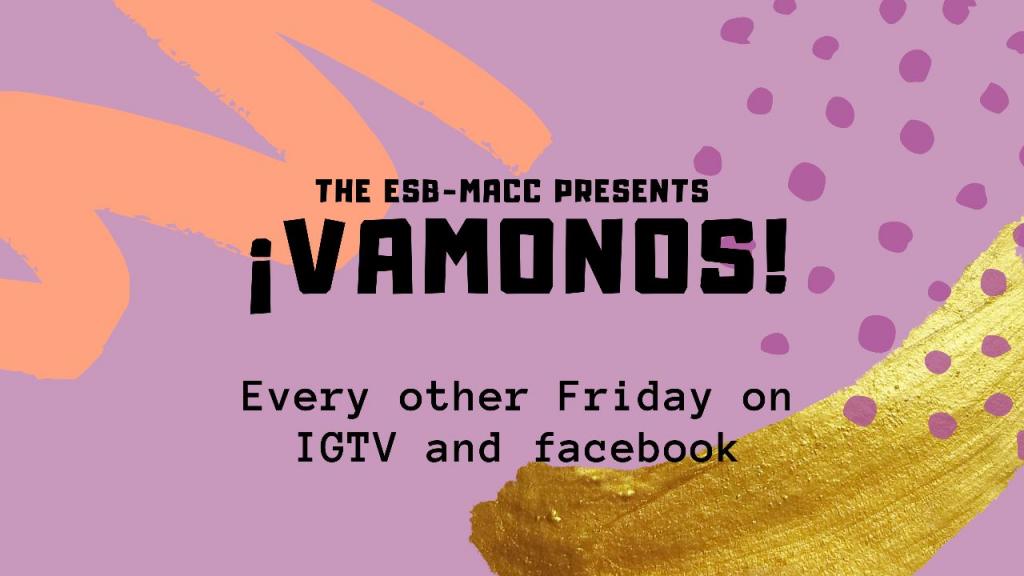 Vamonos Teen Variety Show
Online, Fridays
Join on Facebook!
The teens of the ESB_MACC Caminos program have created ¡VAMONOS!; an arts and variety show by teens for teens. Featuring segments such as our Literary Collective; the Caminos Business Insight; our Cuarentelenovela and Caminos Art Club, we look forward to engage our community and have fun in the process. Tune in every other Friday at 6PM US Central.
Live on the @ATXCAMINOS IGTV : https://www.instagram.com/atxcaminos/
Live on the ESB-MACC Facebook Page: https://www.facebook.com/AustinESBMACC/
¡VAMONOS! Page: https://bit.ly/atxvamonos
Past Projects by Teens in the Caminos Program:
The Caminos Teens create public artworks and community workshops as some of their many projects throughout their one-year leadership program. These accomplishments are teen-led, with support from ESB-MACC staff and local teaching artists who engage the students, mentor them in the arts, and help them complete their vision. Some of our past projects have included:
La Mujer Mosaic Mural

In the Summer of 2018, the teens from the ESB-MACC Caminos Program decided to embark upon a large scale mosaic mural arts project honoring the contributions of Latinas to our society. The ESB-MACC is currently in the process of installing a base to install this mural, creating a timeless public artwork made by Latinx teens presented to our community.  The mosaic is a double-sided wall which will face out towards the hike and bike trail (NW) and towards the ESB-MACC plaza (SE). The work will be 24x6 feet and will include iconic images of both public Latina celebrities as well as unsung heroines from our own community. J Muzacs is the Artist mentor responsible for overseeing the project, and it was coordinated by Frederico Geib, Caminos program director at the ESB-MACC. Stay tuned for the unveiling of the mural as a major project in 2020! For questions, contact: Caminos@austintexas.gov.

Preservar y Promover Cultura Mural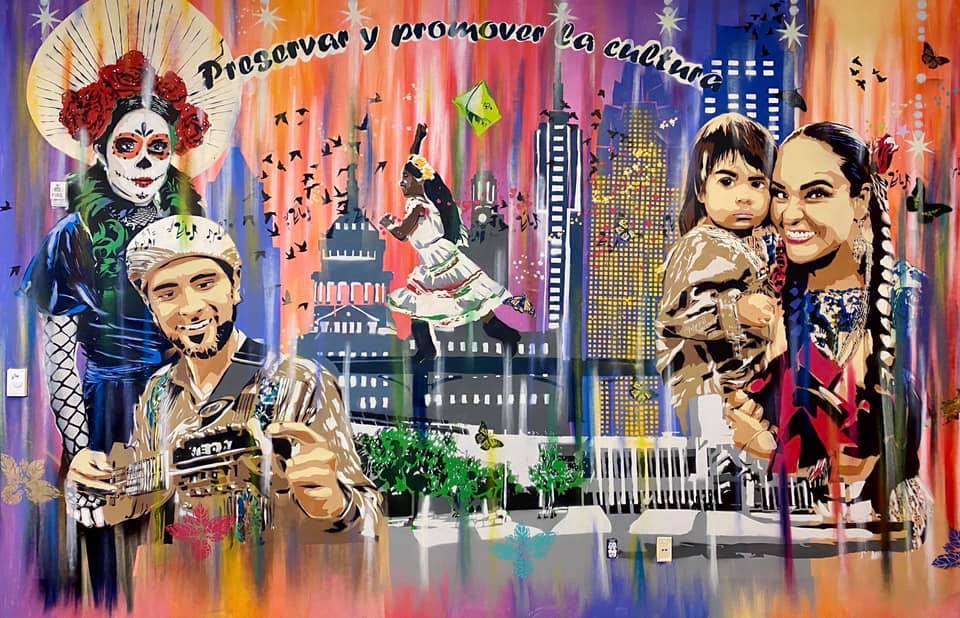 In February 2020, the Caminos teens designed and painted a permanent art installation in the conference room at the ESB-MACC. The mural was designed by the teens with teaching artist Niz, who taught them a stencil making technique that was brand new for all of the teens. The mural depicts the teens' favorite memories at the ESB-MACC, including the performing artists who have inspired teens with their talent and expression of culture. Javier Jara, one of the ESB-MACC's Latino Artist Access Program participants, along with a Catrina-dressed participant from the 2019 Day of the Dead celebration, and Sonia Lopez, a dancer and teacher with the Ballet Folklorico of Austin group at the ESB-MACC, are some of the figures that the teens depicted in the mural. Over a series of working sessions, mostly on Saturdays, the teens worked with Niz to add layers of spray paint to the mural and resulted in a multi-dimensional, multi-colored, collective masterpiece to be enjoyed at the ESB-MACC for years to come. On February 29, 2020, the Caminos Teens inaugurated the mural with their friends, family, and supporters as they completed their leadership program and celebrated their graduation. We look forward to future mural projects from the 2020 Caminos class and beyond!