Exhibits | Events | Education | Rentals | Caminos | Get Involved | Advisory Board | Latino Artist Access Program (LAAP) | MACC Phase 2
Mission Statement: The Emma S. Barrientos Mexican American Cultural Center (ESB-MACC) is dedicated to the preservation, creation, presentation, and promotion of the cultural arts of Mexican Americans and Latino cultures. Read about the history of the ESB-MACC.
DO YOU HAVE PROGRAM FEEDBACK? TELL US AT WWW.MACCSURVEY.NET!
The Emma S. Barrientos Mexican American Cultural Center is currently open Monday-Friday 10-6 and 10-4 on Saturdays. Make a reservation to visit our gallery exhibit by Luis Guerra.
The ESB MACC has entered Phase 2 of the 2018 Facility Expansion Plan (2018 Plan) approved by City Council. Phase 2 includes expansion and renovation of the facility in addition to site improvements in order to meet the growing needs of the community. Learn more about Phase 2 on the Project Page.

Dia De Los Muertos (Day of the Dead)
Monday, Nov 1st AND Tuesday, Nov 2nd
5:00-9:00pm (same hours on both days)
The Emma S. Barrientos Mexican American Cultural Center presents our 14th annual Dia De Los Muertos celebration. Join us for this year's festival will be held in person November 1st & 2nd, both days from 5PM-9PM.
The event will feature community altars, sugar skull decorating, calavera faces, food trucks, live music, dance performances, a and so much more! Check out our Event Page and the Facebook event page for updated details about the event.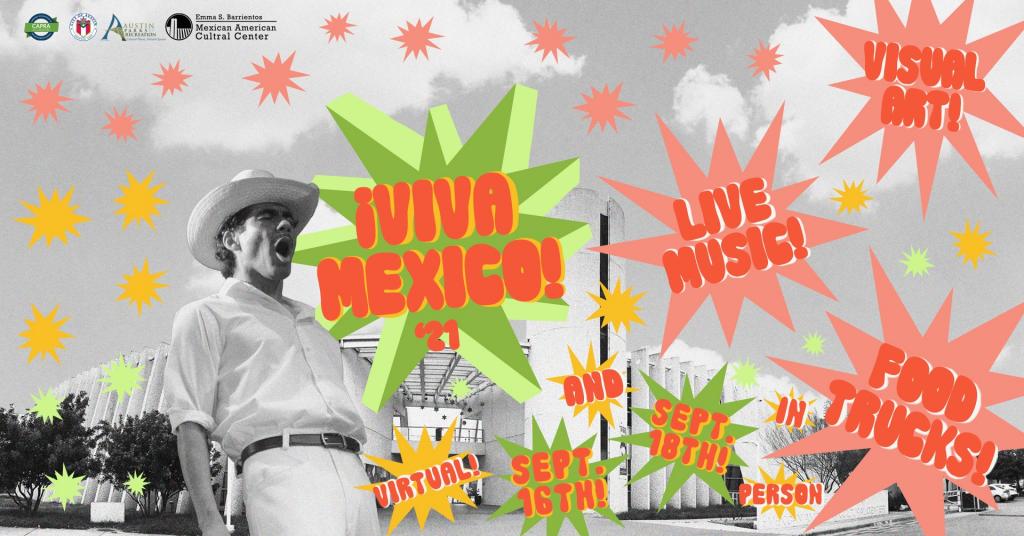 The Emma S. Barrientos Mexican-American Cultural Center hosted its 14th annual Viva México celebration on Saturday, September 18th. This annual event showcases visual art, dance, and musical performances that explore Mexico's history through cultural art traditions.
This event is now free to watch, both in a livestream as well as our Digital Festival. Check the link below for links to those videos!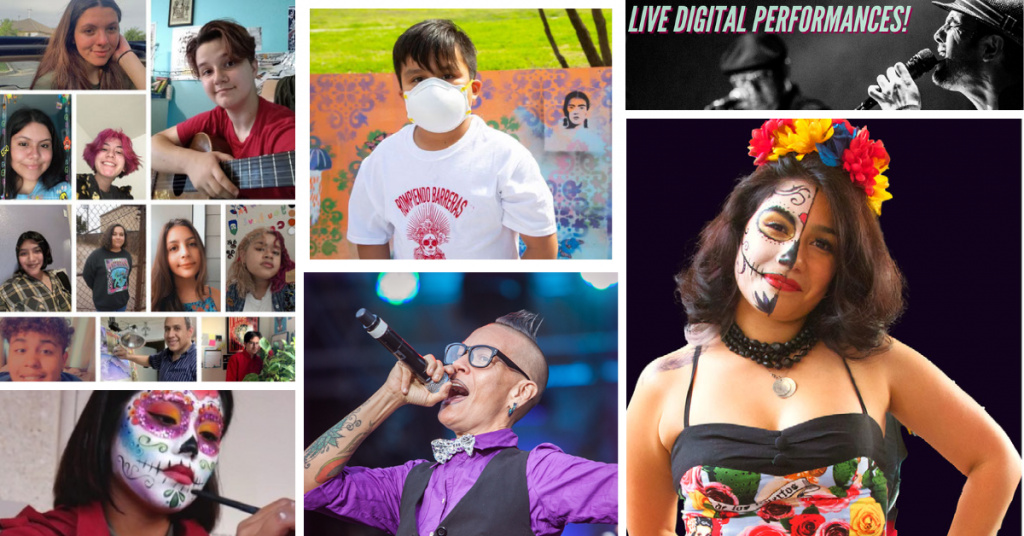 The Emma S. Barrientos Mexican American Cultural Center is currently closed to the public. Many of our programs have moved to digital! Our digital resources are free and accessible to anyone who wants to learn more about Mexican-American and Latinx arts & culture.
You'll find lesson plans, performances, presentations, online art galleries, instructional videos, and more! Make sure to take a look at our Signature Events: Viva Mexico and Day of the Dead!
CLICK HERE FOR A GUIDE TO DIGITAL PROGRAMS! For even more access to MACC programming, remember to follow us on Facebook at @AustinESBMACC and Instagram at @ESBMACC. Questions? email maccevents@austintexas.gov. 
Did you view one of the programs? Or was there a program you would like us to provide? Let us know by filling out our 5-minute Program Survey!

Learn more about Phase 2, including the 2018 MasMACC Master Plan, on the Project Page!
The ESB-MACC Advisory Board advises Austin City Council about Emma S. Barrientos Mexican American Cultural Center operations. Cooperate with civic and volunteer groups involved in fostering, promoting and sponsoring activities at the ESB-MACC. (City Code Section 2-1-162)
Community Involvement: Community members are invited to attend ESB-MACC Advisory Board meetings to gain further understanding of its functions.
To speak remotely at a MACC Advisory Board meeting, members of the public must:
• Call or email the board liaison Michelle Rojas at 512-974-3771 or michelle.rojas@austintexas.gov no later than noon, Tuesday April 6, 2021. The following information is required: speaker name, item number(s) they wish to speak on, whether they are for/against/neutral, email address and telephone number (must be the same number that will be used to call into the meeting).
• Once a request to speak has been made to the board liaison, the information to call on the day of the scheduled meeting will be provided either by email or phone call.
• Speakers must call in at least 15 minutes prior to meeting start time in order to speak, late callers will not be accepted and will not be able to speak.
• Speakers will be placed in a queue until their time to speak.
• Handouts or other information may be emailed to Michelle Rojas michelle.rojas@austintexas.gov by noon the day before the scheduled meeting. This information will be provided to Board and Commission members in advance of the meeting.
MORE INFORMATION ABOUT ADVISORY BOARD:
City of Austin Boards and Commissions Information 

<h3>Fun is Year-Round at the MACC</h3><iframe width="560" height="315" src="https://www.youtube.com/embed/pygobnwaGHY?ecver=1" frameborder="0" allowfullscreen></iframe><p>Enjoy this peek inside the festival and interactive fun to be had at the Emma S. Barrientos Mexican American Cultural Center. We have a Zolcalo (plaza), gallery, and classes to help anyone explore Mexican, Latin, and South American cultures right here. There is also plenty of dancing, live shows, and experiences of all kinds to be enjoyed by the young and old. Come join us!</p>