The Emma S. Barrientos Mexican American Cultural Center will open the Community Gallery for visits to our exhibition starting July 2, 2021. Visit Eventbrite to reserve your visit! Learn more about the exhibit on the Amado Castillo exhibit page.
Our Front Office is currently open Mon-Friday 10-6 and 12-4 on Saturdays. Please check the City of Austin Closure page for updates.
Mission Statement: The Emma S. Barrientos Mexican American Cultural Center (ESB-MACC) is dedicated to the preservation, creation, presentation, and promotion of the cultural arts of Mexican Americans and Latino cultures. Read about the history of the ESB-MACC.
---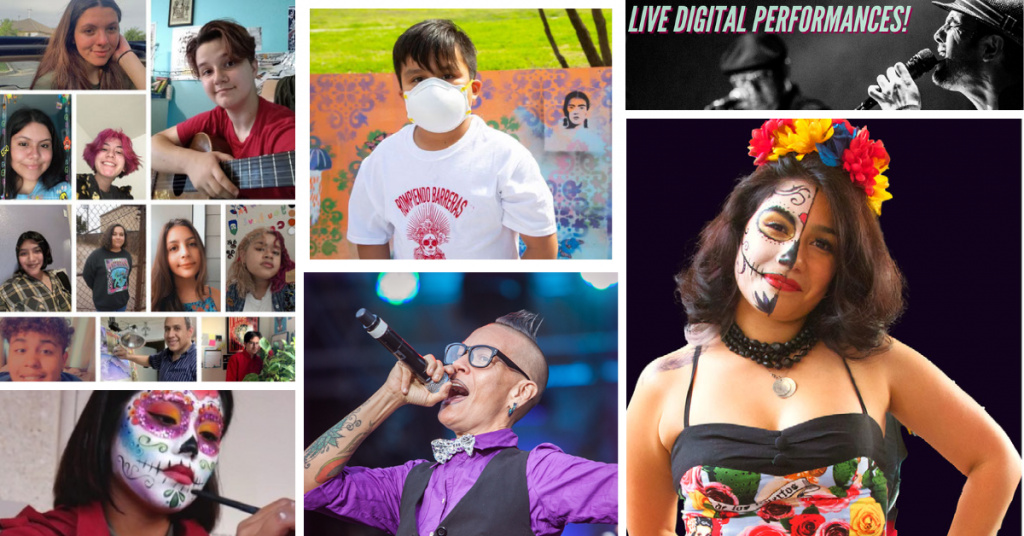 The Emma S. Barrientos Mexican American Cultural Center is currently closed to the public. Many of our programs have moved to digital! Our digital resources are free and accessible to anyone who wants to learn more about Mexican-American and Latinx arts & culture.
You'll find lesson plans, performances, presentations, online art galleries, instructional videos, and more! Make sure to take a look at our Signature Events Digital Festivals, presented in Fall 2020: Viva Mexico and Day of the Dead!
CLICK HERE FOR A GUIDE TO DIGITAL PROGRAMS! For even more access to MACC programming, remember to follow us on Facebook at @AustinESBMACC and Instagram at @ESBMACC. Questions? email maccevents@austintexas.gov. 
Did you view one of the programs? Or was there a program you would like us to provide? Let us know by filling out our 5-minute Digital Programs Survey!
The goal of the investigation is to understand how the cultural arts and educational programing at the MACC is managed, themed, designed, and implemented as well as how the programming is received by participants.
If you would like to take part in this study, you can take a survey about your experiences at the MACC here:  MACC Research Survey
El objetivo de la investigación es comprender cómo se maneja, se diseña, se implementa y cómo se escogen los temas para la programación artística y educativa en el MACC, y cómo los participantes reciben la programación.
Si desea participar en este estudio, puede realizar una encuesta sobre sus experiencias en el MACC aquí:  Encuesta de investigación del MACC

Learn more about Phase 2, including the 2018 MasMACC Master Plan, on the Project Page!
The ESB-MACC Advisory Board advises Austin City Council about Emma S. Barrientos Mexican American Cultural Center operations. Cooperate with civic and volunteer groups involved in fostering, promoting and sponsoring activities at the ESB-MACC. (City Code Section 2-1-162)
Community Involvement: Community members are invited to attend ESB-MACC Advisory Board meetings to gain further understanding of its functions.
To speak remotely at the next meeting, which is a Regular Advisory Board meeting on April 7, 2021 of the Emma S. Barrientos Mexican American Cultural Center Advisory Board Meeting, members of the public must:
• Call or email the board liaison Michelle Rojas at 512-974-3771 or michelle.rojas@austintexas.gov no later than noon, Tuesday April 6, 2021. The following information is required: speaker name, item number(s) they wish to speak on, whether they are for/against/neutral, email address and telephone number (must be the same number that will be used to call into the meeting).
• Once a request to speak has been made to the board liaison, the information to call on the day of the scheduled meeting will be provided either by email or phone call.
• Speakers must call in at least 15 minutes prior to meeting start time in order to speak, late callers will not be accepted and will not be able to speak.
• Speakers will be placed in a queue until their time to speak.
• Handouts or other information may be emailed to Michelle Rojas michelle.rojas@austintexas.gov by noon the day before the scheduled meeting. This information will be provided to Board and Commission members in advance of the meeting.
MORE INFORMATION ABOUT ADVISORY BOARD:
City of Austin Boards and Commissions Information 

<h3>Fun is Year-Round at the MACC</h3><iframe width="560" height="315" src="https://www.youtube.com/embed/pygobnwaGHY?ecver=1" frameborder="0" allowfullscreen></iframe><p>Enjoy this peek inside the festival and interactive fun to be had at the Emma S. Barrientos Mexican American Cultural Center. We have a Zolcalo (plaza), gallery, and classes to help anyone explore Mexican, Latin, and South American cultures right here. There is also plenty of dancing, live shows, and experiences of all kinds to be enjoyed by the young and old. Come join us!</p>