The Awards of Excellence ceremony took place on Saturday, July 29th and was livestreamed and the digital recording is available to watch on Youtube.
Thank you to those who sent in nominations, and to our winners, thank you for your service to the ESB-MACC and the Mexican American/ Latino/a/x/e Community.
We thank all who attended our 2023 Awards of Excellence!
2023 Awardees:
Jacqueline Olivier,  Emerging Artist 
Serena Tijerina, Emerging Artist 
Raul Garza, The Arts  
Roj Rodriguez, The Arts 
Bertha Delgado Rendon, Service 
Monica Araoz, Arts Educator 
Zita V. Vázquez, Arts Educator    
Paul Saldaña, Lifetime Achievement  
Dr. Roén Salinas, Lifetime Achievement  
Yolanda Sanchez, Lifetime Achievement 
Farah Rivera, Lifetime Achievement (Posthumous)
Henry Gonzalez, Lifetime Achievement (Posthumous)
_____________________________________________________________________________________
CATEGORIES:
Emerging Artist: For artists who are starting their career, or those who are mid-career, showing much future promise.
The Arts: Those working in any medium including visual arts, dance, music, theater, radio, TV, film, performing arts, and history.
Service: Those who have exhibited outstanding service as a volunteer and/or employee in the Latinx Cultural Arts
Arts Educator: Those who educate our community about Latinx cultural arts. 
Lifetime Achievement: Those who have demonstrated a lifetime of passion and dedication to the Latinx cultural arts. 
2023 Awards of Excellence Recipients: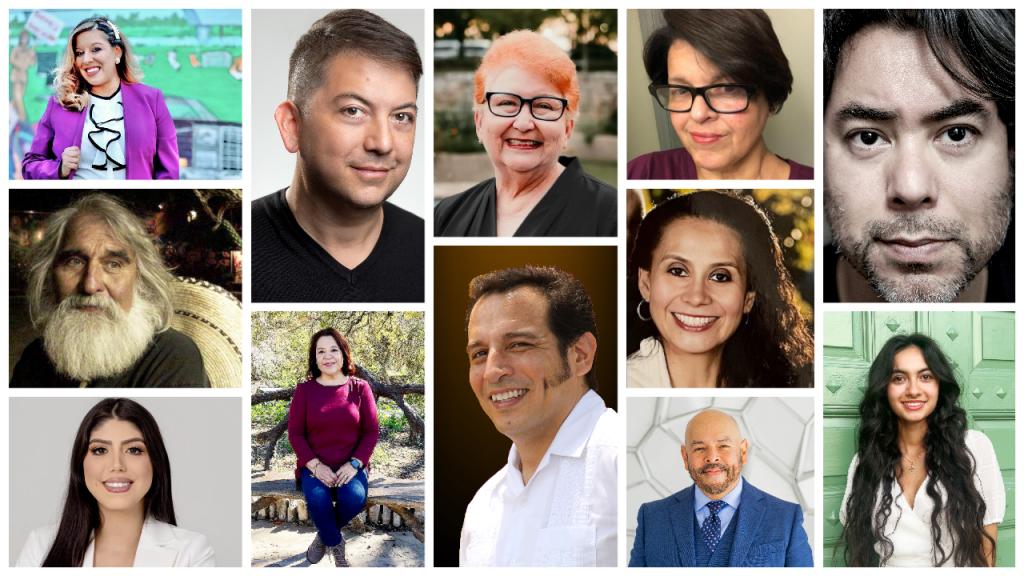 Top row, left to right: Bertha Rendon Delgado, Raul Garza, Yolanda Sanchez, Farah Rivera, Roj Rodriguez
Bottom row, left to right: Serena Tijerina, Zita Vázquez, Dr. Roen Salinas, Paul Saldaña, Jacqueline Olivier
2023 Awards of Excellence Recipients
Jacqueline Olivier - Emerging Artist
Jacqueline Olivier, a driven 16-year-old, is currently pursuing a Visual Arts major at McCallum Fine Arts Academy. In 2021, Jacqueline's sculpture piece "Breaking Through" garnered recognition at the Texas Visual Arts Scholastic Event Competition and her sculpture "Fishing for Knowledge" earned a perfect score at that competition in 2022. Beyond her artistic pursuits, regularly volunteers at Mobile Loaves and Fishes and Austin Pets Alive. Jacqueline practices the piano, plays sports, serves on the student council, and is a member of the National Art Honor Society. She plans on working meticulously on her art portfolio in hopes of getting scholarships for college. As she looks to the future, she envisions attending college and one day realizing her dream of establishing her own design firm.
Serena Tijerina -  Emerging Artist
Serena is a visual artist and mural painter from Austin who works with the local organization Arte Texas. She is passionate about preserving Chicano culture and through Arte Texas, has gained insight from her community elders and peers. Serena received her first City of Austin award in 2015 for the lotería mural restoration project on Cesar Chavez. She was a recipient of the NALAC fund for the arts grant in 2021 and the City of Austin Distinguished Service award in 2022. Serena assisted in creating a memorial mural in honor of Vanessa Guillén and Breonna Taylor. She combined community storytelling and traditional painting in her work on the Rosewood pillar project and the Linder Elementary Mural. She is currently working on using a trauma-informed approach to artistic storytelling for youth, inspiring other young artists to allow their creativity to flourish and embrace their cultural identity.
Raul Garza – The Arts
Raul Garza is an Austin-based playwright who has drawn acclaim for telling stories that resound with authenticity and sense of place. He boldly explores the intersection of popular culture and cultural identity, and incorporates music, spirituality, and the power of nostalgia into works that span time and location. His full-length play Fantasmaville received the National Latino Playwriting Award. His short play MyHEB garnered FronteraFest 2015 Best of Fest accolades. Raul's full-length plays include Cura, Sinners in the Garden, Confessions of a Mexpatriate, There and Back, Arbolito, and El, which received its world premiere at the Emma S. Barrientos Mexican American Cultural Center. When not writing, Raul vibes on kundalini yoga, devours pop culture, and serves as creative director of TKO Advertising.
Roj Rodriguez – The Arts
Roj Rodriguez is an Austin-based photographer. His first book, Mi Sangre, is a visual ballad to the land of his parents and to Mexicanidad as it is expressed on both sides of the U.S. / México border. Raised, educated, and trained in Houston, Roj later moved to New York City where he would live, love, and work for almost two decades, first as an assistant photographer and later as an artist and commercial photographer, giving him the opportunity to travel the world, meeting people from different cultures. This awoke in him a desire to deepen the connections to his own cultural roots. Work from Mi Sangre has been acquired into the permanent collection of 6 fine art institutions including the The Museum of Fine Arts of Houston, and The San Antonio Museum.
Bertha Rendon Delgado

- Service
Bertha Rendon Delgado is a fourth generation East side Chicana, the daughter of a Chicano Brown Beret and a granddaughter of a Mexican American Civic Leader of Austin. She was born and raised in East Austin during the Chicano movement and growing surrounded by Chicano Art has led to her passion for preserving East Austin's Chicano murals, iconic graffitti, and historical buildings. Bertha serves proudly as the president of East Town Lake Citizen Neighborhood Association, founder of Arte Texas, LULAC Deputy Woman Deputy Director District 7,and CDC Housing Commissioner. She is the Chair of Edward Rendon Sr, Park at Festival Beach park task force, working to preserve the history of East Austin. She curated two recent art exhibits in 2019 and 2022 at the MACC called La Lucha Sigue. She was commissioned by Art in Public Places to retore the "Chicano Park Mural" by Martin Pool at Edward Rendon Park in 2020. Bertha received numerous awards including the Cesar Chavez Awards by PODER in 2019, the Texas LULAC Woman of the Year in 2022, a Distinguished Service Award for Arts in 2022 for her work on the Holly St. Power plant, and a State of Texas Legislation Arts & Culture Resolution recognition in 2023.
Monica Araoz- Arts Educator
Monica Araoz is the founder and president of ART PLUS Academy. By nurturing drawing and painting skills, ART PlLUS Academy provides a platform for individuals of all ages to explore profound and creative self-expression. Monica takes great pride in fostering a community of passionate art educators who, like her, believe in the vital importance of cultivating drawing and painting as essential skills. With numerous students staying for years and pursuing visual arts degrees, the 14th anniversary of ART PLUS Academy in 2023 is a testament to Monica's enduring commitment to providing artists and art educators with a valuable outlet for their talents. 
Zita V. Vázquez

– Arts Educator
Zita founded Danza Azteca de Cristo Rey with the hopes of sharing her love and passion for drumming and Danza Azteca with others. Over the past seven years, she has taught danzantes of all ages, from toddlers to seniors. Under her leadership, the group has collaborated with local schools, universities, and the City of Austin to showcase our pre-Hispanic traditions to members of the Austin community. They remain particularly busy every December during the feast of Our Lady of Guadalupe, performing at various churches in the area. The Danza Azteca has also participated with organizations supporting Latino interests, including Southwest Key Programs and Jolt Texas. Zita hopes to continue her work recruiting and educating new danzantes for years to come.
Paul

Salda

ñ

a-

Lifetime Achievement
Paul Saldaña is a native Austinite and has spent nearly 30 years in local government affairs, public policy, public relations, multicultural communications, and community engagement. He is the Principal and President of Saldaña Public Relations and a firm believer in giving back to the community as an advocate through volunteer work, service on various boards, organizations, initiatives and being actively involved on issues that enhance and impact the quality of life for all Austinites. Paul served as the Chief of Staff for Austin's only Latino Mayor Gus Garcia, is a former Vice President of the Board of Trustees for Austin ISD, and a co-founder of Hispanic Advocates Business Leaders of Austin (HABLA). Paul currently serves as President of the Board of Directors of Mexic-Arte Museum, Vice President of the RBJ Senior Housing Center Board, and a Board of Director of the Austin Monitor.
Dr. Roén Salinas – Lifetime Achievement
Dr. Roén Salinas is the Artistic Director and 2nd generation culture-keeper of the AZTLAN Dance Company, an arts organization founded in 1974 during Austin's Chicano Arts Renaissance. His UT Austin doctoral research centers contemporary expressive Xicano/Latino dance form as critical Xicana/o cultural production. Salinas' creative and artistic work has been nationally recognized for his signature repertorio that fuses tradition and modernity into unique choreographic performance formations that chronicle barrio life, story, and collective cultural imaginaries. The AZTLAN Dance company led by Roén Salinas has presented on performance stages throughout the US Southwest, at international festivals in England, Scotland, Hong Kong, China, and Mexico, reflecting Austin's vibrant Mexican-American culture and community. Dr. Salinas is currently developing the AZTLAN legacy program for next year's exciting 50th Anniversary of the AZTLAN Dance Company.
Yolanda Sanchez – Lifetime Achievement
Yolanda Sanchez, born in Monterrey, Nuevo Leon, Mexico, has been a cherished member of the Round Rock community for over 44 years. As the Founder and Artistic Director of the Round Rock Ballet Folklórico (R-R-B-F), she has passionately dedicated her life to preserving and promoting authentic Mexican folklore. Yolanda's leadership has led the RRBF to receive recognition and numerous awards in national competitions, showcasing their talent and commitment. In addition to her work with the RRBF, Yolanda has spearheaded remarkable community events such as the annual Mother's Day Event, the Día de los Muertos Event, and the Cultural Fest, fostering cultural awareness and creating opportunities for shared experiences and celebrations. Her impact goes beyond dance, empowering youth and nurturing cultural pride. Yolanda's unwavering dedication and passion have earned her prestigious accolades, including the 2021 Lifetime Achievement Award from the Round Rock Chamber of Commerce. Her legacy will continue to inspire future generations, uniting communities and preserving cultural traditions through the captivating art of dance.
Henry Gonzalez – Lifetime Achievement (posthumous)
Henry Gonzalez was born August 6, 1950, in Brownsville, Texas to a large and loving Latino family. He died on February 29, 2016 after an intense 16 month battle against cancer.  Growing up in Brownsville and Corpus Christi, Henry got to Austin as quick as he could in 1972.  Although he attended several of Texas' finest state schools he left academia to become an integral part of the Austin music scene, working at The Armadillo World Headquarters, the Austin Opera House and later touring and working for several national and local bands, including Greg Allman, Stevie Ray Vaughan, The Fabulous Thunderbirds, Asleep at the Wheel and Beto Y Los Fairlanes.  He was an artist, stage hand, stage manager and mentor to the next generation.  He recognized early on the importance of Austin's music culture and in 2004 Henry was part of the founding group of the South Austin Museum of Popular Culture, where that unique culture is celebrated, and spent the rest of his life as the driving force of that organization.
Farah Rivera – Lifetime Achievement (posthumous)
Farah Rivera was a truly inspiring community leader. She advocated for the disabled with passion, rigor, and grace. Regardless of several illnesses, she would spend countless hours in service of her friends, her community at the Rebekah Baines Johnson Senior and Disabled Center (RBJ), her fellow Festival Beach garden leaders, and those disenfranchised by our society's systems. Farah was active in numerous community boards, making indelible impacts in the name of care, vibrancy, and beauty. In 2013, Farah founded the Serafina Food Pantry to provide access to healthy food and daily necessities for her low-income senior community. Serafina was her grandmother's name, it means "hands of light". Farah could often be found handing bundles of food and supplies to people who had nowhere else to go for support, some would travel great distances. She played an essential role in the creation, leadership, and accessibility of the Festival Beach Community Garden and Food Forest. These spaces have provided joy, beauty, and vitality to our communities, our pollinators, our habitats, and ecosystems. Farah's mission was always to make nourishment and vibrancy available to all. She was was also a well-known photojournalist and professor in her native Puerto Rico. Farah Rivera-Ortiz passed away on Saturday, January 22, 2022, at the age of 59.
Awards of Excellence Recipients 2009 - 2021
2021 
Ana Maciel, Service
Dr. Maggie Rivas-Rodriguez, Service
Bobbie Garza-Hernandez, Lifetime Achievement
Dr. Angela Valenzuela, Lifetime Achievement
Jose Pasco, Emerging Artist
Fany Macias, Emerging Artist
Lydia Cdebaca Cruz, Arts Educator
Dr. Tracey Flores, Arts Educator
Mery Godigna-Collet, The Arts
Federico Archuleta, The Arts
*The entire 2021 Awards of Excellence ceremony is available to watch below:
VIEW THE 2021 AWARDS OF EXCELLENCE RECORDING
2019
John Estrada, Emerging Artist
Leticia Urieta, Arts Educator
Ender Martos, Visual Art
Ire'ne Lara Silva, Literary Art
Carrie Rodriguez, Music
Luis Guerra, Lifetime Achievement
2018
Lesly Reynaga, Emerging Artist
Dr. Emilio Zamora, Service
Nancy Flores, Media Arts
Fidencio Duran, Visual Arts
Ruben Ramos, Music
Martha P. Cotera, Lifetime Achievement
2017
Tomas Salas, The Arts
Edgar Yepez, Arts Educator
Hector Miranda, Emerging Artist
Gloria Mata-Pennington, Lifetime Achievement
Enrique Cruz, Patronage
2016
Liliana Wilson, Visual Arts
Tomas Medina, Music
Toni Bravo, Dance
Hector Galán, Film
Rupert and JoAnn Reyes, Theater
Michael Anthony Garcia, Multidisciplinary
Nora Comstock, Patronage
Council Member Renteria, Service
Gerardo Arellano, Emerging Artist
Roberto Mendoza, Arts Education
Sylvia Orozco, Lifetime Achievement
2015
Jaime Salvador Castillo, Emerging Artist
Paloma Mayorga, Emerging Artist
Mario José Troncoso, Emerging Artist
Frank Rodriguez, Service
Rene Renteria, Service
Dr. Andrés Tijerina, Lifetime Achievement
2014
Ezekiel "Zeke" Robert Castro, Lifetime Achievement
Eugenio del Bosque, Service
Mary Gonzalez-Reyna, Music
Rodolfo "Rudy" Mendez, Theater & Dance
Cynthia Pérez, Service
Ishmael Soto, Visual Arts
José Treviño, Visual Arts
Tiarra Girls, Emerging Artist
Telemundo Austin, Patronage
2012
Claudia Zapata, Service
Alfredo Estrada, Patronage
Anthony Ortiz Jr., Emerging Artist
Austin Latino Theater Alliance, Arts
Raul Valdez, Lifetime Achievement
Manuel "Cowboy" Donley, Lifetime Achievement
Johnny Degollado, Lifetime Achievement
2011
Latinitas, Service
Gavin Garcia, Patronage
Luis Ordaz, Emerging Artist
Sam Z. Coronado, Arts
Maria F. Salinas, Lifetime Achievement
2009
Simon Orta, Service
About Pétalos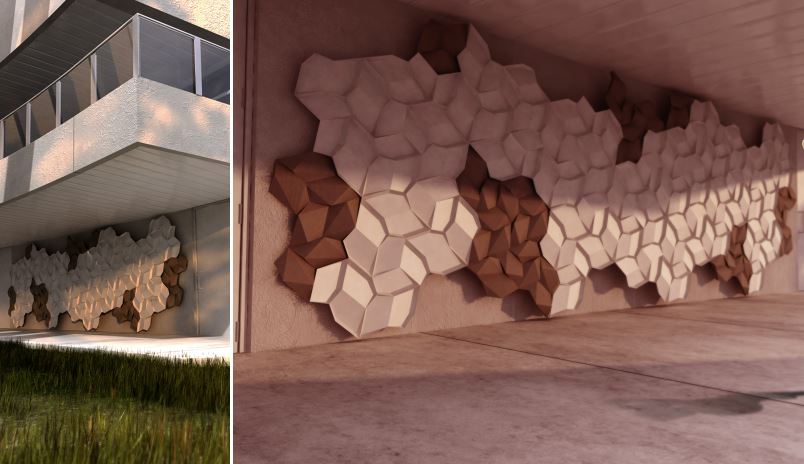 Robert Mezquiti's Pétalos is a permanent art installation at the ESB-MACC that serves as an award wall in which members of the Mexican-American Community are honored. Pétalos is a series of petals, each representing an equal part of our cultural fabric. Each individual petal honors a member of our community who has contributed significantly through service or art and holds a place for those who will continue to shape our culture in the future. Pétalos embodies the potential of infinity- only possible through the collection of continuous equal parts.