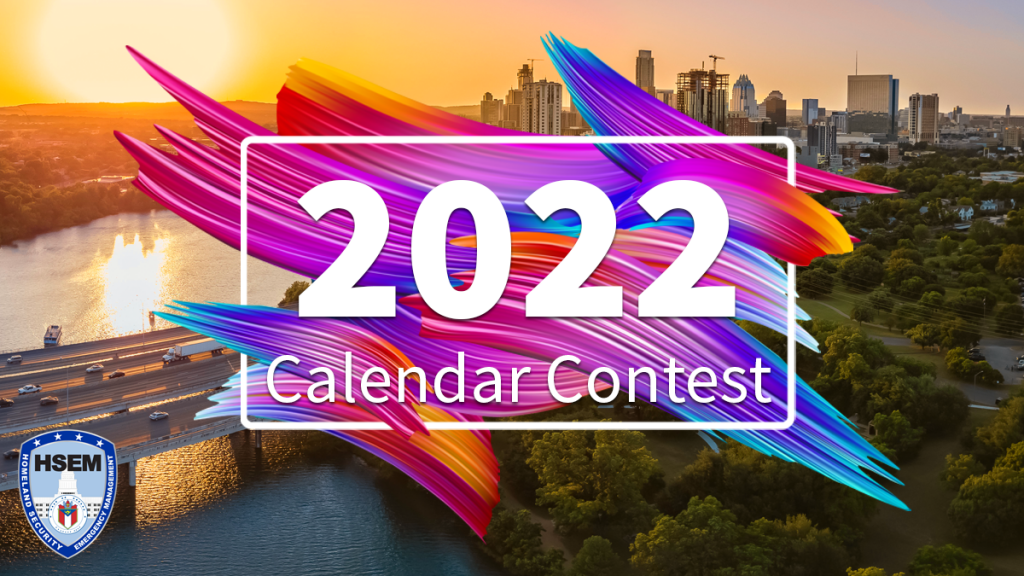 For 2022 the City of Austin Office of Homeland Security and Emergency Management (HSEM) will again design the Emergency Preparedness Calendar to feature student artwork. HSEM invites you to submit your child's emergency preparedness creations in the 2022 Emergency Preparedness Calendar Contest. The contest is open to all 1st through 5th grade students whose school (or residence) is physically located within the Austin city limits, regardless of the independent school district.
September is National Preparedness Month and HSEM is encouraging everyone to prepare for emergencies - including kids. As part of National Preparedness Month we are asking for elementary school students to learn and share artwork about emergency preparedness. Throughout September we will share information on our social media and other platforms about our four key steps to preparedness:
Make a Plan
Build a Kit
Know your Neighbors
Stay Informed
SUBJECT OF ARTWORK:
Family emergency preparedness actions, severe weather conditions occurring in central Texas, and man-made disasters.
Examples of a family emergency preparedness action are the creation of a home or vehicle emergency kit or practicing a disaster plan, such as an evacuation plan.
Severe weather hazards are tornado, hail, flash flooding, lightning, excessive heat or cold and dangerous icy conditions.
Examples of man-made disasters are terrorism, wildfires, train derailment, chemical spills, building fires and epidemic. Artwork should also contain a safety message about the specific hazard featured.
Note: Remember this is a 12-month calendar, severe weather occurs throughout the year. Ice storms, extreme cold, and flu season are better examples of the late fall and winter months than a tornado or flash flood. Drought, excessive heat and hail work well for summer months. Man-made disasters, communication plans and emergency kits will fit in any month.
Information on personal safety during severe weather and man-made disasters are available at public education websites such as: 
National Preparedness Month
HSEM Preparedness Information
Ready.Gov
Texas Disaster Preparedness
KnoWhat2Do
National Weather Service - Safety Information
CDC - Disaster Information
Red Cross Disaster Preparedness
Artwork Guidelines:
Artwork must consist of paint, pen/pencil, pastel, collage, crayons, computer graphics or any combination of listed materials. No glitter please.
Artwork should be created and submitted on poster board up to 12" x 18" for 3-D; drawing or construction paper that is 8.5" x 11, 12" x 24", or 9" x 12".
Fill out the submission form that contains student name, home address, telephone number, grade, school, school district, teacher name (if applicable). We will need to contact winning artist's family as well as art teachers and principals to invite them to the awards ceremony.
Evaluation Criteria:
Artwork will be evaluated on creative visual quality and safety message content. Depending on the number of entries, a minimum of one finalist from each submitting school will be chosen in the first round. First round finalists will compete in a second round of evaluation for the Front Cover and 12 monthly calendar positions. There will also be a block of semi-finalist entries on the back cover.
Contest evaluation panel will be made up of City of Austin Office of Homeland Security Emergency Management and the Travis County Office of Emergency Management.
Awards:
All student participants will receive a commemorative pin or certificate from City of Austin HSEM. Front Cover and Monthly winning artists will receive a trophy and NOAA weather radio at an award ceremony to be held at Austin City Hall. If in-person meetings are not being held, a virtual presentation will be offered. Winning artists are presented to the Austin City Council during an evening meeting. Semi-finalists will receive a medal with ribbon, to be presented by their art teacher during their regularly scheduled art class or school awards day.
The deadline for submitting artwork is 11:59 p.m. Friday, October 1, 2021.
All artwork must be submitted to the City of Austin Office of Homeland Security and Emergency Management either electronically or mailed to:
ATTN: HSEM
P.O. Box 1088
Austin, TX 78767
To submit electronically please visit: https://cityofaustin.formstack.com/forms/preparedness_calendar
Artwork submitted after the October 1, 2021 deadline will not be accepted. Winners will be announced in October.
Original artwork that is mailed will become property of the City of Austin HSEM and will not be returned. City of Austin HSEM reserves the right to publish artwork as deemed beneficial for public education.
---

About the 2021 Calendar
For the 2021 calendar, the Office of Homeland Security and Emergency Management (HSEM) partnered with the Travis County Office of Emergency Management (TCOEM) and looked to the community asking for 2nd through 5th graders across Travis County to share what they believed to be the most important safety information.
Each month will feature artwork related to emergency awareness or preparedness, as well as feature actions items you and your family should accomplish for the month. Make a plan and discuss as a family the important steps taken to prepare for all around emergencies. Additionally messaging will be shared from each month on social media.
Thank you from all the staff at HSEM and TCOEM for the wonderful submissions and cannot wait to see what our future emergency managers have prepared for next year. We look forward to continuing to partner with our local young artists, school districts, and everyone in-between who makes these kinds of projects possible.
---
2021 Calendar Winners
We are excited to announce the following students will be featured for each month of the 2021 Emergency Preparedness Calendar. Congratulations to everyone who participated and provided outstanding artwork.
January - Parker S. (5th Grade), Kiker Elementary (Austin ISD)
February - Bryn T. (2nd Grade), Barton Hills Elementary (Austin ISD)
March - Elizabeth O. (3rd Grade), Rojas Elementary (Pflugerville ISD)
April - Lila C. (2nd Grade), Barton Hills Elementary (Austin ISD)
May - Kendall G. (2nd Grade), Serene Hills Elementary (Lake Travis ISD)
June - Anyra D. (5th Grade), Blake Manor Elementary (Manor ISD)
July - Richard C. (2nd Grade), Cedar Creek Elementary (Eanes ISD)
August - Sarah M. (4th Grade), Zilker Elementary (Austin ISD)
September - Dean P. (4th Grade), Becker Elementary (Austin ISD)
October - Liberty B. (5th Grade), Blake Manor Elementary (Manor ISD)
November - Sofia A. (5th Grade), Serene Hills Elementary (Lake Travis ISD)
December - Macklin K. (2nd Grade), Oak Hill Elementary (Austin ISD)
Be on the lookout for news on how to submit artwork for 2022 calendar in the near future!
---
Where to Find the Calendar
Due to COVID-19, the 2021 calendar distribution has been slightly altered. Pick up is available now at 11 Austin Public Library branches listed below that offer curbside pickup.
For more information about the hours and pickup service visit the Austin Public Library's Curbside Hold Pickup Service web page.
---
Digital Download
If you would like to download a digital version of the calendar to print yourself, below is a high-quality and compressed PDF version of the calendar. For printing at the best quality, the high quality version is recommended, however the compressed version can still be used for printing as well.
2021 Calendar - High Quality (Please contact HSEM Communications to recieve press quality file)
2021 Calendar - Compressed (6mb)
---
Thank You to Our Partners
The 2021 Emergency Preparedness calendar was truly a community effort - from all the artwork submissions to the cooperation of the school districts and art teachers who made this possible.
Austin ISD, De Valle ISD, Dripping Springs ISD, Eanes ISD, Elgin ISD, Hays CISD, Lago Vista ISD, Lake Travis ISD, Leander ISD, Manor ISD, Marble Falls ISD, Pflugerville ISD, and Round Rock ISD.
---
Stay Emergency Prepared
For more information on emergency preparedness tools and information visit HSEM Preparedness or Travis County Office of Emergency Management.