COVID-19 Update: Due to resource limitations and for the safety of on the ground volunteers and staff, Trap Neuter Return (TNR) through Community Cats is currently suspended. 
In compliance with the City of Austin, we have altered shelter operations and in-field response to minimize human contact for residents while remaining committed to both public safety and lifesaving. Animal Protection Officers will continue to respond to urgent, high-priority calls including sick or injured animals and animals that threaten public safety. Please call 311 for a service request.
We look forward to resuming TNR when it is safe to do so. We need your help now more than ever to keep kittens where they are safest- with mom. Most kittens don't need to be rescued!  
Austin is home to thousands of community cats, otherwise known as free roaming cats without identifiable owners. Community cats can be feral, semi-friendly, or even friendly. Here in Texas, kitten season is typically at its height between April and October. During these months, you're more likely to come across kittens and notice an increased activity in free roaming adult cats.
Use the visual guides on this page to help us save lives while we navigate City of Austin's COVID-19 emergency protocol: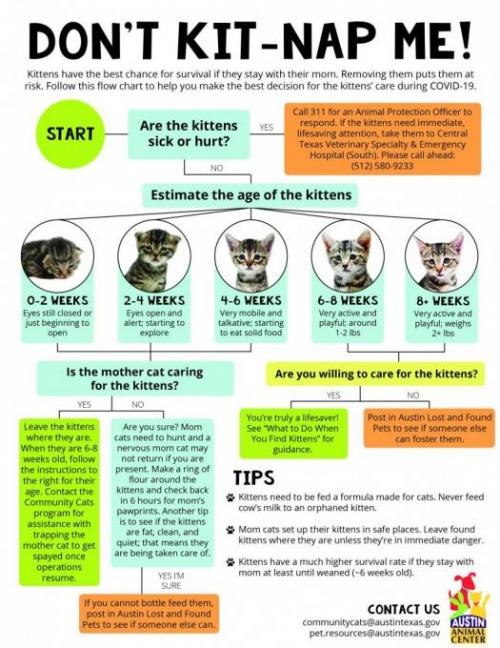 Sick and injured cats and kittens of any age or cats in immediate danger: If you see a cat that is sick or injured (lethargic, limping badly, appears dehydrated or emaciated, has been hit by a car or has open wounds or sores), call 311 for Animal Protection. Animal Protection will continue to respond to high-priority calls which includes sick and injured animals.  
Community Cat Medical Voucher program: we are proud to offer medical vouchers for community cats with a medical condition or injury which is not life threatening but is negatively impacting the cat's quality of life.  Email the Community Cats program at communitycats@austintexas.gov for more information about our medical voucher program. Vouchers are for unowned cats residing in the City of Austin or parts of Travis County which we serve. The Community Cats medical voucher program is still going strong during COVID-19 emergency response, and we greatly appreciate you assisting unowned cats in need! If you believe that the cat cannot wait for medical care, call 311.  
Resources
Fostering kittens- if mama cat hasn't come back in 6-8 hours and you've determined that the kittens are orphaned, Kitten Lady has everything you need to get you up to speed. Fostering saves lives!:
Humane deterrents; FAQs and tips to reduce unwanted behaviors:
Best practices if you care for community cats in your neighborhood, including colony care:
Adopting an outdoor cat
Indoor/outdoor pet cats
Community cat shelters
For more information, email communitycats@austintexas.gov or call 512-978-0504