User Guide
Welcome
Thank you for all that you and your team are doing to serve our community during this time of unprecedented need. We would like to work together to generate awareness and support for your work on the COVID-19 response.
---
Get Ready for Round Two. 
The How to Help Campaign has stayed live, but with the holidays coming up we are planning another promotional push in November. Use this guide to add your COVID-19 related listing now. 
The How to Help Campaign was created to share participation opportunities with members of our community who want to help during COVID-19.
This guide provides information about:
The COVID-19: How to Help Initiative
How to generate support as an organization 
How to use GivePulse technology to create and manage opportunities
What to do when you need technical support
If you have questions about the initiative, please reach out to Kim Caldwell (kimberly.caldwell@austintexas.gov); for questions about GivePulse, please reach out to Mariana Prieto (mariana@givepulse.com). 
Initiative Overview
The goal of this initiative is to create an Austin/Travis County-based hub for opportunities to help during the COVID-19 response, directing community members to contribute funds and/or people power in a safe and meaningful way. 
The City has created a COVID-19: How to Help site on GivePulse. GivePulse  is an Austin-based technology platform to list, find, organize and measure the impact of service in the community. The site compiles opportunities created by nonprofits, faith-based organizations, and government entities. The goal of using GivePulse is to make it as easy as possible for people to learn about and support your urgent needs.
While the technology allows everyone to share opportunities, as part of the COVID-19 response, GivePulse is offering participating organizations access to a free Silver account to maximize the impact of each listing. 
Community Partners supporting the campaign include:
The campaign launched to the public in June, 2020, and will continue to be promoted by City Leaders, Partner organizations, press releases, social media, email marketing and more. 
What to Share
To be successful, this initiative requires that organizations like yours create opportunities for COVID-19 related support. This can include:
Specific fundraising campaigns 
In-person volunteer events
Distance and/or skilled volunteering opportunities
Donation drives
Ongoing opportunities to help
The site will be moderated by the City of Austin, only approving credible local opportunities related to COVID-19. 
Getting Started
1. Develop Opportunities
The help needed most right now will look different for every organization. Whether you have safe in-person volunteer opportunities or increased costs for cleaning supplies, using the How to Help hub starts with clearly stating your need and what someone can do to meet it.
Examples of opportunities include:
Contact-less drop off of meals or shelf-stable food
Graphic design or web design project for program support
Donation drive for clothing and hygiene supplies
Fundraiser for increased service costs related to COVID-19 safety protocols
Volunteers for online tutoring or group classes
 Questions about what to include? Contact Public Information Officer Kim Caldwell at (kimberly.caldwell@austintexas.gov) to discuss.  
2. Create Opportunity
Go to howtohelpaustin.givepulse.com/list to create a volunteer opportunity, fundraiser, or donation drive. This will associate your listing with the City of Austin COVID-19: How to Help Campaign. 
Fill out all of the required information as prompted, and make sure that you specify that your event is in direct response to COVID-19.  We recommend that once your event is listed, you enable guest registrations. through your event dashboard. 
If you already have a GivePulse account…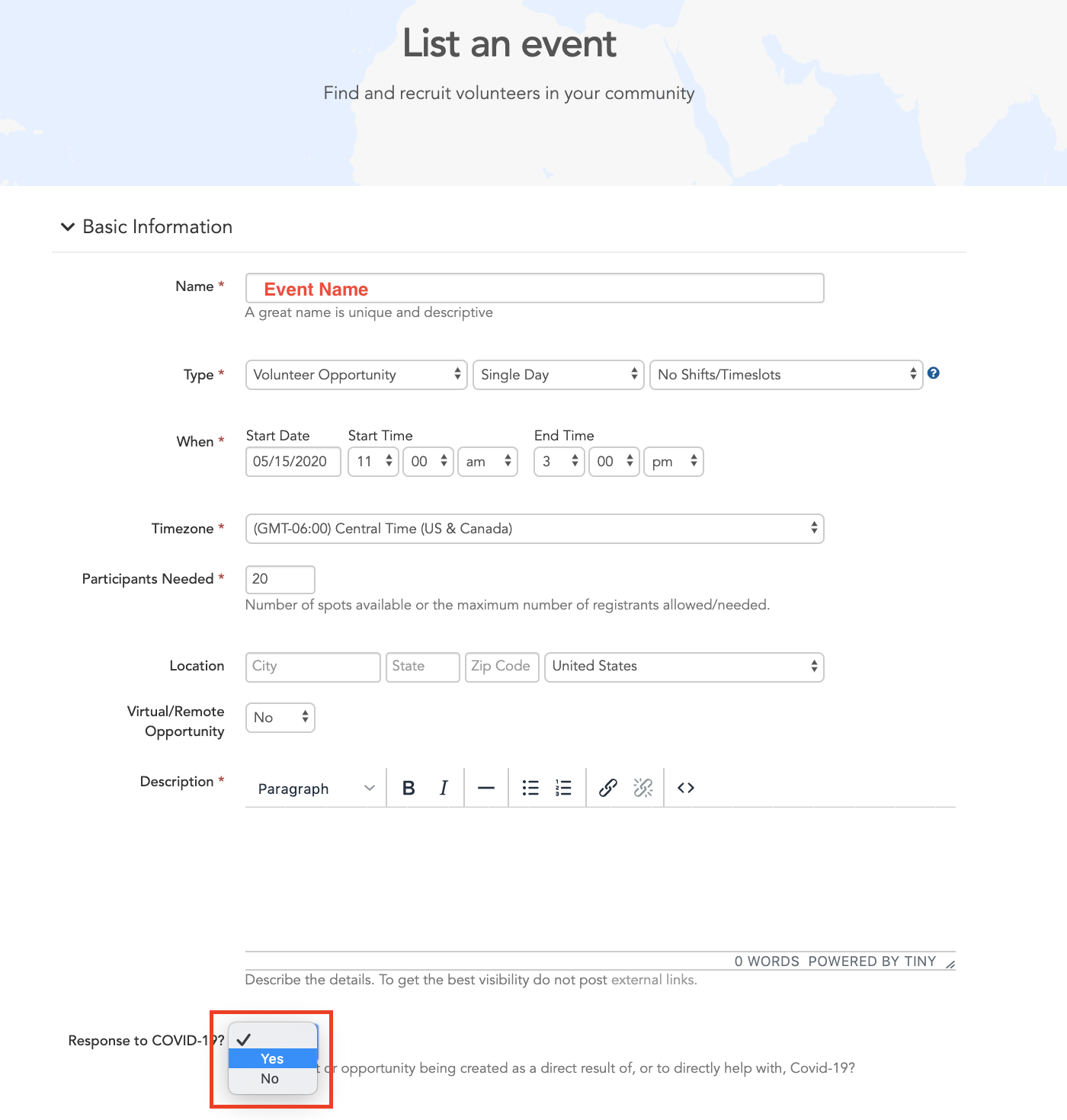 For additional help selecting your event type and frequency, you can visit support.givepulse.com, or contact GivePulse Support at support@givepulse.com. 
When you click continue, you will be prompted to sign up, or log in to GivePulse. You can log in through your Facebook or Gmail, or create a new account using your email and a unique password. By creating an account, you will have the ability to manage your current event, create future events, including fundraisers, and manage your future volunteers.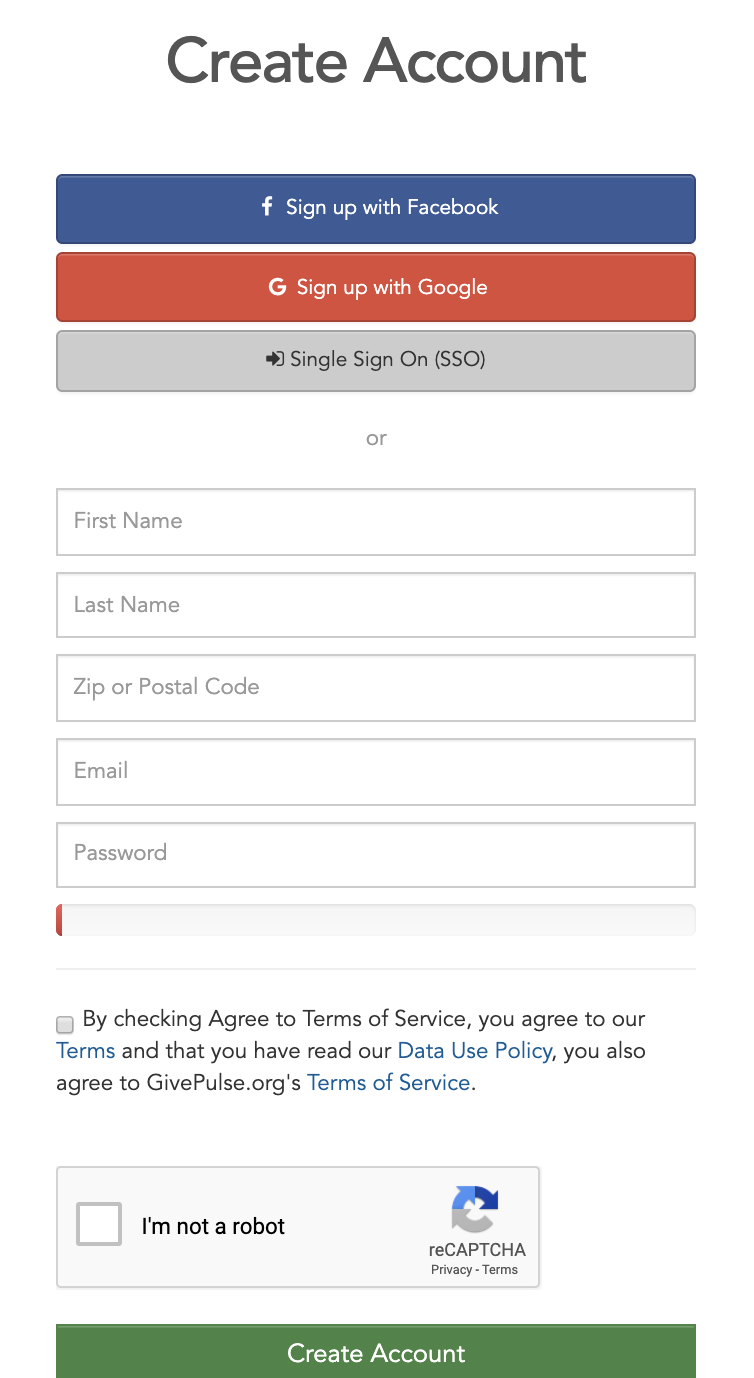 If you believe you already have an account, you can easily reset your password. 
Finally, you will be prompted to create your organization's group. The group establishes a GivePulse page for your organization, grouping together the listings you create. If you already have a group through GivePulse, you will be prompted to select your existing group or you can continue creating a brand new group. 
Please ensure that you select "List my Events" under Create Affiliation. This will allow the City of Austin to share your events with the community.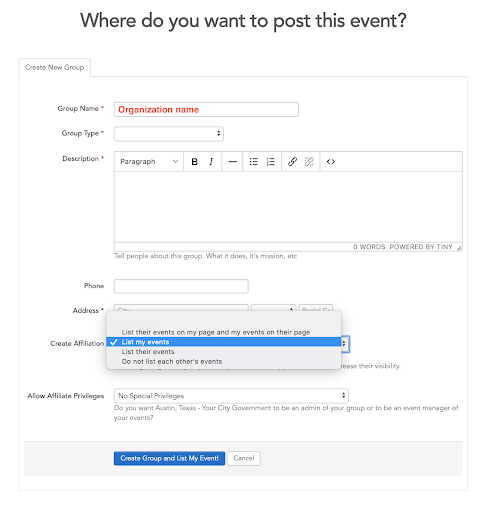 3. Manage your Listing
Now that you have created your group and listed your event, you will be given access to your admin dashboard (click here for help navigating your group dashboard), where you can manage your volunteers and their registrations, and create more volunteer opportunities, fundraisers, and donation drives.
Get the Support You Need
The goal of using GivePulse is to make it as easy as possible for people to learn about and support your urgent needs. GivePulse has many resources available to help you use the technology: