Norman Wilfred Scales, Sr. was a World War II African-American fighter pilot. He grew up in south and east Austin and graduated from L. C. Anderson High School and then Tillotson College (now Huston-Tillotson University).
In 1940, he joined the United States Army and trained as a pilot to become one of the Tuskegee Airmen. He became the first Black pilot commissioned as a second lieutenant from Austin and would eventually become a captain.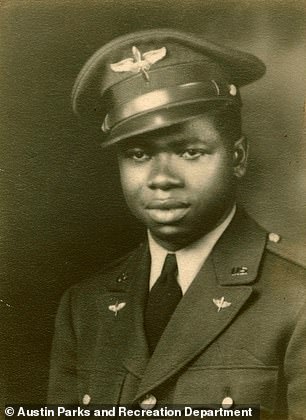 While serving, he flew seventy missions over enemy territory and even survived a plane crash. He was awarded the Distinguished Flying Cross and the Certificate of Valor in recognition of his exemplary wartime accomplishments. 
Norman Scales died in Austin on May 24, 1981. 
He is buried in Evergreen Cemetery next to his wife. 
In 1989 Scales was posthumously recognized with an Honors Award by the Texas Association for the Study of Afro-American Life and History. The ceremony was held in the state Capitol's Senate Chamber. Then, in 1999 the Texas Senate adopted a resolution that praised Captain Scales's wartime service to the United States. 
And most recently, Scales Street in Austin's Mueller neighborhood was named for him in his honor.