The Givens District Park Vision Plan was approved in January 2019. Using 2018 bond funds, the first phase of implementing the park plan is set to begin. Community engagement began in November 2019.
GIVENS PARK PLAYGROUND CONSTRUCTION
Givens Park Playground, located near the recreation center, will be closed for construction from October 20, 2020 to March 2021. Improvements will include installing a new playground, more seating, music games, and a sidewalk connecting to E. 12th Street.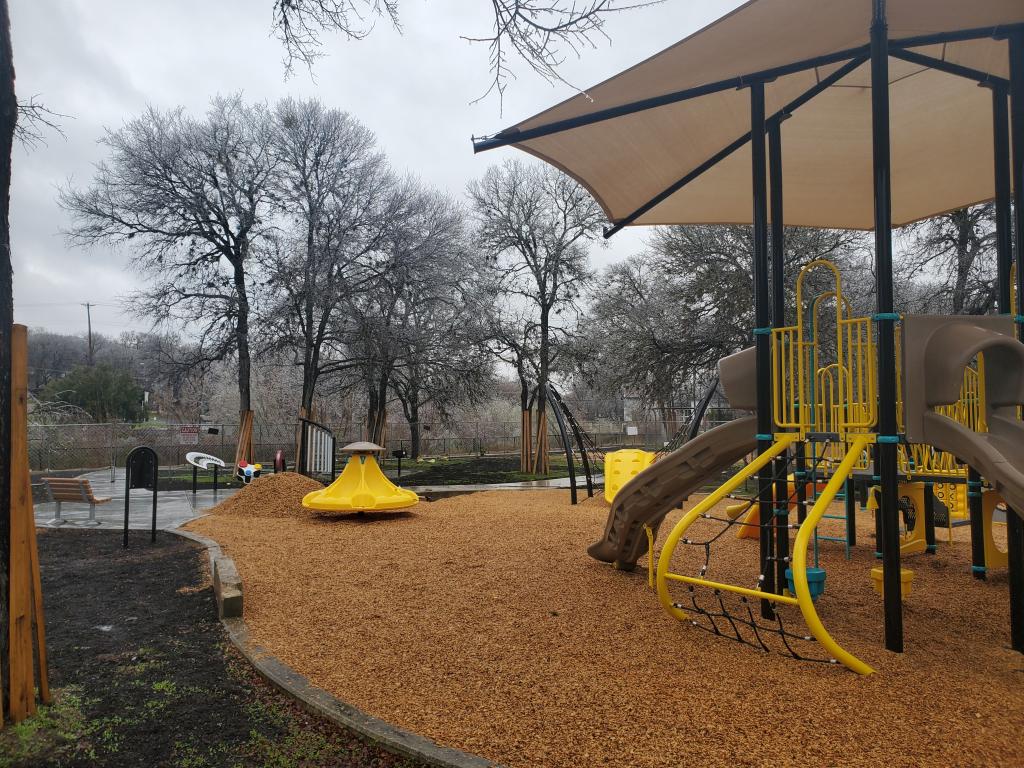 Tannehill Creek traverses through the entire park and provides a source of water for many of the large shade trees located along its banks. The 40 acre district park was acquired in 1957 and named after Dr. Everett H. Givens in 1962. The park has a recreation center, swimming pool, two large covered pavilions, restrooms, playscape, basketball courts, tennis courts, picnic tables, and a two ball fields.
Approved Givens District Park Vision Plan
The park vision plan was approved in January 2019.
Community Engagement
Community input was instrumental in the planning process and will continue to be needed to ensure that the first phase of vision plan implementation reflects the desires of the community.
Community Meeting
Wednesday, November 13, 2019, 6 to 8 p.m.
Givens Recreation Center, 3811 E. 12th St., Austin, TX 78721
Project Goals and Timeline
The project goal is to begin implementation of Phase I of the Givens District Park Vision Plan. Community engagement will begin on November 13, 2019. Phase I will address the following aspects of the vision plan:
Replacing the playscape north of the recreation center.
Resurfacing and repairing the multi-use sports courts in the southeast corner of the park.
Building a new, larger and accessible restroom adjacent to the multi-purpose field.
Replacing the existing ballfield south of the recreation center with a multipurpose field.
Paving the area adjacent to the restroom/stage for concessionaires and food trucks.
Tentative Timeline
Early October 2019: Givens Working Group meets to review Community Engagement Plan and Phase 1 implementation
November 2019: Community Meeting and Open Survey; walk the park
December 2019: Givens Working Group meeting to review input; share input back with community
Early summer 2020: Construction of playscape
Summer 2020: Restrooms and Multi-use Field
Winter/Spring 2020: Sport Courts
Fall 2021: Restrooms and Multi-use Field
 
D'Anne Williams is the project manager.