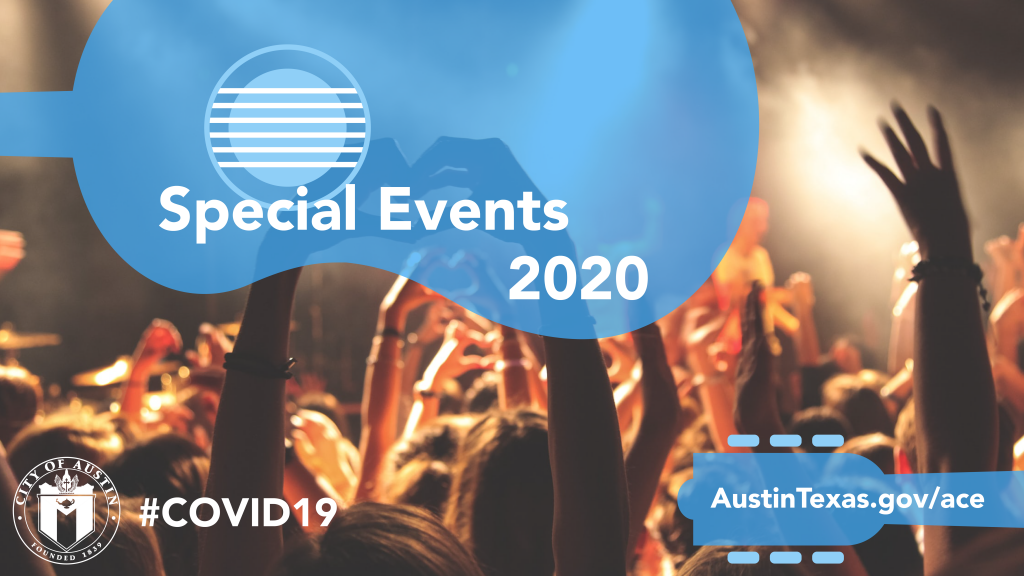 COVID-19 Special Event Updates
COVID-19 Updates: October 15, 2020
Governor Abbot issued Executive Order (GA 32) on October 7, 2020, with an effective date of October 14, 2020. Outlined below are the updates as they relate to the experience sector and live event industry. Read the full Order for other industry impacts.
Business Operational Capacity Impacts
The general rule is that all businesses may now operate at 75% of the total listed occupancy of the establishment, except as otherwise provided in the Order.
Outdoor Gatherings
An outdoor gathering in excess of 10 people, other than the exceptions listed below, is prohibited unless the mayor of the city in which the gathering is held, or the county judge in the case of a gathering in an unincorporated area, approves of the gathering, and such approval can be made subject to certain conditions or restrictions not inconsistent with the Governor's executive order.
 
The Special Events Office, which includes Austin Public Health, will continue to process special event applications and their accompanying risk mitigation plans in accordance with state and local Orders.
 
Outdoor Occupancy Exceptions:
Outdoor events of more than 10 people are prohibited with some exceptions. All exceptions require COVID-19 health and safety protocols including face coverings, social distancing and more as outlined in the latest Orders issued by the Mayor and Governor and must comply with Texas Department of State Health Services (DSHS) health protocols.
The 75% outdoor occupancy limit applies to the following outdoor areas, events, or establishments, including:
a. swimming pools;
b. museums and libraries;
c. zoos, aquariums, natural caverns, and similar facilities;
d. amusements parks; and
e. water parks
 
A 50% indoor/outdoor limit applies professional, collegiate and similar to the following sporting events, including rodeos and equestrian events.
There is no occupancy limit to drive-in concerts, movies, or similar events, under guidelines that facilitate appropriate social distancing, that generally require spectators to remain in their vehicles, and that minimize in-person contact between people who are not in the same household or vehicle.
 
Fine Arts Performance Halls:
Fine arts performance halls may operate indoors up to 75% of the total listed occupancy; there is no occupancy limit on fine arts performance halls operating outdoors, however, 6 feet distancing between groups is needed and groups cannot exceed 10 persons. The performance hall's employees and contractors are not counted towards the 75% occupancy limitation.   
                                                               
Outdoor Dining:  
Restaurants are limited to 75% total listed occupancy indoors but are not subject to an occupancy limit for outdoor dining (dine-in service allowed only if customers are seated while eating and drinking).
Outdoor Motorsports Events 
Permitted up to 50% of normal operating limits as determined by the venue owner. Must follow health protocols including face coverings, social distancing, etc.  
Outdoor Sports 
Permitted if there is no contact between participants and no more than 10 participants play the sport at any time. Must comply with DSHS health protocol requirements. 
Religious Services 
Permitted, including those conducted in a church, congregation, or houses of workshop.
Recreational Youth Sports 
Permitted. Spectators should maintain at least 6 feet of social distance from individuals not in the spectator's group. Must comply with DSHS health protocol requirements.
  
Wedding and Wedding Receptions
A wedding reception held at a restaurant should follow the restaurant protocol.  Wedding reception services held at other indoor locations are limited to 75% of the facility's total listed occupancy. A wedding that is held in a house of worship does not have an occupancy limit. A wedding that is held at an inside venue other than a house of worship is limited to 75% of the total listed occupancy of the facility. There are no outdoor occupancy limits for weddings or wedding receptions. Weddings and wedding receptions must follow health protocols (required face coverings, social distancing, etc.).
Youth Camps 
Permitted. Face coverings, social distancing, and DSHS health protocol requirements must be followed. 
Staff members are not included in determining operating levels, except for manufacturing services and office workers.
Risk Based Guidelines
The City of Austin wants to provide consistent guidance on what is safe and healthy for individuals, businesses, and organizations. Austin Public Health (APH) does not want to only focus on a single number; hospitalizations. APH does monitor new hospital admissions as the primary key indicator for staging, but also looks to additional indicators, including positivity rate, doubling time of new cases, and current ICU and ventilator patients. Multiple indicators are necessary to guide critical reopening decisions.
 
These factors also help determine how APH applies the Austin Public Health Risk-Based Guidelines, which are recommendations for local personal behavior. Austin-Travis County is currently in Stage 3. In Stage 3, everyone should avoid social gatherings of any size and encourage high-risk individuals to avoid travel, dining, and shopping that is non-essential.
Special Event Guidance During COVID-19
City of Austin has additional specifications for events during COVID-19.
Car Parade Guidance (English PDF)
Drive-In Concert Guidance (English PDF) 
Reopening Every Venue Safely (REVS) Best Practices for Music Venues (English PDF) 
Resources and More Information 
If you have questions about your event application or future plans, contact specialevents@austintexas.gov and we can schedule a remote meeting with you.
Get Around
Micromobility: Micromobility Guidelines People who plan to use micromobility services, like scooters and some bikes, should do so in a safe and ethical manner. Please help keep Austin moving safely.
Get Home Safe: Friendly reminder that buzzed driving is drunk driving. Know how you're getting home before leaving for a night on the town. 
Capital Metro: Capital Metro can help you get around. Check out routes, maps and download their app to help you navigate Austin public transit.  
Austin-Bergstrom International Airport: ABIA Ground Transportation information and a video to help you navigate ride share pick-up at the Airport. 
Special Event Permit Application Cancellation from Spring 2020
The City received just under 200 Spring Festival Season permit applications. A list of the permit application cancellations is available. Cancellations may be for any reason, including but not limited to the Austin-Travis County Orders to prohibit mass gatherings.