The following PARD facilities are CLOSED to the public:
Girl Scout Cabin indoor space 
Sunshine Camp indoor space 
Zilker Caretaker House
Park Entry Day Use Passes for Emma Long Metropolitan Parks

Must be reserved in advanced online (reservation required for visits Friday - Sunday)  

No entry is granted without a day pass reservation
Passes available 14 days in advance, and no less than midnight the night before.  Passes are emailed and should be printed for display.  Once at capacity – no additional queuing to get into the park will be allowed.  Limit 2 per day/household.
Persons who do NOT have a computer, may call for assistance during normal office hours 512-974-6797.
Road/Parking Lot Closures
Auditorium Shores - Parking Lot:  Closed July 4 for 4th of July event use.
Auditorium Shores - Parking Lot:  Closed July 5-6 for planned marking/restriping of the parking lot area.
Seaholm Intake Structure - Parking Lot:  Closed July 4 for logisctical uses for 4th of July event preparations.
Parks Projects
Pedestrian Bridge at Roy G. Guerrero Colorado River Metropolitan Park
Date of closure: May 28, 2015 - Summer 2024
Description: The pedestrian bridge is closed due to flood damage until further notice. 
Brush Square
Date of closure:  June 27, 2022 to January 30, 2023.
Description:   Closed for renovations. For more information, please visit Brush Square Plan Implementation website
Restroom Closures 
Walsh Boat Landing Restroom
Date of closure: April 13, 2022 - June 2022
Description: Austin Parks and Recreation will remodel the existing restrooms at Walsh Boat Landing to achieve ADA compliance with updated fixtures and accessories. Access to the park road, boat ramp, and entry will not be impacted during this time. Portable toilets will be available on site for public use during construction. 
Date of closure: March 1, 2021 - TBA
Description: Restrooms listed below are currently closed due to damages from the winter storm.
Bartholomew District Park Restroom
Date of closure:  October 4, 2021
Description:  Due to the recent vandalism, we have made a decision to shut down all restrooms at this location.  Port-o-potties will be delivered and placed on site.  
Zilker Train
Date of closure: May 7, 2019 - TBA
Description: Due to part of the train track near its turnaround breaking away, the train is temporarily closed. For more information visit zilkertrain.org. 
POOLS & SPLASH PADS
Montopolis Pool and Dove Springs Pool
Date of Closure:  June 6, 2022 - TBA
Montopolis Pool and Dove Springs Pool will be temporarily closed due to mechanical issues. Please see our website for alternate pools: https://www.austintexas.gov/page/pools-splash-pads
Gillis Pool
Closed for the 2022 Summer Swim Season
Description:  The Department Aquatics Maintenance team conducted a routine inspection and discovered that the entire operating system must be replaced before the pool can reopen.
TRAILS
Walnut Creek Metropolitan Park
For the safety of park visitors, the Pool Lot Trail in Walnut Creek Metropolitan Park is closed along the limits of construction for the Northern Walnut Creek Trail Section 2A project. The closure will remain in place through late Spring 2022.
Trails that intersect the limits of construction will remain open, but park visitors using these trails will not be able to cross construction areas. One trail cut-through near Walnut Creek, shown on the map, will allow visitors to cross the limits of construction on weekends and after the contractor is done working on weekdays (typically at 5 p.m.)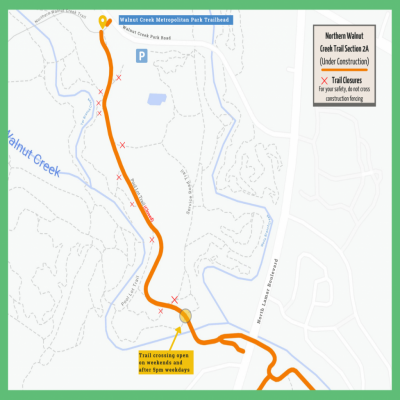 Shoal Creek Trail (24th to 29th of Lamar)
Date of closure: closed indefinitely
Description: Damaged by landslide. Austin Parks and Recreation Department is working with Public Works and the Austin Transportation Department to plan, design and implement improvements to the trail detour route east of the creek.
Walnut Creek Metropolitan Park and Walnut Creek Greenbelt
Date of closure: Intermittent beginning October 25, 2021 - November 2022
Description:  The Pool Lot Trail in the Metropolitan Park and the nature trail in the greenbelt east of Lamar to Oakbrook Ct. will be closed for clearing and then installation of a 1.3 mile, 12 foot wide urban trail extension of the Walnut Creek Regional trail system.
Trail Access Closed at Willow Street
Date of closure: September, 2021 - 2026
Description: Trail access at Willow Street is temporarily closed due to construction. See map for the nearest trail access point. The trail access will be closed throughout construction of 98 Red River for an approximate duration of 64 months.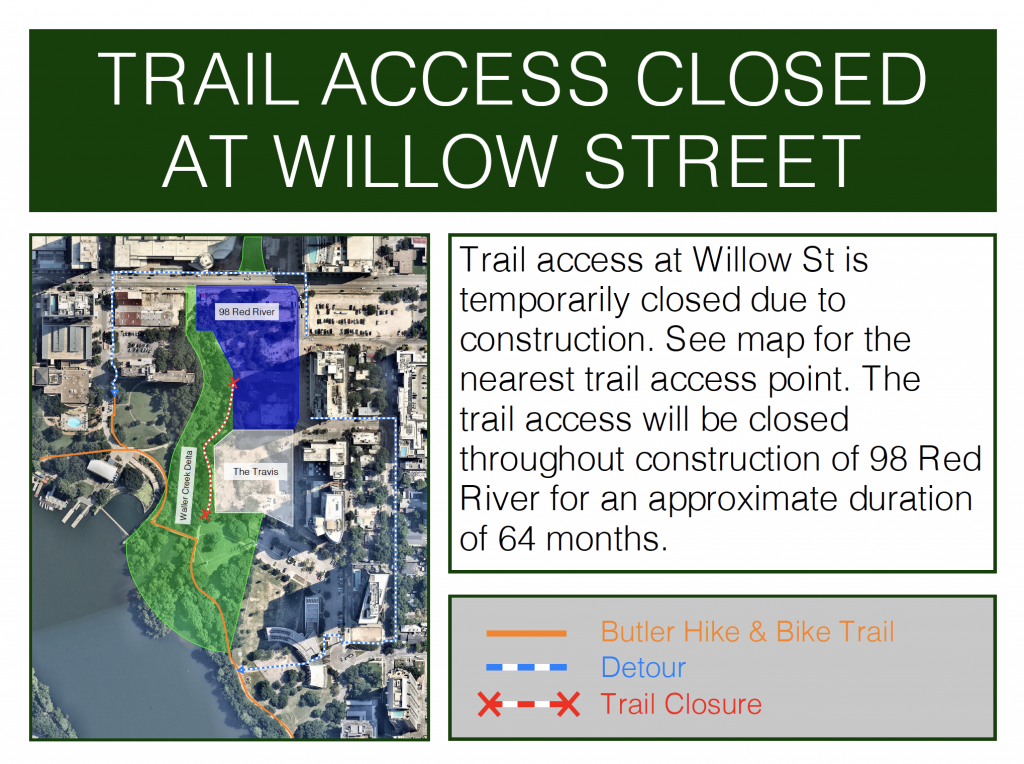 FACILITIES
O. Henry Museum is closed for renovations.
PLAYGROUND
Ellen Higgins Pocket Park Playscape
Date of closure:  March 14, 2022 - TBA
Description:  Replace the two playscapes and repair the sidewalks to meet ADA requirements.
Reed Playground
Date of closure:  July 20 - TBA
Description:  Closed for a playground replacement.
Austin High Tennis Courts is still under construction for resurfacing.
ATHLETICS AND GOLF
Roy Kizer Golf Course
Date of closure:  April 11, 2022 - August 1, 2022
Description:  Renovations
Turf
Great Lawn Closure
On 6/27/2022 – 6/29/2022 the turf staff will be fertilizing the Great Lawn at Zilker Park.   Public application notification signage will be posted at Zilker Park entry points on 6/24/2022.  Entry gates, exit gates and turf areas of the park will be closed to the public until 1pm or until the application dries.
Zilker Public Parking
Visitors can park on the south side of Barton Springs Rd. at Zilker Park.  There is no fee for parking, and they can use the cross walk to safely cross Barton Springs Rd.  They can also park in the Stratford gravel parking lot off Stratford Dr.