Road/Parking Lot Closures
2022 Trail of Lights Load In/Park Access Information - Interactive Map  Ample day-use parking exists in the surface lots south of Barton Springs Road and on the rock area of the Stratford Lot.
Parks Projects
Pedestrian Bridge at Roy G. Guerrero Colorado River Metropolitan Park
Date of closure: May 28, 2015 - Summer 2024
Description: The pedestrian bridge is closed due to flood damage until further notice. 
Brush Square
Date of closure:  June 27, 2022 to January 30, 2023.
Description:   Closed for renovations. For more information, please visit Brush Square Plan Implementation website
Zilker Train
Date of closure: May 7, 2019 - TBA
Description: Due to part of the train track near its turnaround breaking away, the train is temporarily closed. For more information visit zilkertrain.org. 
POOLS & SPLASH PADS
TRAILS
Shoal Creek Trail (24th to 29th of Lamar)
Date of closure: closed indefinitely
Description: Damaged by landslide. Austin Parks and Recreation Department is working with Public Works and the Austin Transportation Department to plan, design and implement improvements to the trail detour route east of the creek.
Walnut Creek Metropolitan Park and Walnut Creek Greenbelt
Update: Portions of the Northern Walnut Creek Trail Section 2A remain closed as construction continues. Visitors can walk or bike along the new trail until they reach the bridge crossings. Please do NOT cross construction fencing closing off the new bridge. This includes the area under the bridge, which is still closed off with safety fence. This is an active construction site while the contractor continues to work on the bridge and boardwalk.   Work is anticipated to be complete in late Fall of 2022.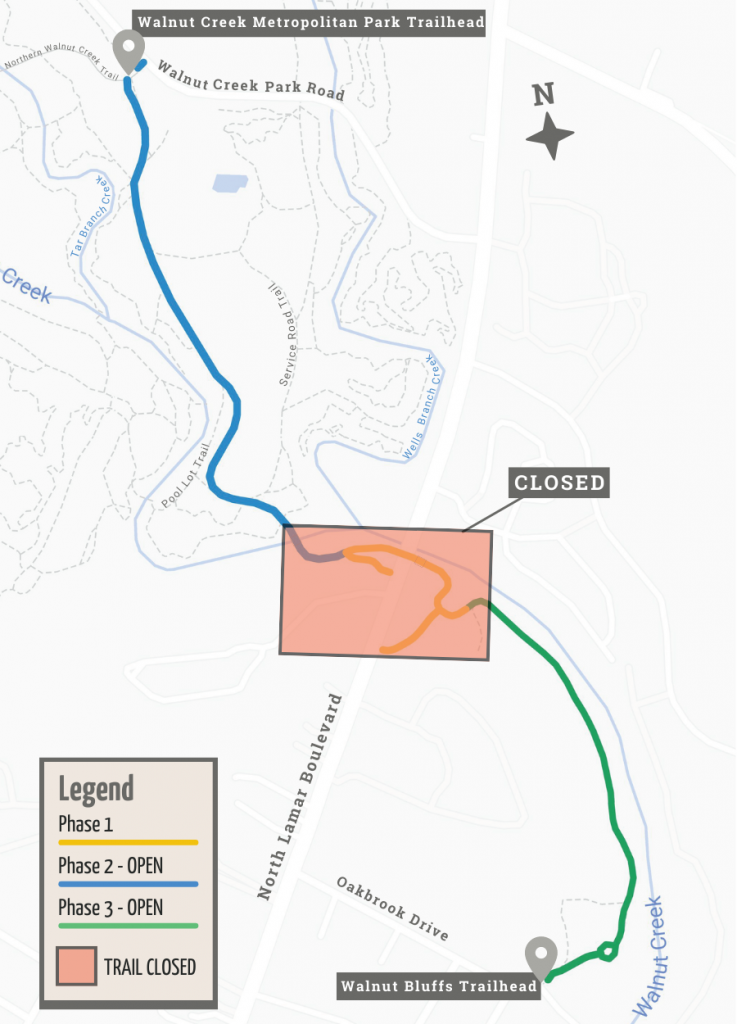 Trail Access Closed at Willow Street
Date of closure: September, 2021 - 2026
Description: Trail access at Willow Street is temporarily closed due to construction. See map for the nearest trail access point. The trail access will be closed throughout construction of 98 Red River for an approximate duration of 64 months.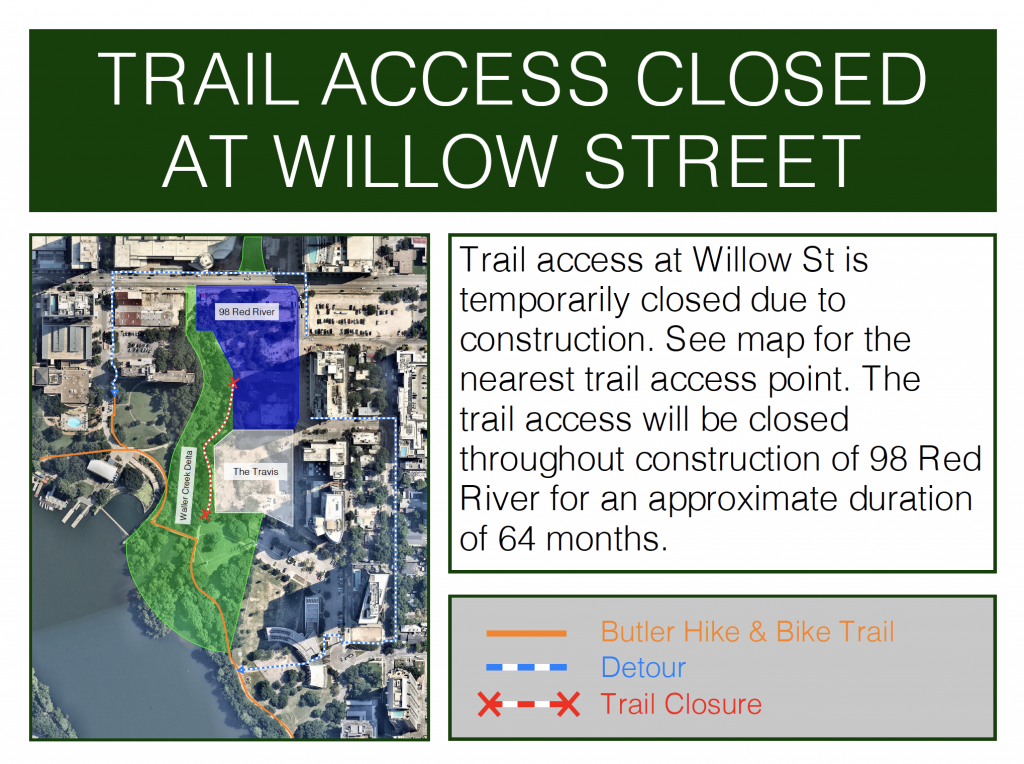 FACILITIES
McBeth Recreation Center
Date of closure:  October 19, 2022 - TBA
Description:  Maintenance
O. Henry Museum is closed for renovations.
PLAYGROUND
Dottie Jordan Neighborhood Park Playground
Date of closure:  October 2022 - March 2023
Description:  Closed for renovation project.
Ellen Higgins Pocket Park Playscape
Date of closure:  March 14, 2022 - TBA
Description:  Replace the two playscapes and repair the sidewalks to meet ADA requirements.
Reed Playground
Date of closure:  July 20 - TBA
Description:  Closed for a playground replacement.
Austin High Tennis Courts is still under construction for resurfacing.
ATHLETICS AND GOLF
Springwoods Tennis Courts
Date of closure:  As early as November 23 - December 14, 2022
Description:  Maintenance
Turf
The following PARD facilities are CLOSED to the public:
Girl Scout Cabin indoor space 
Sunshine Camp indoor space 

Zilker

Caretaker House