About City Hall
Reflecting Austin's natural beauty, Austin City Hall is a unique landmark gateway to Austin City government. The building and plaza serve as a gathering place for public discourse and community collaboration with informality, friendliness, environmental sensitivity and innovative technology.
Built of Texas limestone and sitting on the site of a once-raucous 19th Century bordello district, Austin's copper-clad City Hall is as unique as the community it serves.
The following key concepts were integrated into the design:
Reflects Austin's culture
Accessibility
Unique to Downtown
Playful and unconventional
Environmental focus
Technology focus
Iconic, like the Capitol
Government transparency
Contact Information
Address
301 W. 2nd St., Austin, Texas
Hours of Operation
The doors of the City Hall open at 7:45 a.m. Mon-Fri. The doors close to the public at 5 p.m. unless attending a public meeting or City sponsored scheduled event. Access to other areas of the building is typically not allowed until 9 a.m. The building is not open to the public on the weekends.
Parking
Entry to the parking garage is located on the Guadalupe Street side of City Hall. Parking for people with business in City Hall is complimentary by validation. Validation will also be provided to City employees who are conducting business at City Hall and those participating in public-facing events conducted by the Texas Open Meetings Act, such as City Council, Board and Commission meetings held at City Hall.
 For more information about parking rates and hours of operation visit AustinTexas.gov/CityHallParking.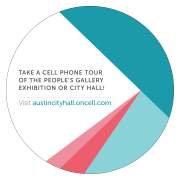 Gallery and City Hall Cell Phone Tours
Visitors to City Hall can view the People's Gallery during regular building hours, from 8 a.m. to 5 p.m., Monday – Friday. Admission is always free.
Personal building tours have been suspended until further notice, but visitors are welcome to tour the gallery gallery using the cell phone tour. Click the image to the left to access the cell phone tour.  
Meeting Schedule
The People's Gallery
The City of Austin is proud to present the People's Gallery at City Hall. This free, annual exhibition is designed to showcase regional artists and to encourage public dialog, understanding, and enjoyment of visual art.