Welcome
If you're taking the first step toward a law enforcement career with our agency, you're in the right place.
Read through our website to learn what it takes to become an Austin Police officer. If you have any questions, our Recruiting team will be happy to answer them - text us at (512) 766-9222. See our contact page for additional methods of communication. 
Signing Bonus & Pay Increase
The Austin Police Department is offering a $15k Signing Bonus to all new recruits and laterals. Additionally, our police officer base salary pay scale has increased to $65,411 - $109,382. Officers may qualify to earn monthly incentives such as: shift differential, bilingual pay, education pay, etc. Salaries will also increase with promotional and overtime opportunities. We are hiring through 2024. Apply today!
Scroll down to see a list of Upcoming Events!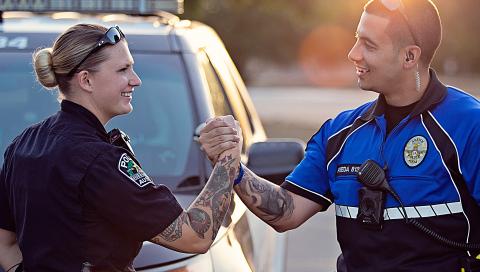 Your Career with APD
We are looking for qualified men and women to join our team and help build a safer Austin. If you have a desire to protect and a heart to serve the Austin community, you're in the right place. As an Austin police officer you'll be working in a large, diverse city with a growing population and many career opportunities. We offer over 50 specialized units that police officers can apply for after serving four years on patrol. We also have a large number of investigative units where our detectives work night and day to solve cases on behalf of our citizens and visitors. See yourself in a management position? We offer promotions all the way up to the rank of Commander. At APD, there's a career path just for you.