Welcome
If you're taking the first step toward a law enforcement career with our agency, you're in the right place. We are looking for qualified men and women to join our team and help build a safer Austin. If you have a desire to protect and a heart to serve, we invite you to apply!
The Austin Police Department is offering a $15k Signing Bonus to all new recruits. Additionally, our police officer base salary pay scale has increased to $65,411 - $109,382.
Read through our website to learn what it takes to become an Austin Police officer. If you have any questions, our Recruiting team will be happy to answer them - text us at (512) 766-9222 or email us at apdrecruiting@austintexas.gov.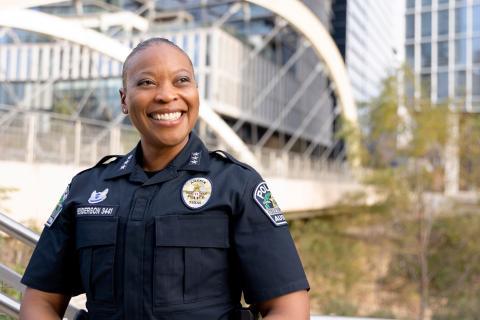 Message from the Chief
The Austin Police Department is comprised of officers from diverse backgrounds that are dedicated to public safety and innovative engagement that builds trust and respect  in the profession.  APD has over 50 non-patrol specialized units where officers may apply to work.  Air Support, Lake Patrol, Mounted Patrol, Special Operations and Police Technology are just a few examples of the great opportunities at the Police Officer rank. There are also opportunities for promotion to higher ranks, opening career potential that is virtually limitless.
If you have a heart to serve and are looking for a career that provides outstanding opportunities and a high degree of intrinsic satisfaction, then I encourage you to apply for the Austin Police Department – we'd love to have you join our team!