Women on the Team
More and more women are choosing to start careers in law enforcement today. A job that provides financial stability, great benefits, opportunities for advancement, and lifelong friendships can be hard to come by; at the Austin Police Department, we pride ourselves in offering all of these things. Women have served at every rank in this department and have even served on teams, such as SWAT, that have historically been comprised of male officers. In 2022, Chief Joseph Chacon pledged our commitment to the 30x30 Initiative with the ultimate goal of increasing the number of females in our cadet classes to 30% by 2030. Want to know more about the women of APD? Read our success stories below.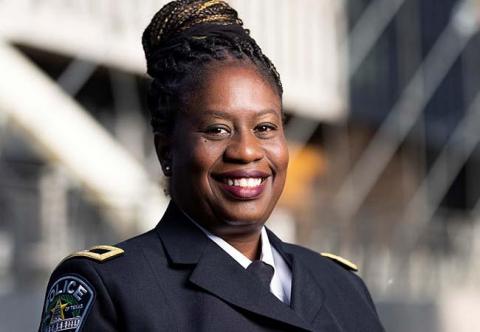 Assistant Chief Gizette Gaslin
I am Gizette Gaslin and I have worked for the Austin Police Department for 23 years.
Prior to working at APD, I was a Corrections Officer at the Travis County Sheriff's Office. I started my academy class at APD in July 1995 at the age of 23. After graduating I served as a patrol officer in central east Austin which was a new adventure for me after growing up on the south side of town. I was a young naïve patrol officer who was excited about serving my community.  
Read More

After patrolling east Austin for 3 years, I transferred to the Training Academy as a Cadet Instructor and later served as a District Representative in north and central Austin. In 2005 I promoted to the rank of Detective and worked assignments in the Child Abuse Unit, Internal Affairs, the Family Violence Unit, and Sex Crimes. I enjoyed my time in the Child Abuse Unit the most because I was able to help child victims.

In 2012, I promoted to the rank of Sergeant where I was assigned to a patrol shift in the northeast section of the city. I later worked for the Recruiting Unit which I found to be very rewarding because I was able to watch applicants progress from our hiring process through the academy to graduation. I really enjoyed getting to know them and watching all of their hard work pay off.

In 2016 I promoted to the rank of Lieutenant, where I was assigned as a nightshift Lieutenant over patrol. In April 2017 I was selected as the new Community Engagement Coordinator in the Chief's Office. My role is to oversee the District Representative program and the community policing program. In this position I am able to create partnerships and collaborate with external stakeholders. I am learning how important it is to foster positive relationships with the community and how to improve our community policing efforts as a department. A few times I have found myself outside of my comfort zone and it has opened my eyes to a lot of new things, which I think is important for personal and professional growth.

One thing I love about Austin is that it's a great place to live and to raise your family. I came to Austin when I was 6 years old, so I have seen the city grow in many ways. Austin is such a friendly city with a lot of outdoor activities for the active person. I love going to the Hike and Bike Trail (Lady Bird Lake) to enjoy a nice brisk walk. I also enjoy all the different races they host here in the city - from 5K's to full marathons, there's something for everyone and every skill level.

Historically, policing has been considered a non-traditional career for women. I find that it is a great way to act as a social worker, listener, and mentor. I have improved those three skills over the past 23 years at APD. The skill I've really enjoyed fostering the most is mentoring new officers and the youth in our community. I enjoy being a role model not only for women but for young girls of color, to show them that succeeding in this career is possible while being a woman and African-American. It is also important as a female officer to know the history and how far we have come in this profession. The first woman was not hired until 1978, and today we have more and more women joining the Department each year. 

This was a great career choice for me because this job has allowed me to make a difference in the lives of those I came into contact with over the last 23 years. I've worked hard to make an impact not only with the community but with the officers that I've worked with. When I was growing up, I always wanted to be a teacher. Being an instructor at the Academy enabled me to follow my dream and teach our cadets. I enjoyed sharing my experiences and the mistakes I made along the way in my career. There is a motto I always try to live by not only personally but professionally, and that is: "Always treat people the way you would want to be treated."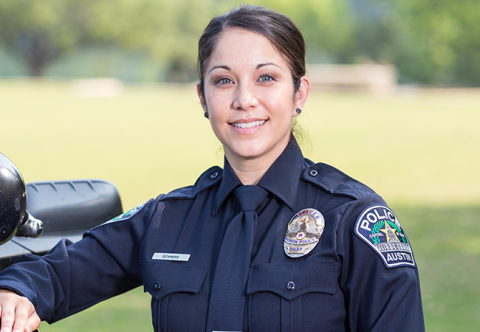 Detective Melony Bowman
My name is Melony Bowman. I was born here in Austin, Texas, grew up in the Austin area and graduated from Pflugerville High School. I am a wife to another APD officer and a mother to two young children.
I didn't come to be a police officer for the reasons that some people do—it wasn't because of a mentor, or a role model, or because I was following a legacy. It was because of my father. My biological father lived a hard life and I didn't have him in my life the way a daughter needs or wants a father to be. I rarely saw him when I was growing up because he suffered from drug and alcohol addictions and had been arrested on multiple occasions. He eventually changed his ways, and I believe that his experiences with the police and the time he spent in jail is what brought about that transformation.
Read More

My decision to become a police officer came after I witnessed the good that law enforcement officers and the justice system can do. When I saw that my father was capable of change, I wanted to be a part of that change for someone else. His change didn't come for years, but it did come. I am grateful for it because it allowed me to establish a better relationship with him as an adult and to spend time with him before he passed away. I chose this job hoping that I could positively affect someone else's life in a similar way.

I started my career with the Austin Police Department in November of 2005. After graduating from the police academy I spent several years on patrol, working nights and evenings until my daughter was born. I then transferred to the Recruiting Unit where I worked a day shift and continued working for that unit after having my son. Playing such a vital role in the beginning stages of someone's career was so rewarding for me. I later transferred to the Training Academy where I was assigned to the Continuing Education Unit. My job there involved training our commissioned police officers on a variety of subjects that are important to our work as police officers. I recently promoted to the rank of Detective and am currently serving in the Sex Crimes Unit where I investigate cases involving sexual offenses. 

What I love most about working for APD is that our police officers all have the same opportunities for change. At the rank of Police Officer there are a variety of jobs available in specialized units. After your required time on patrol, you can work those assignments with a lateral transfer rather than having to promote to a new rank to get there. It allows for a lot of flexibility and you're constantly learning new skills. In my case, having an opportunity to switch from night shifts to a day shift made it much easier to grow my family. Then, when the timing was right, I was able to study for and take the promotional exam and embark on a new path in my career. It's really nice having so many options because you can find what fits your lifestyle.

If you are a woman who's considering a career in law enforcement, my advice to you is this: do it! Don't let anyone hold you back or question your abilities. You are more than capable.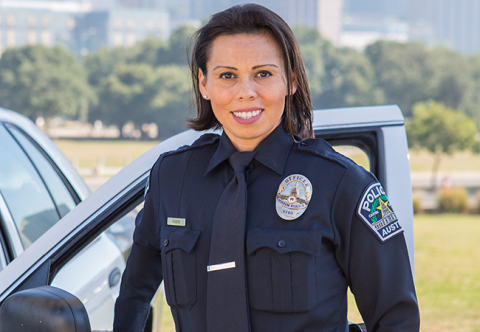 Officer Nettie Rogers
I'm Senior Police Officer Nettie Rogers. I grew up in Pharr, Texas—a small town close to the U.S./Mexico border.
I joined the Austin Police Department in 2007. Before joining APD I served in the Texas Army National Guard and Army Reserves for six years. 
Becoming a police officer was an easy transition for me because of my military background. However, it was also challenging because when I signed up for the academy I was a single parent. I had to quickly learn how to balance my life as a single working mother so that I could be successful at both things simultaneously. I had a lot of support from my family and I am so thankful for that. 
Read More

When I graduated from the police academy I was assigned to an evening patrol shift in Frank sector, which is an area in Southeast Austin.  After a few years I transferred to a day shift and patrolled David sector, an area in southwest Austin. I now work for the Recruiting Unit and have been here for over four years where I've worked as a Recruiter, Intake Officer, and Background Investigator.  

I love working for the Austin Police Department because there are so many different career paths for us to choose from once we complete our required time on patrol.  At some point in my career I would like to work as a detective in one of the many investigative units at the department.

When I'm not working I love to spend my time with my family and I also like to go for long trail runs in one of the many greenbelts in the Austin area. Austin is a beautiful city with great weather and offers so many great ways to get outside.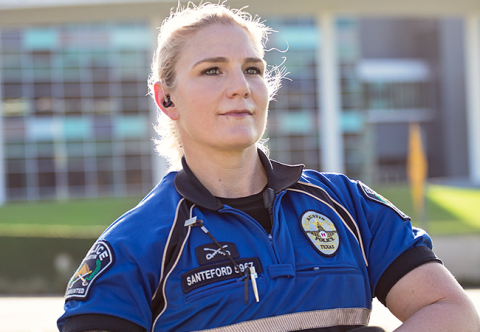 Officer Amanda Santeford
My name is Amanda Santeford. I'm from right here in Austin, Texas, and I've been a police officer for 15 years. 
I didn't always want to be a police officer. In fact, I think many people thought I would end up on the other side! I grew up in Williamson County where you would have thought it was illegal to be a kid. I struggled with my weight, had a somewhat turbulent youth and, at times, an abusive home life. I found my sanctuary riding my horse; I wanted to grow up to ride and train horses for a living. 
Read More

I moved out when I was 16 years old and found out just how difficult life could be. I moved as far away from home as possible to Washington State but after only two years, I had to come home to the city I loved. I attempted to make amends with family and started working for the family business, doing private security for several high risk properties, but still had very little to no direction for my life in general. It was during that time that I met several Austin police officers and was always impressed by their mere presence and how they handled the issues at hand. One day, one of those officers urged me to consider a career in law enforcement. I thought about it and decided to take the plunge. I began working out to prepare for the academy and quickly found another passion in the gym. I can still remember my first day on the job and remember thinking I was in for the ride of my life. I fell in love with law enforcement. You have to love this, or it will make you crazy. To this day, I still believe I have the best job in the world! 

I always knew that Austin was the department for me. The city has so much to offer. The police department does as well. APD has so many opportunities in all different aspects of law enforcement: patrol, investigations, public relations, motors, bikes, etc. I'm currently assigned to the Mounted Patrol Unit. We do the job of a normal police officer (and then some); we just do it from horseback. The Austin Police Department has allowed me to combine two of my loves, horses and law enforcement. So I guess dreams really do come true!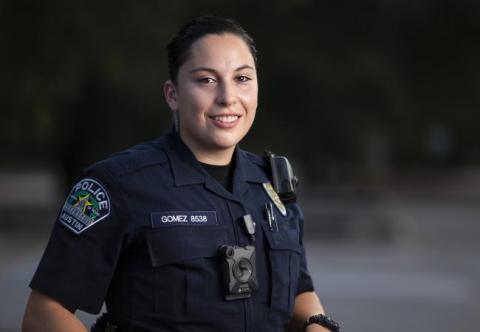 Officer Laurie Gomez
I am Laurie Gomez and I am from San Antonio, Texas. After graduating high school I left San Antonio for college and attended Northwestern State University in Natchitoches, Louisiana where I played softball. I graduated with a Bachelor's degree in Kinesiology and a teaching certification.
Read More

I graduated from the academy in December 2017 and have been with the department as a patrol officer since that time. I wanted to become a police officer for a few reasons: I grew up listening to stories about my dad's "normal" day at work (a retired San Antonio Police Officer), which sounded fun; the second reason—I can never turn down a good challenge! The academy was mentally and physically challenging but at the end of every day I was one step closer to my goal: graduation! As an officer, I continue to be challenged every day. I am trusted to make difficult decisions in a split second for complete strangers which could negatively or positively affect their lives.

Even with the challenges I face on a daily basis, I love the career I have chosen to embark on with APD. With Austin having such a diverse community, I have had the opportunity to interact with people from all around the world and from all walks of life.

The department itself is just as diverse as the community it serves. APD has so much to offer. There are officers from every corner of the country employed within our ranks, just as there are residents that have moved here because of the Austin lifestyle and the city's employment opportunities.

Deciding to begin a career in law enforcement is easy. Everything else after that decision is the hard part. The road leading up to becoming a commissioned police officer with APD will not be easy in any way but it will all be worth it when your badge is pinned on your uniform.

"A dream doesn't become reality through magic; it takes sweat, determination, and hard work."

-Colin Powell