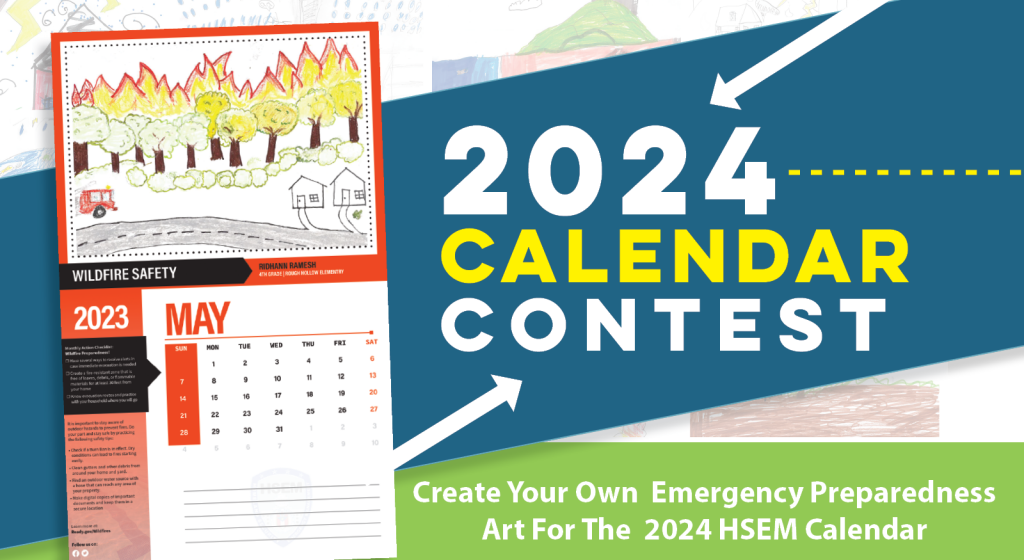 The City of Austin Office of Homeland Security and Emergency Management (HSEM) will feature student artwork in the 2024 Emergency Preparedness Calendar. HSEM invites you to submit emergency preparedness artwork for the 2024 Emergency Preparedness Calendar Contest. The contest is open to all kindergarten through 8th grade students whose school (or residence) is physically located within the Central Texas area.
SUBJECT OF ARTWORK:
Family emergency preparedness actions, severe weather conditions occurring in Central Texas, and man-made disasters. Artwork could also contain a safety message about the specific hazard featured.
Examples of a family emergency preparedness action are the creation of a home or vehicle emergency kit or practicing a disaster plan, such as an evacuation or communication plan.
Severe weather hazards are tornado, hail, flash flooding, lightning, excessive heat or cold and dangerous icy conditions.
Examples of man-made disasters are terrorism, wildfires, train derailment, chemical spills, building fires and epidemic. 
Information on personal safety during severe weather and man-made disasters are available at public education websites. Use these resources as inspiration for submission ideas. 
Artwork Guidelines:
Artwork must consist of paint, pen/pencil, pastel, collage, crayons, computer graphics or any combination of listed materials. No glitter please.
Artwork should be created and submitted on poster board up to 12" x 18" for 3-D; drawing or construction paper that is 8.5" x 11, 12" x 24", or 9" x 12".
On the back of artwork or a separate attached form, Include student name, grade, school, school district, and parent or teacher email (if applicable). We will need to contact winning artist's family as well as art teachers and principals to invite them to the awards ceremony.
Evaluation Criteria:
Artwork will be evaluated on creative visual quality and safety message content.  Selected artwork will compete in an evaluation for the 12 monthly calendar positions and the calendar cover. There will also be a collage of honorable mention entries on the back cover.
Contest evaluation panel will be made up of City of Austin Office of Homeland Security Emergency Management and the Travis County Office of Emergency Management.
Awards:
Front cover and monthly winning artists will receive a trophy and NOAA weather radio at an award ceremony to be held at Austin City Hall. Winning artists are celebrated during an Austin City Council meeting.
Honorable mentions will receive a ribbon, to be presented by their art teacher during their regularly scheduled art class or school awards day.
The deadline for submitting artwork is 11:59 p.m. Friday, March 31, 2023.
All artwork must be submitted to the City of Austin Office of Homeland Security and Emergency Management either electronically or mailed to:
ATTN: HSEM
P.O. Box 1088
Austin, TX 78767
To submit electronically please visit: https://cityofaustin.formstack.com/forms/preparedness_calendar
Artwork submitted after the March 31, 2022 deadline will not be accepted. Winners will be announced in April.
Original artwork that is mailed will become property of the City of Austin HSEM and will not be returned. City of Austin HSEM reserves the right to publish artwork as deemed beneficial for public education.
---
About the 2023 Calendar
For the 2023 calendar, the Office of Homeland Security and Emergency Management (HSEM) partnered with the Travis County Office of Emergency Management (TCOEM) to engage Kindergarten through 8th graders and their families across Central Texas to share what they believed to be the most important safety information.
Each month features artwork related to emergency awareness or preparedness, as well as action items individuals and families could accomplish for the month. The calendar showcases the importance of making a plan and discussing as a family the importance of taking steps to prepare for all around emergencies. 
Thank you from all the staff at HSEM and TCOEM for the amazing submissions. We cannot wait to see what our future artists will create next year. We look forward to continuing to partner with our local young artists, schools, and everyone in-between who makes these important community preparedness projects possible.
---
2023 Calendar Winners
We are excited to announce the following students will be featured for each month of the 2023 Emergency Preparedness Calendar. Congratulations to everyone who participated and provided outstanding artwork.
Cover - Erin T. (7th Grade) Dahlstrom Middle School 
January - Aryanna C. (5th Grade), Shadowglen Elementary (Manor ISD)
February - Samantha D. (1st Grade), Austin Christian Academy
March - Jack C. (3rd Grade), Austin Christian Academy
April - Eliora W. (3rd Grade), Austin Christian Academy
May - Ridhann R. (4th Grade), Rough Hollow Elementary (Lake Travis ISD)
June - Lennox G. (3rd Grade), Hill Country Christian
July - Solia M. (2nd Grade), Austin Christian Academy
August - Daisy B. (4th Grade), Austin Christian Academy
September - Abram M. (Kindergarten), Austin Christian Academy
October - Mila M. (2nd Grade), Austin Christian Academy
November - Niam P. (2nd Grade), Austin Christian Academy
December - Ethan H. (3rd Grade), Austin Christian Academy
The 2023 Emergency Preparedness calendar was truly a community effort - from all the artwork submissions to the cooperation of the schools, parents, and art teachers who made this calendar possible. Thank you!
---
Where to Find the Calendar
2023 Calendars can be found at all Austin Public Library locations. 
---
Digital Download
If you would like to download a digital version of the calendar to print yourself, below is a high-quality PDF version of the calendar.
---
Stay Emergency Prepared
For more information on emergency preparedness tools and information visit ReadCentralTexas.org or Travis County Office of Emergency Management.