Austin Resource Recovery drives the launch of a sustainable storage solution for Austin's most vulnerable population during a global pandemic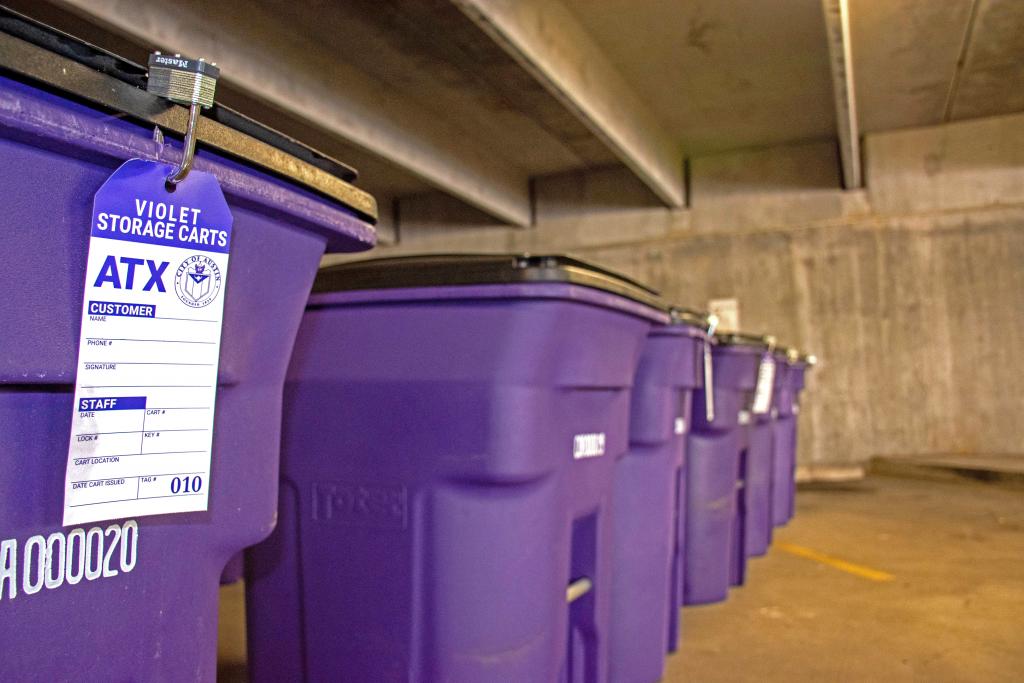 By: Ashley Pace, Public Information Specialist Senior
Violet KeepSafe Storage offers a free, safe storage option to Austinites experiencing homelessness as they navigate their way around the community and out of homelessness. The program currently operates out of the former Health South Building on East 12th street, housing hundreds of purple bins with locks to protect important documents, meaningful keepsakes, and bulky personal items like work boots, blankets, winter coats and more. The program lightens the load so that Austinites experiencing homelessness can rest assured that their possessions are safe when they go to interviews, seek out services or go about their daily lives without the burden of carrying around items they don't need daily.
Austin Resource Recovery (ARR) first became involved in City initiatives to provide services designed to end community homelessness through the Office of Design and Delivery pilot of the Violet Bag Program in 2019. The Violet Bag Program provides people experiencing homelessness with access to kiosks loaded with violet trash bags and daily pickup collection to help residents keep their area and the community clean and safe. Presently, the pilot has expanded to 44 kiosks all around Austin, and City staff continue to work to identify areas where additional kiosks may be beneficial.
While this program does not directly contribute to ARR's mission of providing services designed to transform waste into resources while keeping our community clean, ARR Director Ken Snipes learned the importance of prioritizing our most vulnerable population during his former role in Seattle. Amidst a global pandemic, he answered the City's call to deliver services aimed at ending homelessness in Austin and tasked ARR staff with collaborating with the Office of Design and Delivery, Austin Homeless Advisory Council and members of the Austin design community to launch the program in April 2020.
"This operation is all about investing in the health and dignity of our neighbors experiencing homelessness," Snipes said. "As I saw during my work in Seattle, and was confirmed here by the Austin Homelessness Advisory Council, offering a storage bin and a lock does more than alleviate physical burden or fear of theft. This service builds trust and lines of communication between our institutions and the people who rely on them to build a better life."
During operational hours (Monday through Friday, 7 a.m. –10 a.m., 3 p.m.–7 p.m.) people experiencing homelessness can access their storage bin by presenting their bin tag, key or other identifying documents to an attendant who delivers the bin to a private area. As the program grows, the City will coordinate with service providers to make case managers available for assistance and guidance to people experiencing homelessness. The program has recently changed hands in management and the Downtown Austin Community Court now operates it. The City also plans to expand the program to include satellite storage locations throughout the City.