Influenza, known as "the flu," is a contagious respiratory illness caused by a virus. Most people will have mild illness, but some cases can result in hospitalization or even death.
Vaccination
The Centers for Disease Control and Prevention recommends that anyone six months of age and older should be vaccinated for the flu every flu season. High-risk individuals include:
Adults over 65
Pregnant women
People with chronic medical conditions
Health care workers
Individuals who live with and/or care for high-risk individuals
Flu shots are available at Shots for Tots/Big Shots clinics for uninsured children and adults. The shot costs $25 for adults, $10 for children, and free for children with Medicaid. For an appointment, call 512-972-5520.
For those who are insured, visit VaccineFinder.org to find a location with flu shots near you.
Prevention
In addition to the flu vaccine, there are preventative measures people can take to prevent the flu:
Wash your hands often with soap and water, or use an alcohol-based hand sanitizer if soap is unavailable
Cough and sneeze into your sleeve or tissue
Avoid touching your nose, mouth, and eyes
Avoid others who are sick
Stay home if you are sick
Symptoms
You many be contagious from one day before and up to seven days after becoming sick. Influenza may present the following symptoms:
Sudden onset
Fever or chills
Cough, sore throat
Runny or congested nose
Body aches
Headache
Severe fatigue
If you contact your doctor within 48 hours of symptom onset, you may be able to take an antiviral drug, which will reduce the severity of symptoms and length of the illness.
Seek immediate medical attention if a child has trouble breathing, has bluish skin color, is not waking up or interacting. Seek immediate medical attention if an adult has difficulty breathing, shortness of breath, sudden dizziness or confusion, is severely or persistently vomiting, or improves but then gets worse.
Austin/Travis County Influenza Surveillance
The official flu season began on September 29, 2019. The information below contains data through March 14, 2020:
Flu activity in Texas is considered widespread. The Centers for Disease Control and Prevention (CDC) reports that confirmed flu activity continues to decrease.
Influenza A is the most common type of flu circulating in Travis County.
Five influenza-associated adult deaths have been reported in Travis County.
Fifteen influenza-associated pediatric deaths have been reported in Texas; none have been reported in Travis County.
Three influenza-associated school outbreaks and five influenza-associated outbreaks at long-term care facilities have been reported so far this season in Travis County.
The CDC estimates that so far this season there have been at least 38 million flu illnesses, 390,000 hospitalizations and 23,000 deaths from flu in the United States.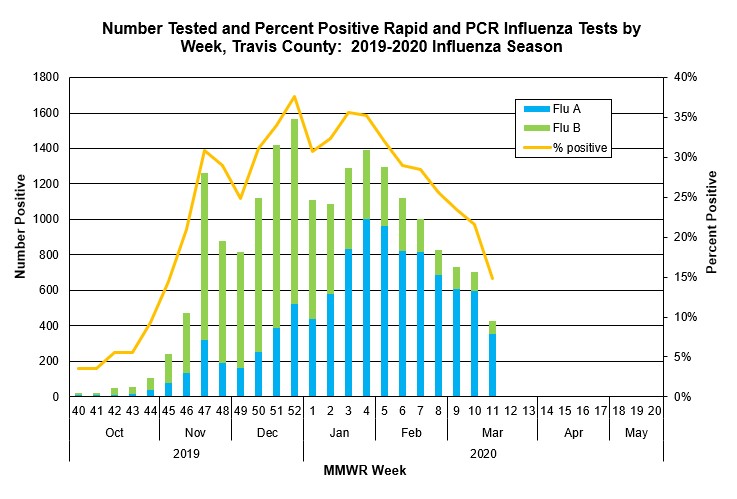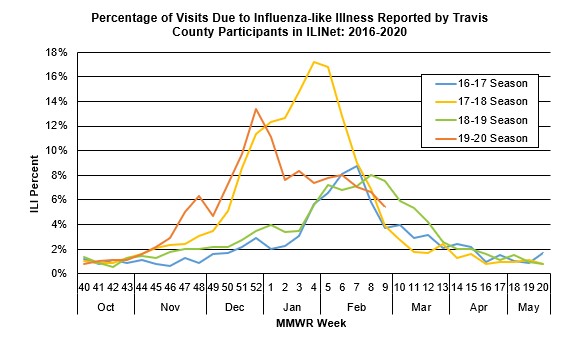 Austin/Travis County influenza surveillance does not capture all cases of influenza or influenza-like illness. The reporting of seasonal influenza is voluntary. This data should be used for trending purposes over time and for identifying types/strains of influenza that are occurring in the Austin area rather than for estimating the total number of cases.
Additional Resources
For more information about flu at the state level, visit the Texas Department of State Health Services.
For more information about flu at the national level, visit the Centers for Disease Control and Prevention.