The STD program provides counseling and testing, outreach and education, case management, and HIV surveillance.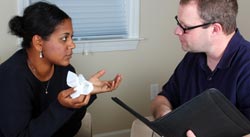 Sexually transmitted infections are spread by having sex with someone who has the infection. Sexually transmitted infections include the following diseases and conditions:
Sexual Health Clinic
The Sexual Health Clinic at 15 Waller Street (RBJ Health Center, 1st Floor) provides evaluation, diagnosis, and treatment of sexually transmitted infections. Call 512-972-5430 to schedule an appointment. Clinic hours are 8am to 12 noon and 1pm to 5pm Monday through Friday. The fee for examination and treatment is $20, which includes all laboratory testing. NOTE: We can only test for Genital Herpes if you have active symptoms.
Counseling and Testing
We work to prevent the spread of HIV by providing anonymous HIV counseling, testing, and referral for early intervention services. We offer free confidential and anonymous counseling and testing for HIV, Syphilis, Hepatitis C, Gonorrhea, and Chlamydia . Testing is available at many locations around the Austin area. Call 512-972-5580 for an appointment.
Outreach and Education
Prevention and education services are provided to those who might be at risk of contracting HIV or other STIs. Services include educational presentations; educational materials; harm reduction materials such as condoms, dental dams, and water-based lubricant; referrals to appropriate services such as drug rehab or detoxification, housing, and other social or health services; community outreach in settings such as neighborhoods, parks, bars, and homeless camps; and clothing and food distribution.
Case Management
Case management services are provided wherever the client is located. Services are available for HIV infected persons who are homeless, pregnant, or under the age of 13.
Prevention case management services provide long-term counseling and medical case management to clients who consider themselves to be at a high risk of contracting or transmitting HIV and are willing to address high risk behaviors.
HIPAA Compliance
Austin Public Health will comply with all federal and state laws that pertain to any aspect of the clinical practices or business procedures of the Department. In particular, privacy and security rules relating to the Health Insurance Portability and Accountability Act (HIPAA), along with related state laws, are integral to matters of privacy, medical records, the confidentiality of communications, and other topics addressed throughout these policies and procedures.
Equal Opportunity: We do not discriminate on the basis of race, color, national origin, sex, age, income status, disability, sexual orientation, gender identity, or veteran status in any programs or activities.